Today's make shift office is pictured above. I have to say it's pretty damn nice. I'm sitting here in a puffer jacket with a blanket over my legs as it has definitely gotten just a little nippy as the day has gone on.  I think it is fair to say that yesterday was another very long day day.  John is having to have a nap as I write this.  We left San Francisco mid morning yesterday, Yosemite bound, but decided that we should stop to explore Silicon Valley along the way, seeing as we were in the vicinity.  
For those who don't know - my husband John is a programmer.  The opportunity arose for us to visit San Francisco together this year, as John was attending the 'Google Conference' held in San Francisco.  The timing coincided with my 50th so we decided to combine work and pleasure and that, is how this trip came to be.
Silicon Valley is about 40-60 minutes out of San Francisco depending on traffic and the route you take.  It is home to Google, Apple, Facebook, Hewlett Packcard and the like... We took the long route as I needed to pick up a couple of (bead related) things along the way.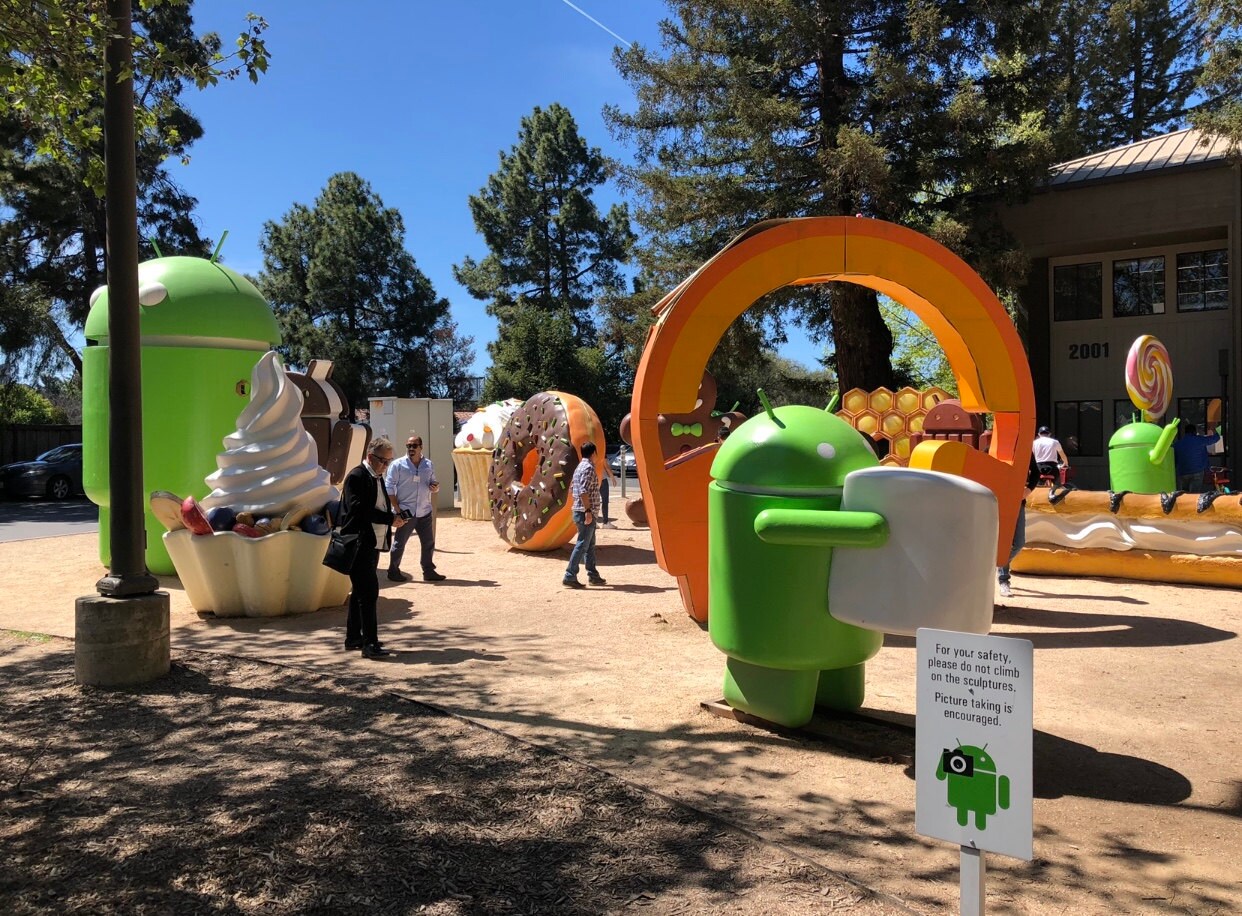 First was the Google campus which is a pretty standard set of corporate looking buildings - with a little playground (above) filled with android sculptures and a bunch of grown up computer geeks (for want of a better description) climbing all over them taking selfies.  No judgement here, but we didn't join in.....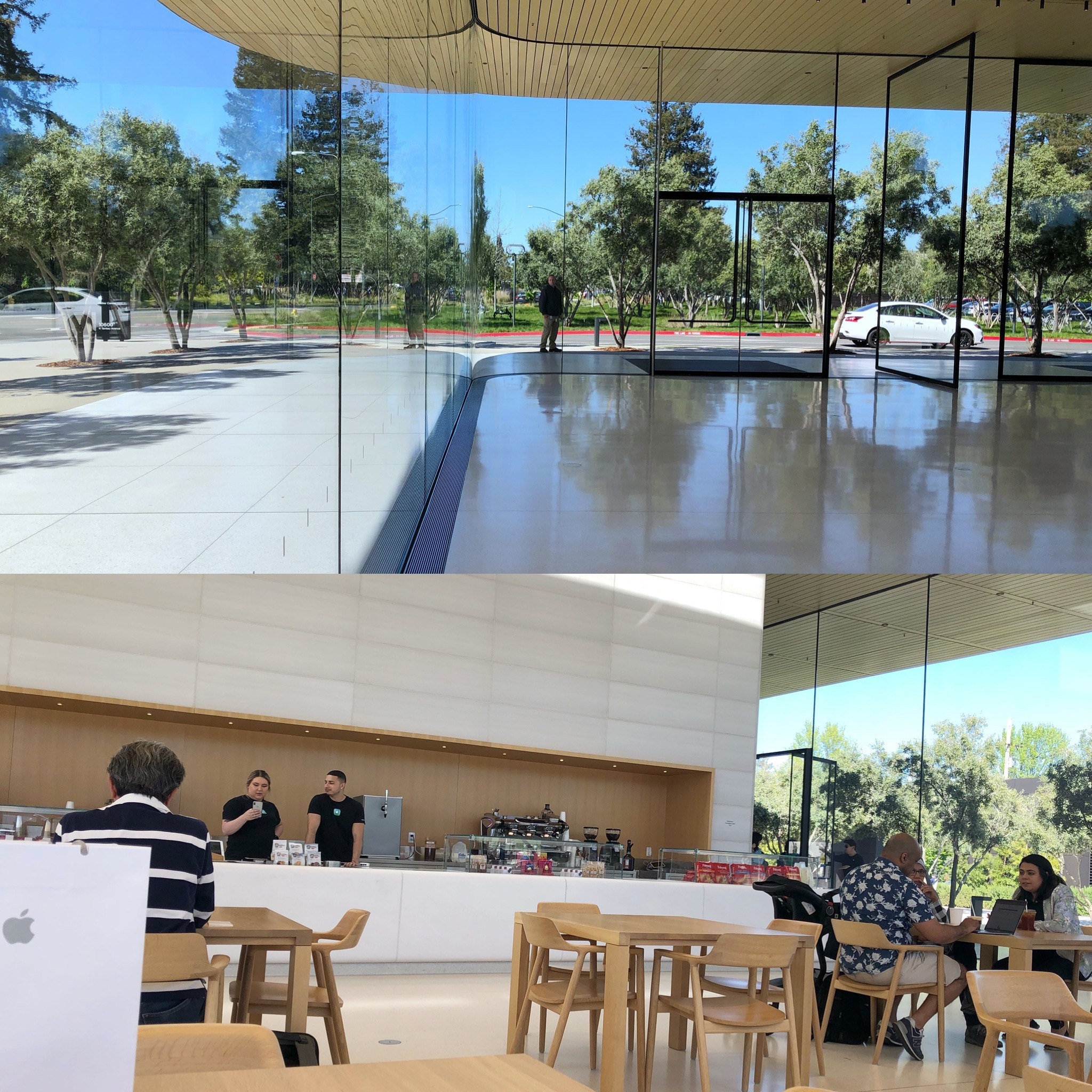 The new Apple campus however was pretty stunning.  Think clean lines, lots of white and glass and incredible indoor outdoor flow....  I'm not an expert in architecture or design, but to my mind it was light, airey and genius in its simplicity and modernity.   Granted it was difficult to find the bathroom (lol no signs) but there are plenty of Apple Store employees to help you find your way around.... The building featured a shop that sold a variety of T Shirts, hats, and all the watches and devices etc and a cafe (picture in the bottom pic) where you could get a hot drink and a few simple sweet treats.  The infinite loop (the old campus) has another shop about 10 minutes from the campus that sells a few other extras as well.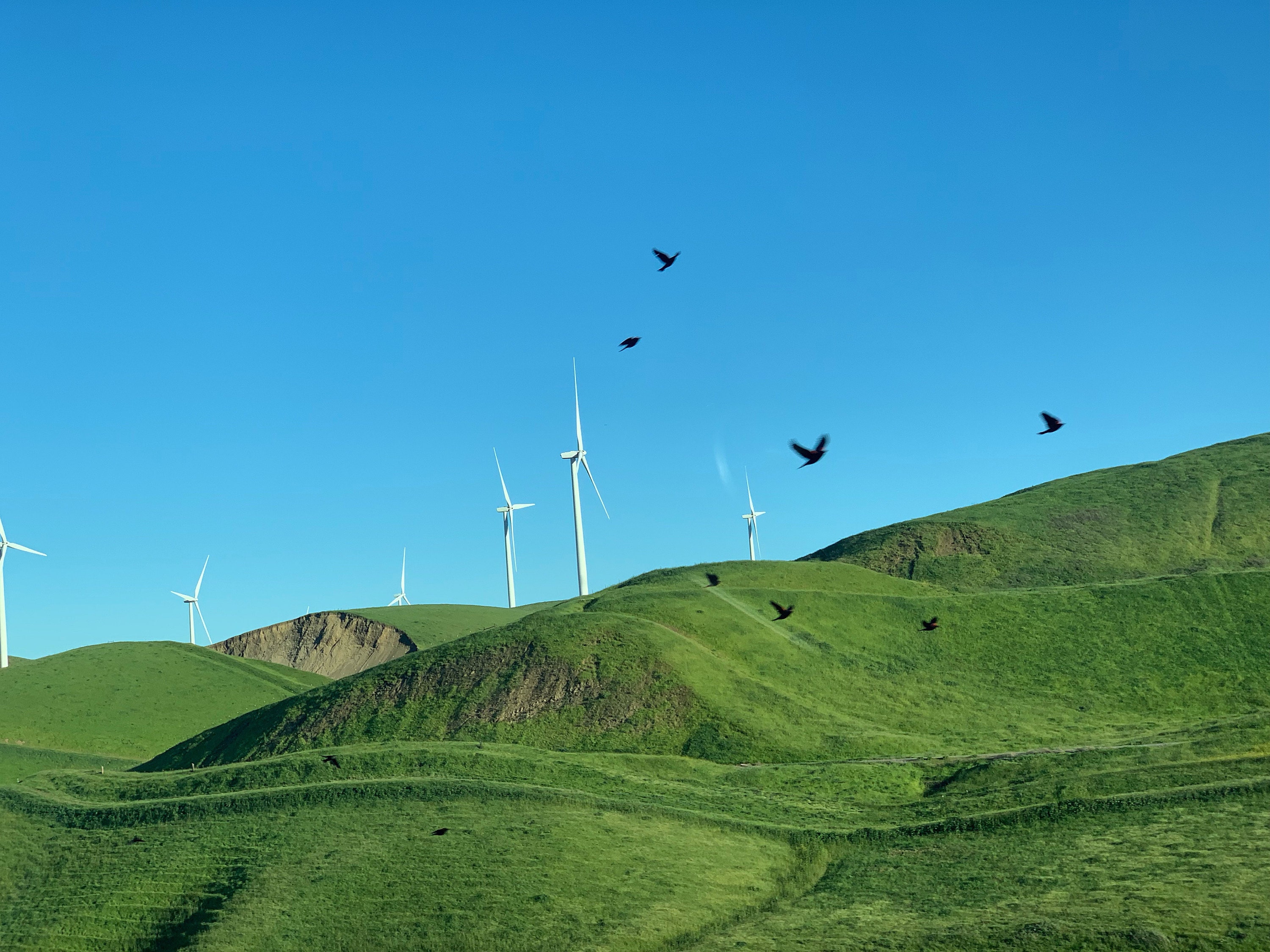 With John's 'must do's' ticked off in Silicon Valley - Google, the new Apple spaceship campus and the older Infinite Loop, we then made our way to Yosemite - heading out past the windmills (above).  We arrived at our hotel late (10pm-ish) and were ready for bed. 
This morning we awoke to a gorgeous, crisp, clear day and went out exploring straight after breakfast.  We couldn't have asked for better weather to soak up the vistas today.  They were exactly as I remember them - simply stunning.  John, as a first time visitor, was just as taken by the place as I was, but not so impressed with all the other cars - I guess as Kiwis we are just not used to as many people about....
We are staying about a 10 minute drive from the entry booths to Yosemite and about 40 minutes from Yosemite Valley.  The drive down to the valley is stunning.  There are viewing points to stop and take photos along the way.
It's Spring here and the snow is still melting.  The waterfalls are free flowing but possibly not at their full capacity.  The landscape around where we are is filled with Pine, Fir and Cedar mostly, but down in the valley there are other trees ... California Black Oak and Big-Leaf Maple to name but two.... We've seen a couple of squirrels or chipmunks - (we didn't get close enough to distinguish which it was) but no bears (unless you count the one on the sign).  Between 300-500 Black Bears still live here - mainly down in the valley I'm told - but the Grizzly Bear's are long gone. Campers in the valley are told to ensure food is safely packed away as bears are known to frequent the area.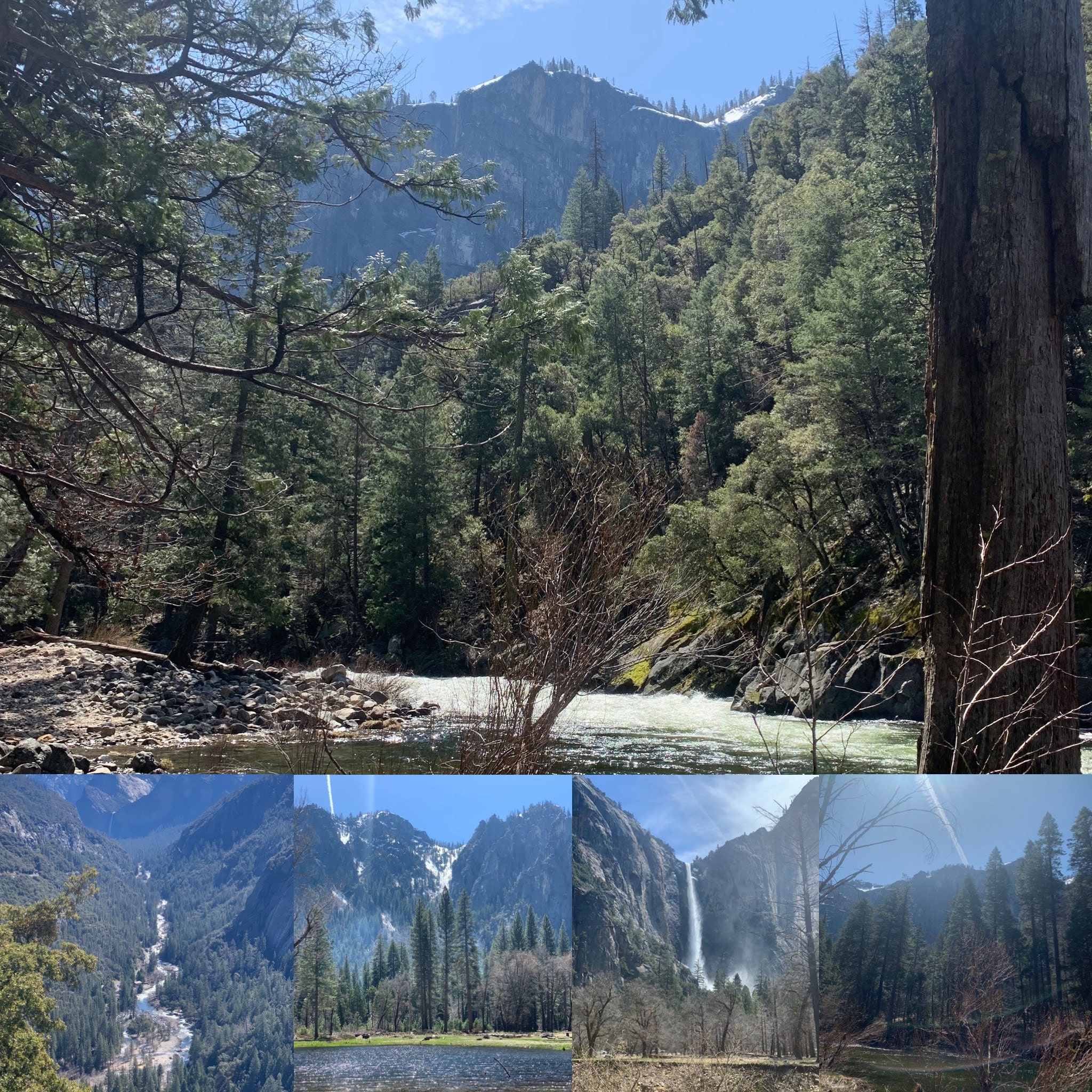 I could honestly prattle on for ages about this place.   Its gorgeous and tbh I'm sad we're only staying a short while, but I'm also really excited about catching up with my Sister Outlaw, Mel, in Santa Monica very soon and checking out some more beads in LA!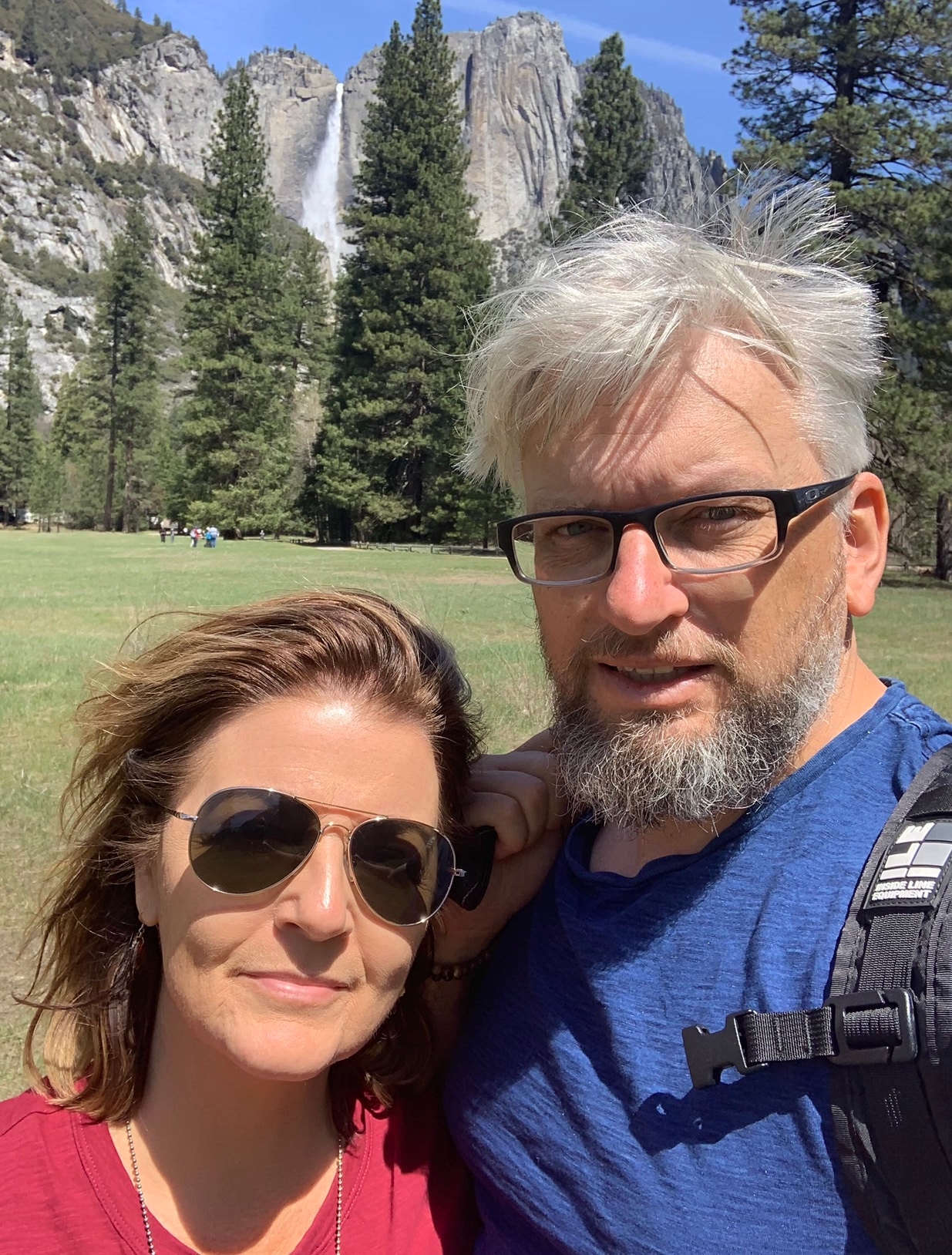 Before I go - here's a couple of sneaky shots I couldn't resist taking today of my bracelet stacks.  I've been swapping out between my greens, oranges, purples and blues  and have been finding they can all work together ... here's some shots with the purples .... what do you think?