John proudly showed me his wrist today as we sat waiting to head off to Salsalito on the 'Big Bus' San Francisco tour.  On it, he sported three bracelets as opposed to just his preferred fave.  John normally wears just the one bracelet..... a battered Flower Agate - one of the very first bracelets I made.  Today, his regular one was accompanied by both a Lava stone Swarovski skull bracelet (he wears for special occassions) and a plaited leather one with significant history. 
The plaited bracelet, I bought from Guess for John many moons ago - some 20+ years in fact when both John and I were confirmed beach bums and had just started dating .... He wore it constantly and then stopped for some reason and TBH it has slipped both of our minds.... Sometime, over the last week or so, he must have stumbled across it and today it was resurrected!    So, it seems ...my "thing" for bracelets really does go back quite some time I was reminded!  
The brown bracelet in the middle - the single battered Flower Agate John insists on wearing over all the other bracelets he could have (if he chose to) -  is his pride and joy.  He wears it constantly and believes his blatant refusal to take it off when he goes kayaking, waveskiing, cycling or running... is justified as test marketing as to the hardiness of the bracelet and its durability .  Yes, **sigh** even my husband ignores my advice to take it off in the the wet, but I really do suggest you do, if you want to keep it looking tip top.  His bracelet was one of the first I made and I have rethreaded it just the once - not because it broke, but because the elastic gives a little over time and I insisted.  (Shhh... I have to say I am secretly impressed as I know how much abuse he gives it.)  So, perhaps not the prettiest of stacks, but certainly a meaningful one for us.
So ... no bead shops today - Just a day of exploring... Today, we caught the bus to the seaside village of Saulsalito.  I last visited it some 30 years ago when I came to San Francisco in 1989 - (just two weeks prior to the earthquake in fact) and had very fond memories.... so I wanted to return.  If you intend on visiting San Francisco -  I really can recommend it.   It has a lovely feel - a little bit like Devonport or Russell - with a mix of beautiful upmarket stores and the usual few touristy ones, great restaurants and glorious sea views of San Francisco and the Bay Bridge.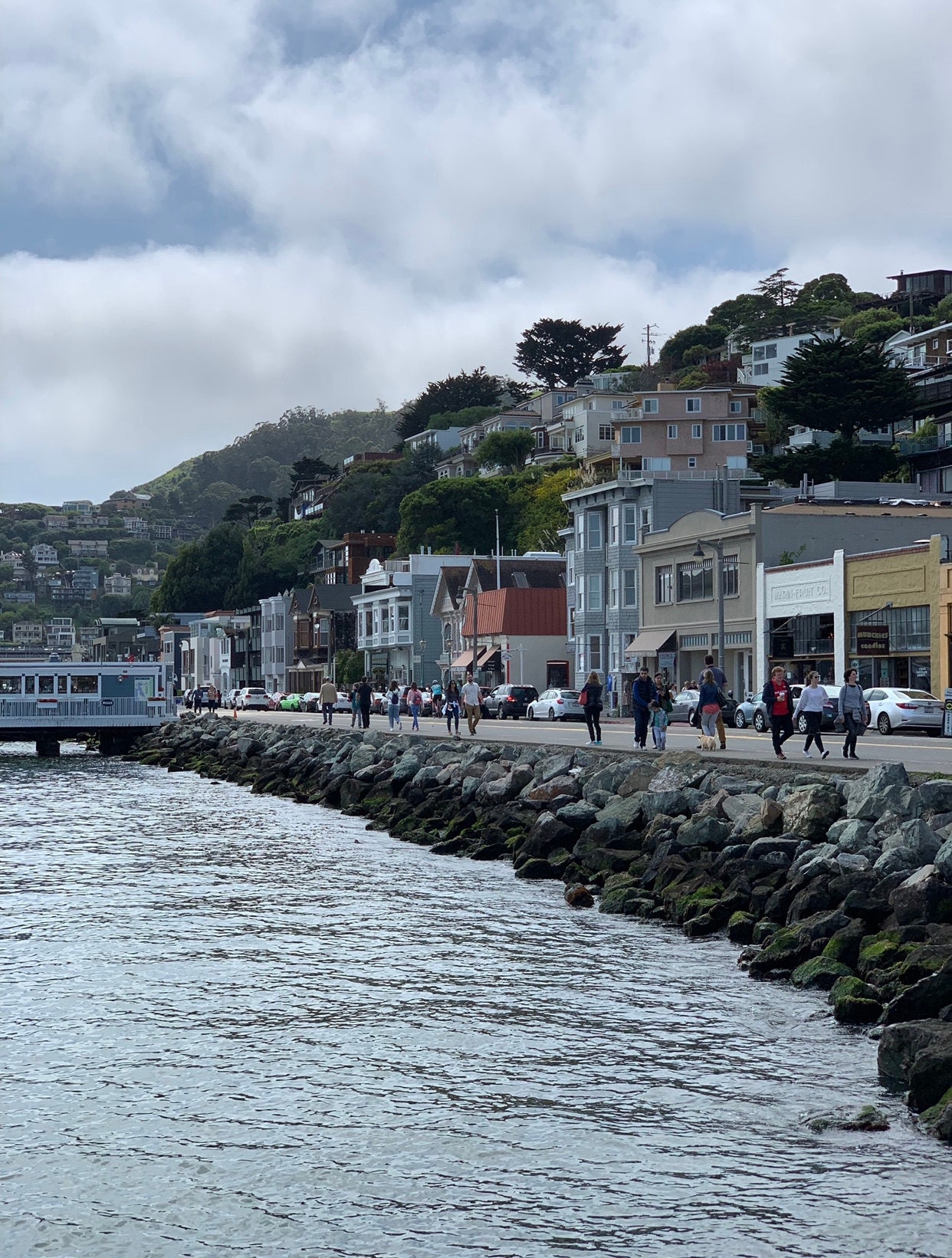 The population of Saulsalito is around 7500 I'm told ... so there won't be crowds as much - a great escape for the introverts amonst us and an ideal location for cycling or if you prefer, walking too. I got loads of inspiration visiting this place as it has loads of creative bits and pieces.....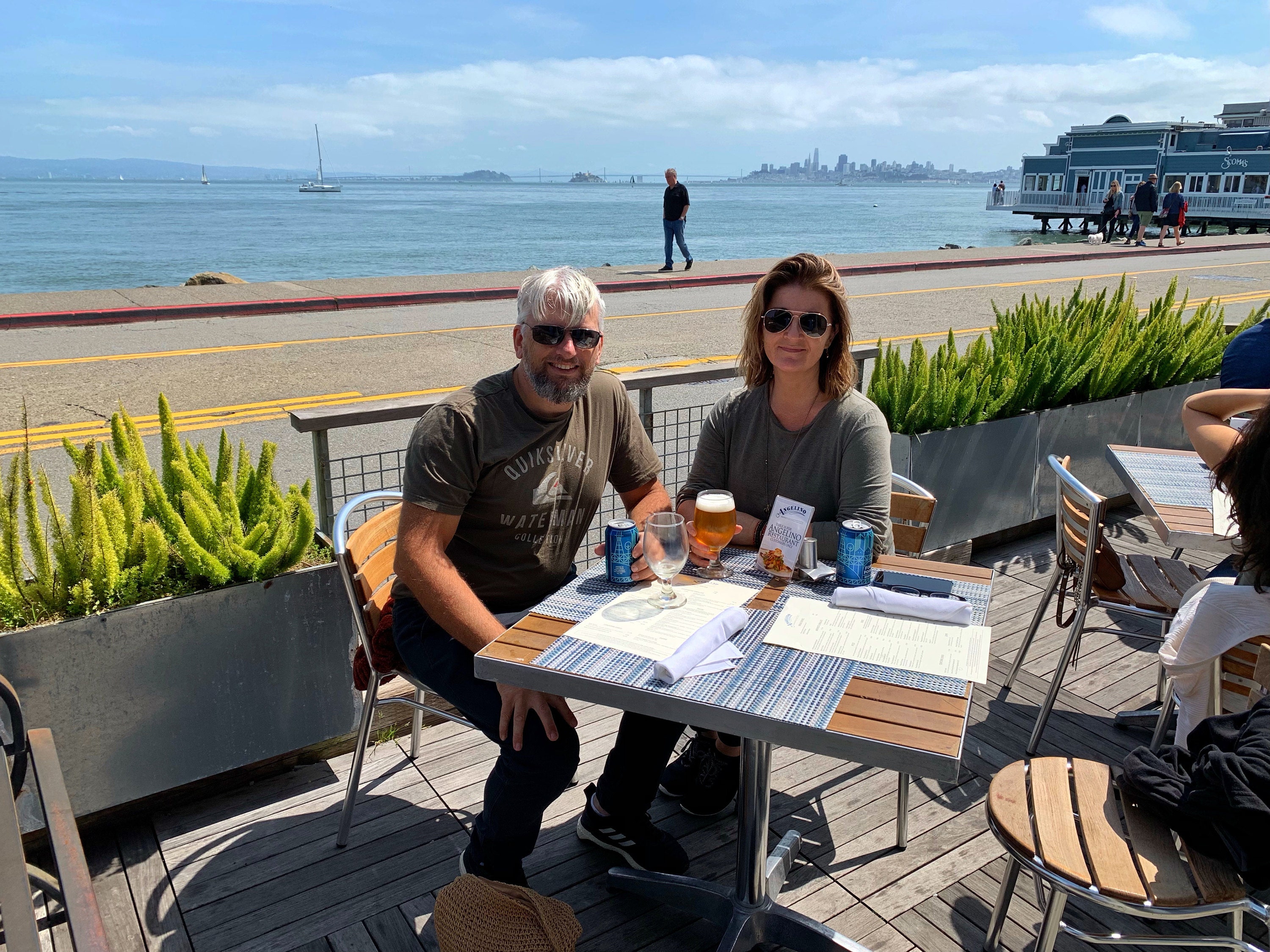 We had a gorgeous lunch at Angelino's (above) so good in fact, I felt compelled to leave my first ever review on Yelp - with beautiful views as well.
I spoke to many of the locals in Saulsalito today and apparently there has been three months of constant rain so the shops are suffering a lack of patronage - and at least two were closing down so I managed to score a couple of bargains... though it is sad that these guys were closing after 35 years :(  
If you do make it to Saulsalito - make sure you check out the Crystal Shop up the hill to the left (gorgeous stuff) and By Land By Sea which features the incredible work of Mashka - who creates the most wonderful sterling silver pea pod bracelets with tiny gem stones. Yes, they are definitely a little pricey - but incredibly beautiful and they have for certainly inspired me.... there was so much more too....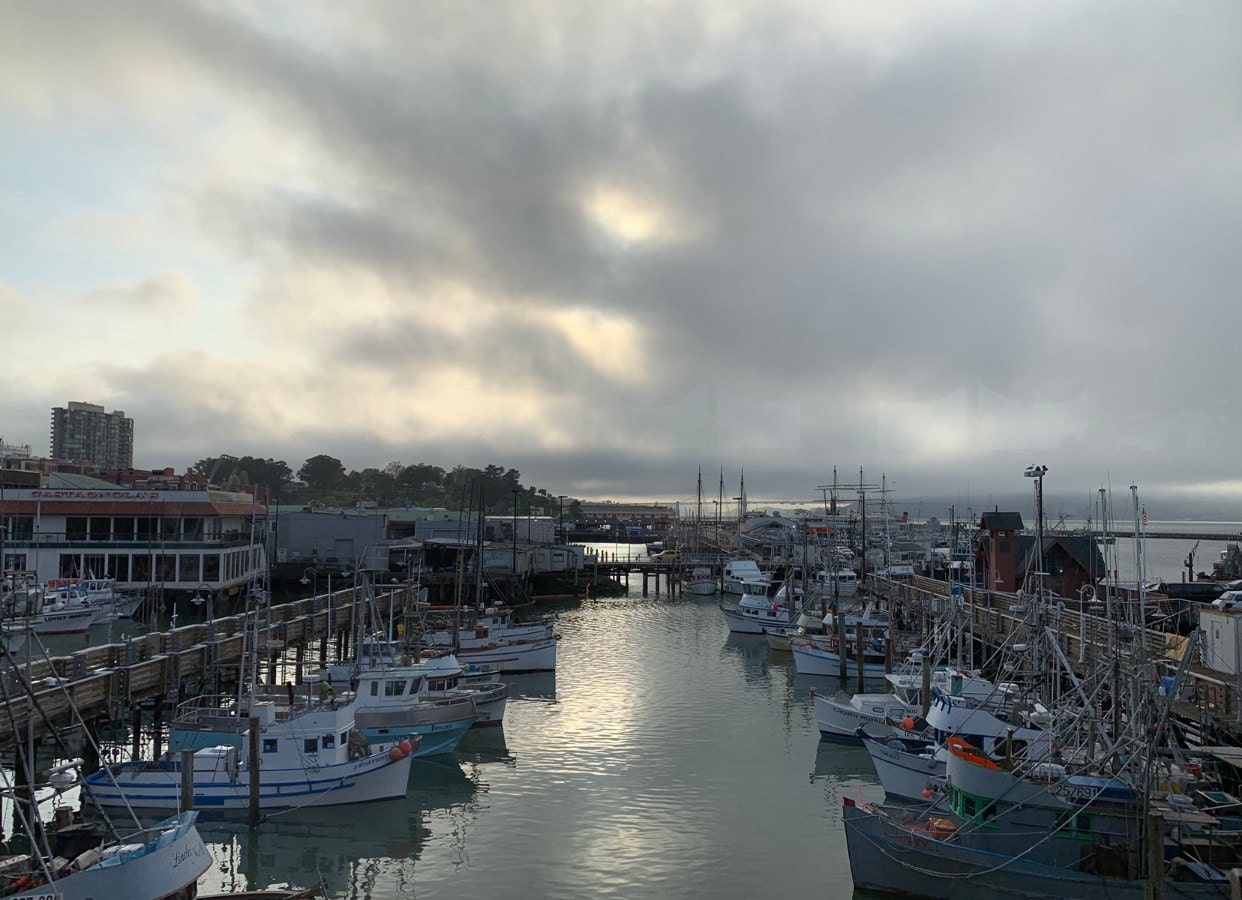 Later on .... after more bus travel, we ended up in Pier 39 and then Fisherman's Wharf - where we had dinner at Aliotos - very nice food and incredible views if you go upstairs.  I highly recommend the clam chowder ---- home now (or the hotel at least) .... no book shop in sight all day :( ... but there is always tomorrow  zzzzzzzzzz..... night all!