Have you ever driven somewhere without even really thinking about where you're going and then when you arrive you realise you didn't actually make a concious decision to go there, but instinctively you did, and fortunately for you, it was actually where you needed to be?
Well... that is kind of how this General Collective Collection evolved and it only really came to my mind when my daughter pointed out this morning that she thought it was kind of cool that I had covered all the elements - Earth 🌏, Air 🌬Fire 🔥and Water 💦.   
It was a revelation to me that whilst I had realised individually with certain sets, most notably with the Peridot and its connection with the earth 🌏 and the Aquamarine and Amazonite and their connection to water 🌊 but I had not realised that collectively I had actually been covering all the elements....Kind of Spooky 👻 don't you think?  This truly is a collection that came together instinctively and I kind of love that.... it wasn't planned that way - it was organic and makes it even more special to me.  
I also love that it will be adding so much more colour to the board and plenty of choice to work with your Autumn wardrobe too.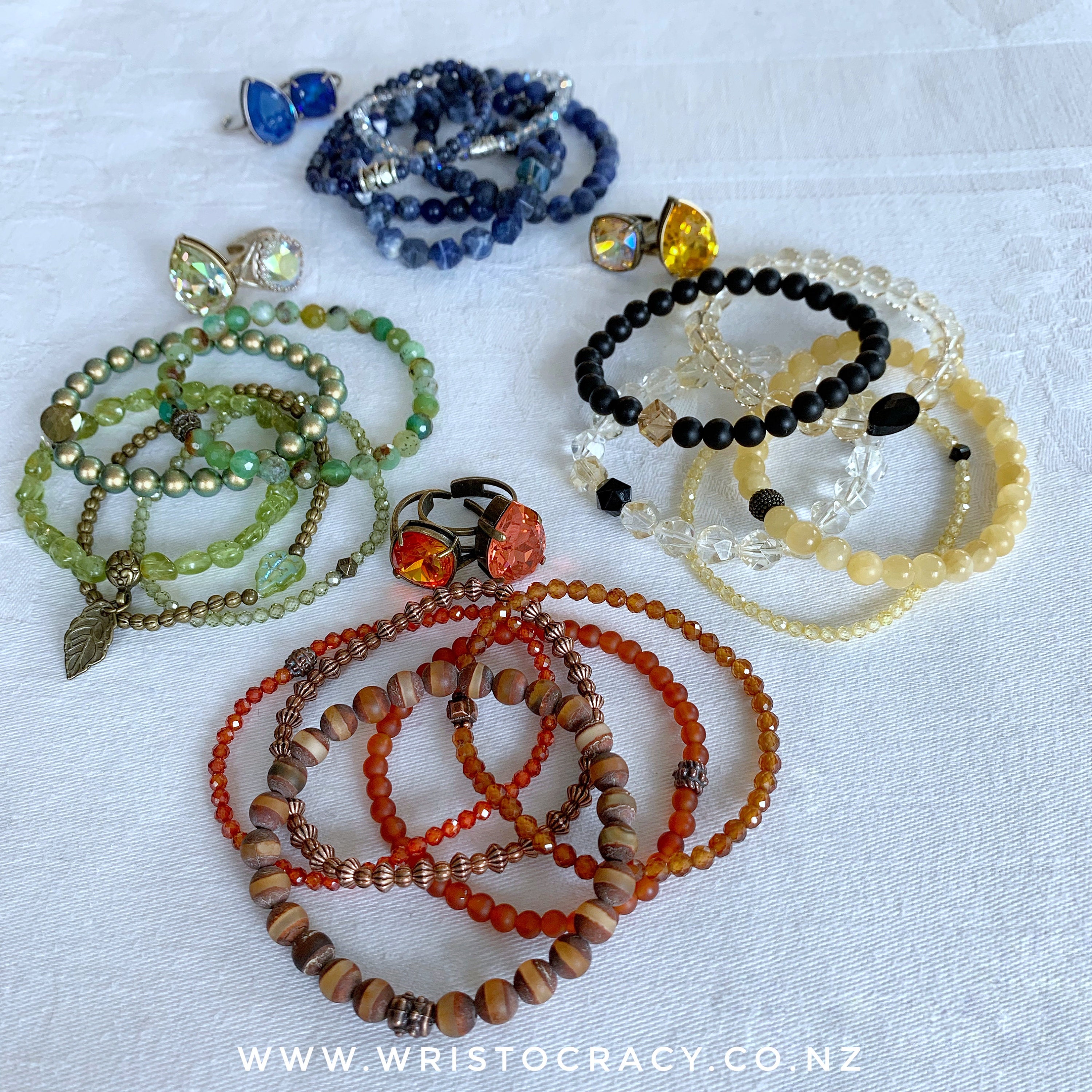 Tomorrow, I will be making sure there are plenty of rings, necklaces and earrings to select from too and also preparing for the last Te Atatu Night Market of the season.
But first lets talk about the last of my General Collective Releases... that will be debuting THIS Sunday!  With this last set - I wanted to create something that worked with the Oranges and Carnelians but wasn't actually orange, if that makes sense.  It can of course work by itself and with other things as well and I've actually made the metal focals copper rather than brass to keep the orange in there but not excessively so.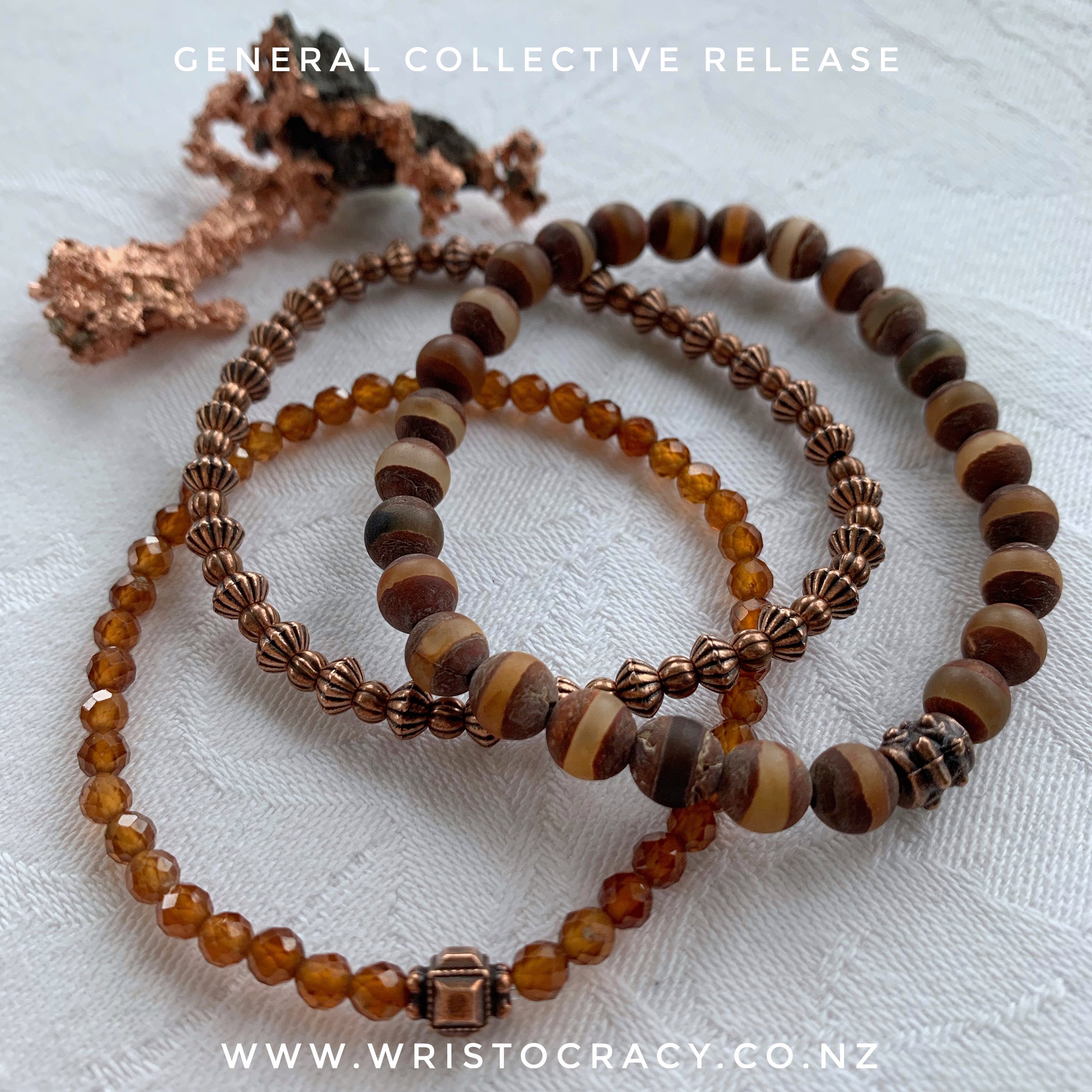 The Dzi Agate stone (pronounced Zee) is one that I have had for a while but was saving for something special.  
In many Asian cultures, the Dzi bead is considered to provide positive spiritual benefit.  The Dzi beads in this set have been made to resemble actual Dzi stones that first appeared between 2000 and 1000 B.C. in ancient India. It is said that the first examples were brought back by Tibetan soldiers from Persia during a raid and because knowledge of Dzi beads has been derived orally, no one is certain how these original pieces were made.  Authentic Dzi beads are thousands of years old and commonly passed down from generation to generation. These Dzi beads are agate and the patterns have been made with sanding and laser etching. The patterns, textures, and colors are permanent.
I've combined the Dzi in this set with copper and Hessonite, which is an orangey brown variety of Garnet.  Hessonite is also known and referred to as Cinnamon stone. Hessonite has been prized for thousands of years. The ancient Greeks and Romans used the stone in jewellry, and for cameos and intaglio pieces.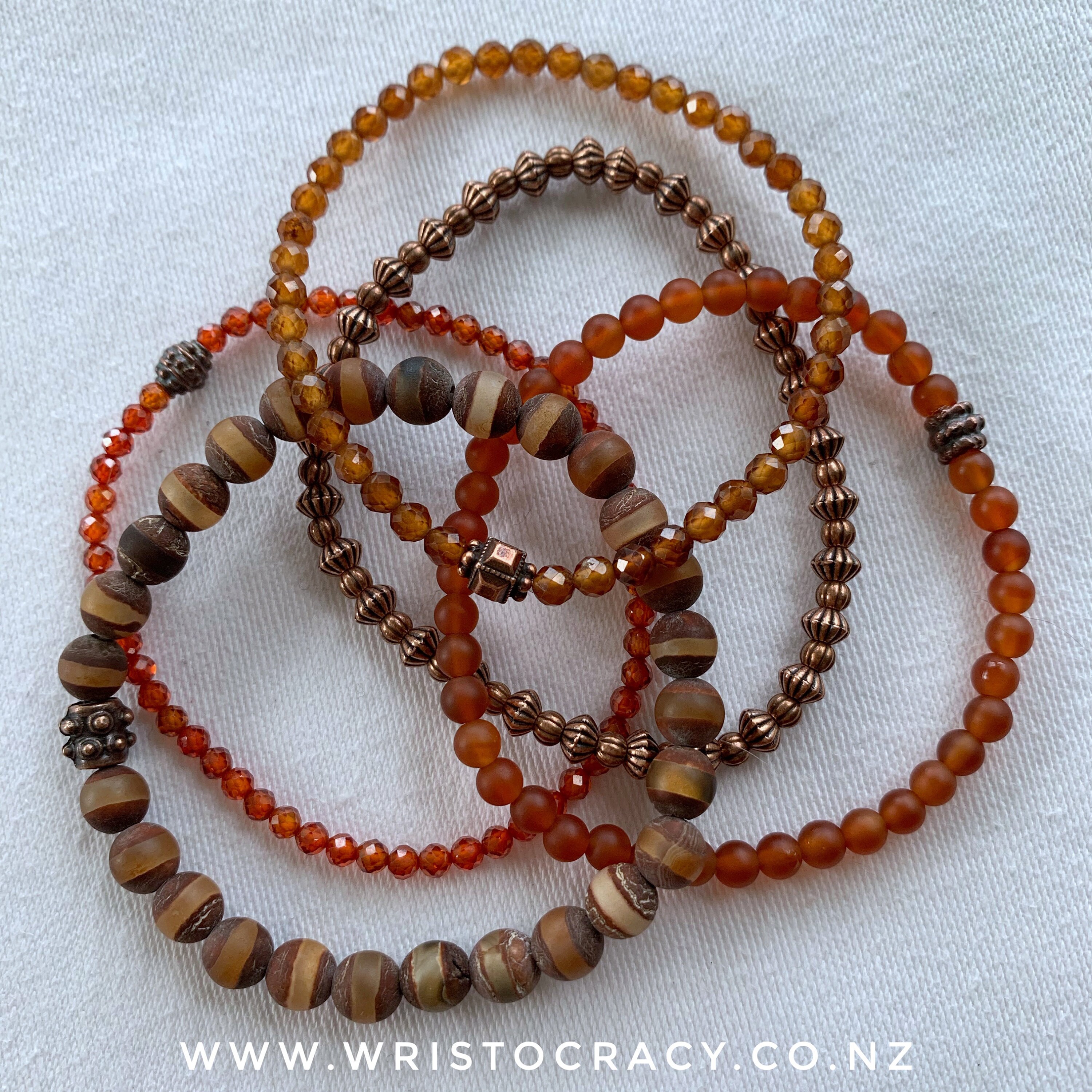 I have also created optional singles from a small red matte Carnelian bead and a dark orange poppy shade of Zirconia so that you can coordinate it to bring out more of the orange or you can combine with some of our other Orange bracelet sets and singles or choose to highlight the browns with the addition of Smoky Quartz, Tigers Eye or Bronzite or coordinate with blues such as Blue Casillica Jasper and or even one of our Turquoise Magnesite sets.  Of course it is designed as a standalone set - but you have options if you want to extend your bracelet stack or just change out components to give you more flexibility.
I haven't had a chance to photograph this latest set on wrist - but I will sometime soon and followers of my blog will be the first to see it when I have!