Apologies for not checking in sooner but life has taken over. 
I've been celebrating my 50th birthday … twice actually.....(once in NZ time zone and secondly in the US timezone) - pretty sneaky don't you think and a way to wring out my 40's just a little bit longer as well!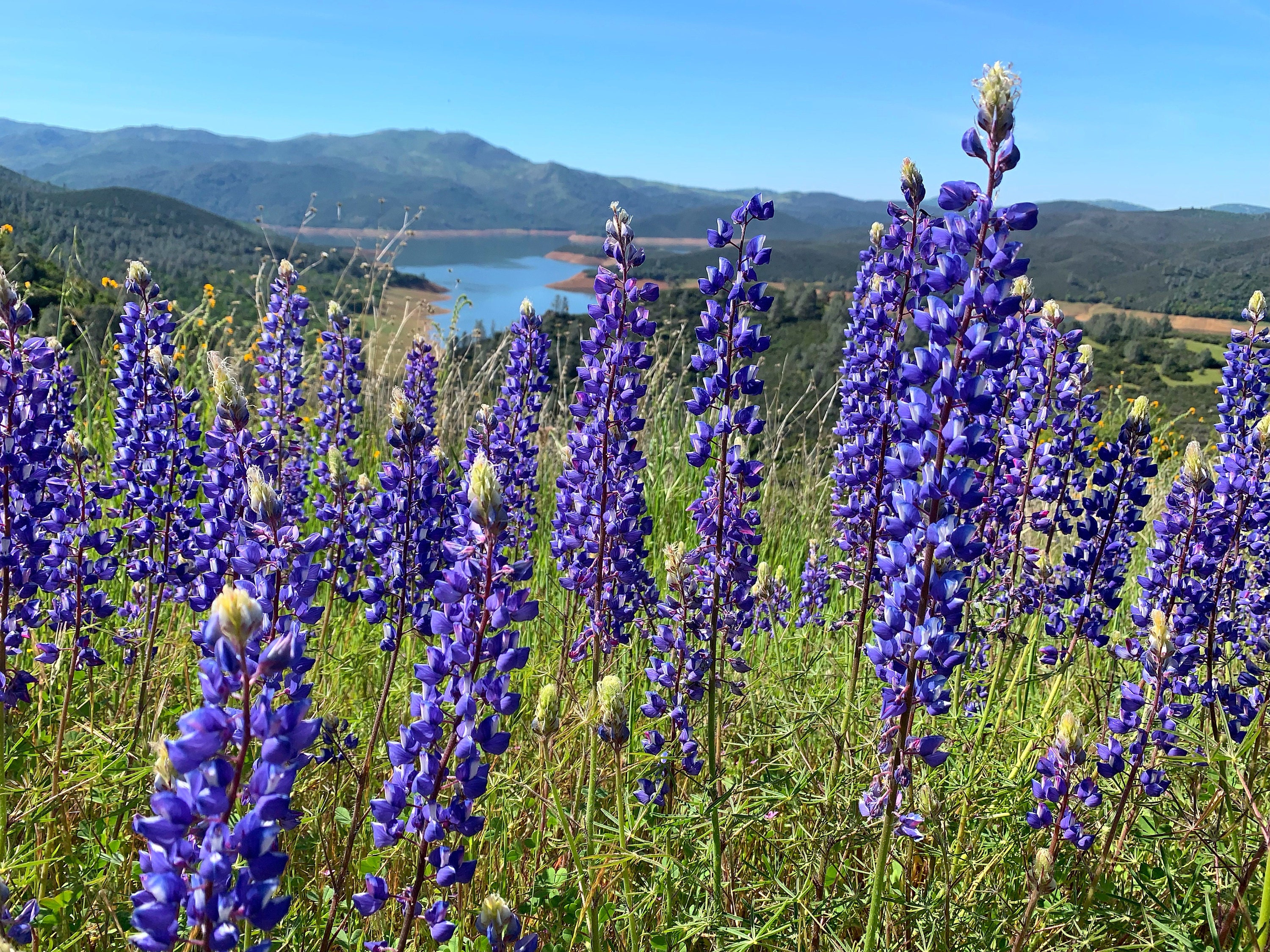 Beyond our stay in Yosemite we headed South to LA. It was a long but spectacular drive and with weather being what it has been over here - we have been spoilt with a showing of colourful wild flowers (above and below) I will never forget. Vibrant blues, yellows and oranges punctuated the greenery, mountain and water views and we couldn't help but stop and photograph. I was heartened to sit amongst the flowers and hear the loud buzzing of bees. It has been beautiful.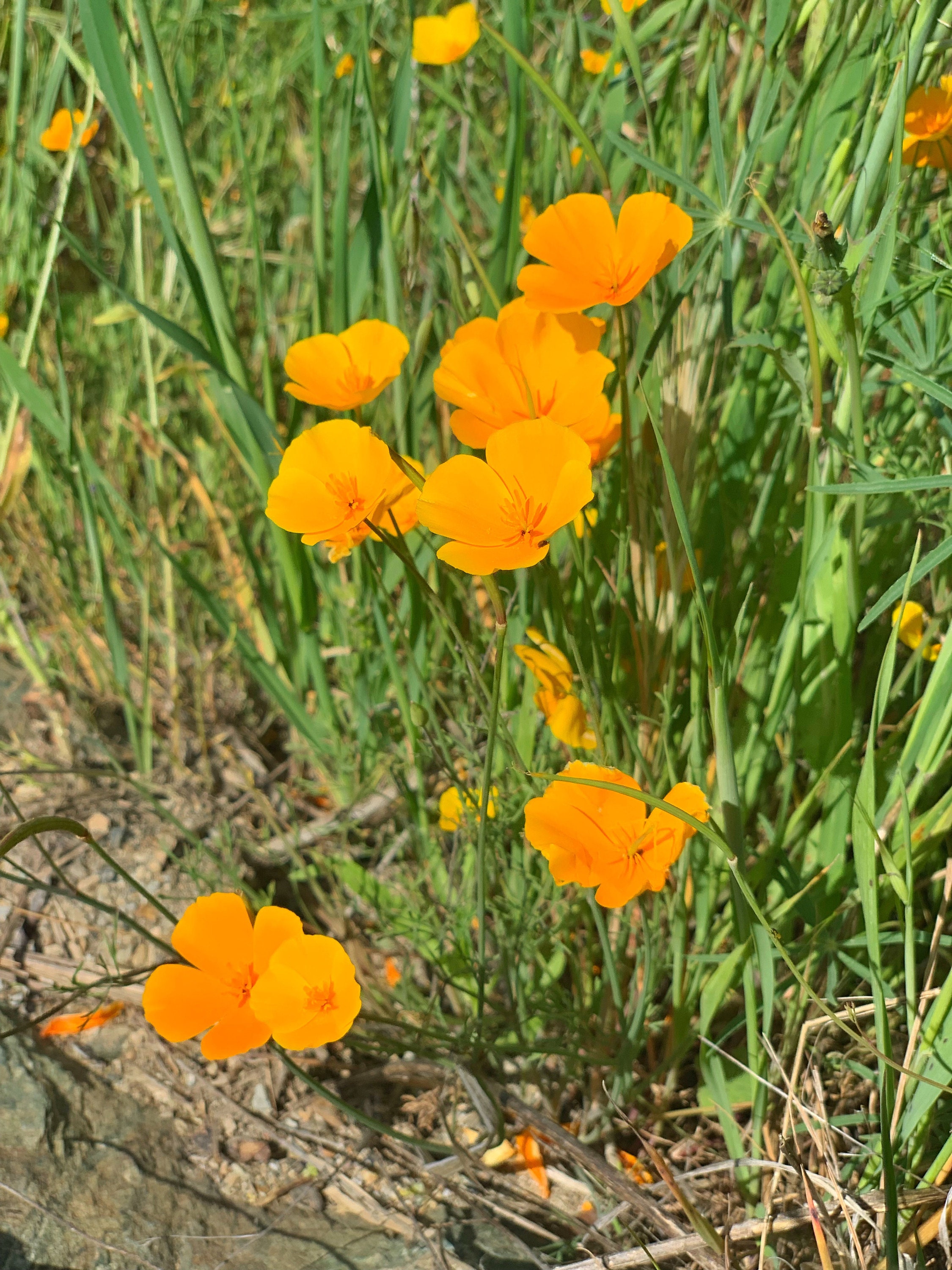 We are now safely ensconced in Santa Monica staying with my Sister Outlaw, Mel (our affectionate term for each other - Mel's sister is married to my brother and we've always got on very well). From our comfortable home base we have been able to travel to a few areas we want to explore.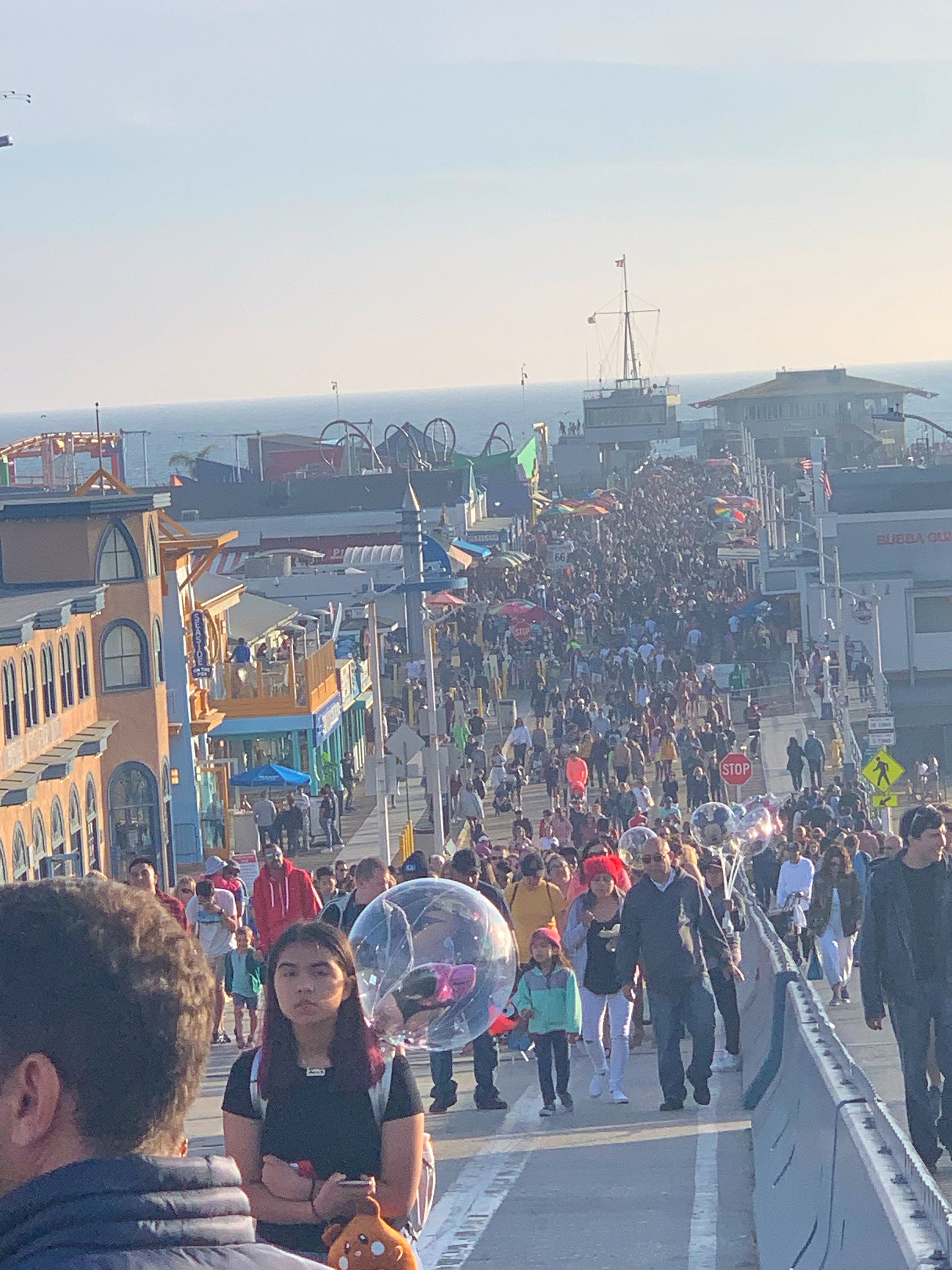 So, after a little sojourn around Santa Monica - which is filled with tourists at the moment (see picture of the pier above), perhaps even more than usual because of Spring Break, we decided to head to Downtown LA to the Fashion District to check out what was happening.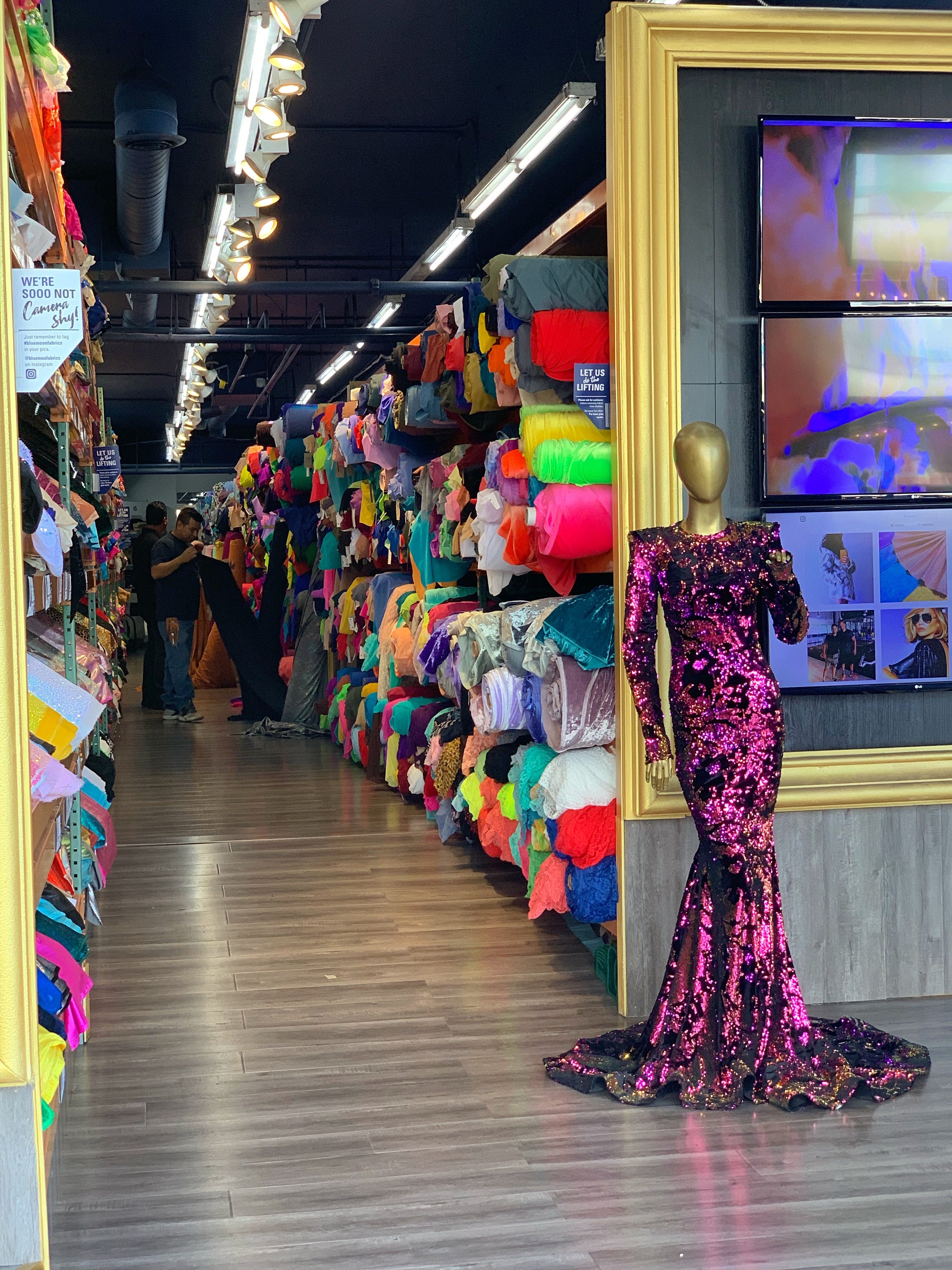 I love visiting places a little off the major tourist routes I feel you get much more insight and a little more of a feel for a place. This is definitely a must do for creative peeps visiting LA.  There was rolls of fabric stacked to the roof and shop after shop of them in so many colours and textures you wouldn't believe.  The shops were also crammed with all sorts of trim, ribbon, and embellishments.  This really must be a dressmakers dream.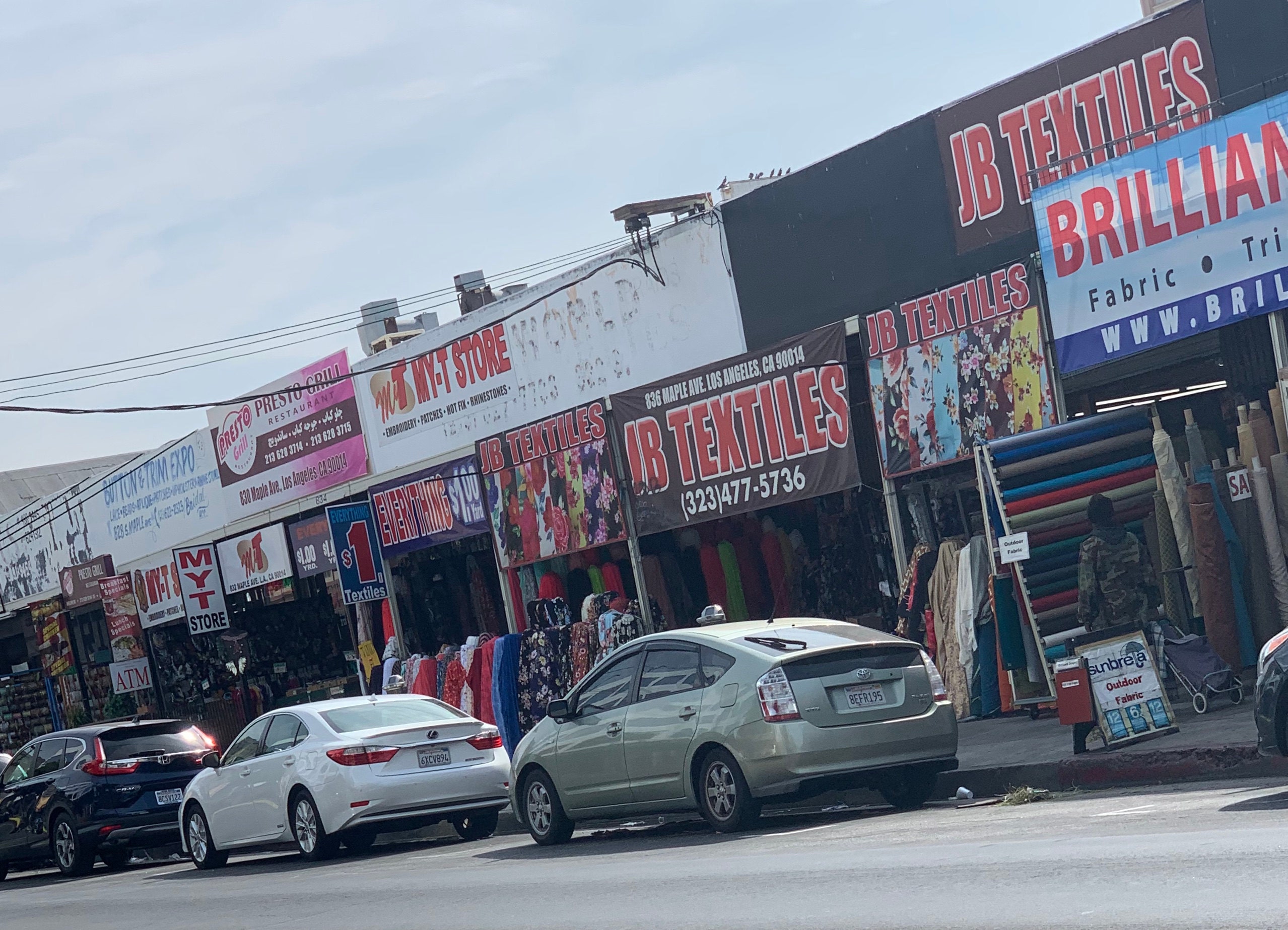 So after this - I was feeling pretty inspired and decided to look up a few places I knew and seeing as we had a car to get about - we went bead hunting.  
Now, there's good news and bad news....
Sadly, the sellers are quite protective of their beads and didn't allow photography in the store of any kind - the photos I am showing here are the only two I managed to take... so I was unable to include you in the process as much as I had hoped to.....,my apologies for that.
  However, I did find a bunch of really great stones. I managed to add to the Turquoise stash and I also managed to secure some gorgeous faceted Moonstone and Morganite stones that are pretty wow.  I have also secured some Apatite and some vibrant Chrysocolla as well. 
There were many other stones that I know would have been very popular, but the cuts and sizes are tending to be larger and a little chunkier than I know you all like… so sadly, I've had to bypass those.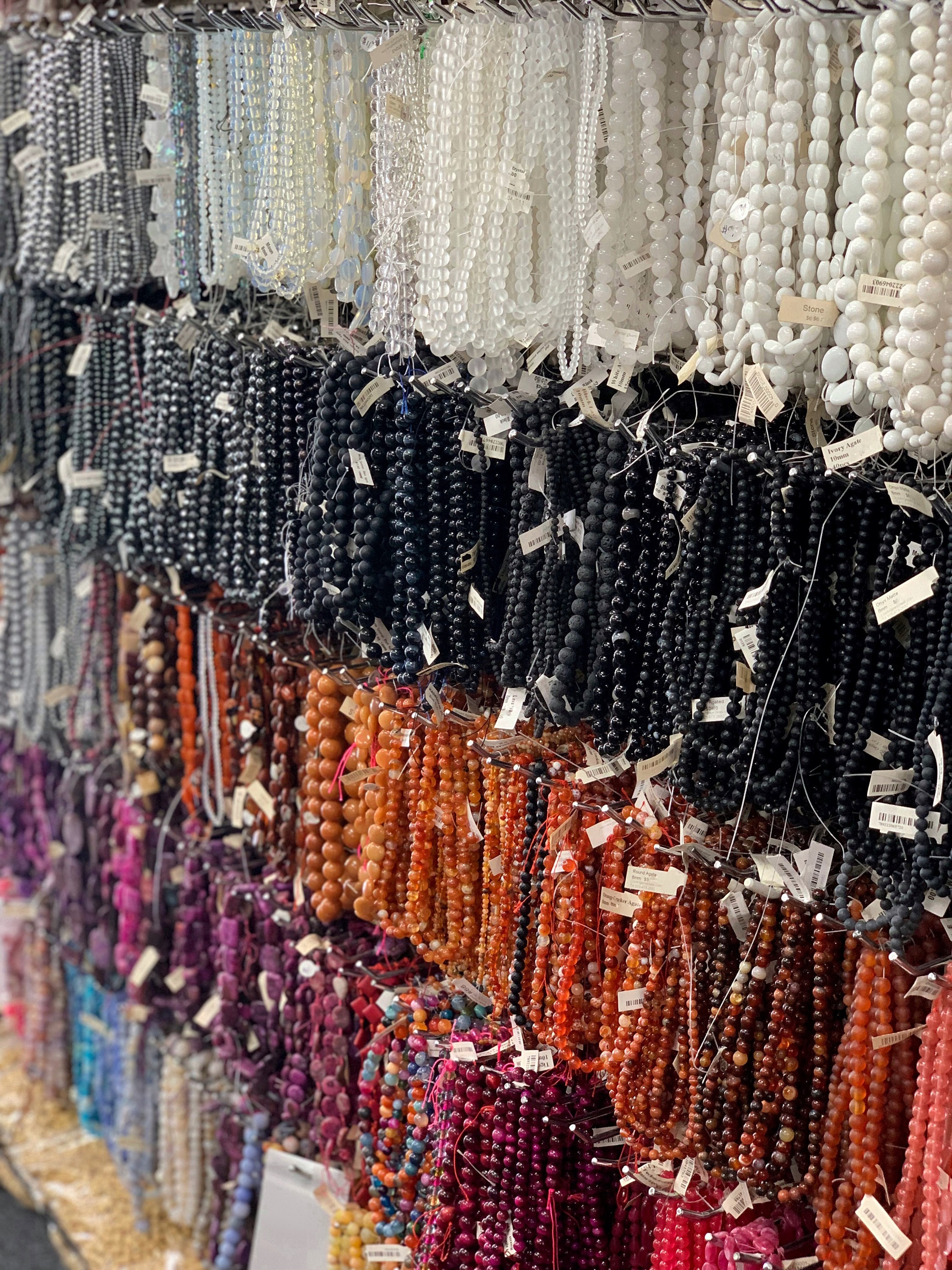 One thing I really wanted to bring you was a red stone - but sadly the ones I have encountered so far are largely corals or dyed jades.  
For ethical reasons I will not be bringing in coral, I don't want to contribute to the destruction of our reefs. Apologies, but it is something I feel quite strongly about. 
With regard to dyed stones - I have stocked them in the past and still have a few - but feel I am working toward stocking higher grade natural coloured stones so would rather invest in those. So, I have decided to bypass these particular stones. Please know that I do have some gorgeous red toned Jaspers and Agates already .... many of which I haven't released - so there will be red! 
On the positive side of things this trip has also really confirmed a few things for me. I now know for sure that one of my favourite suppliers is really as good as I thought they were….. and this means that I will continue to be able to supply you with excellent quality and variety of stones. That excites me - and now I have a greater knowledge of what is and is not available.   
I have also confirmed that what we are doing with Wristocracy seems to be quite unique. I have not encountered any bracelets or businesses so far that embrace quite the same look or ethos - so that makes me feel really good and that I am offering you something a little different from the masses.  I hope you feel the same.
To end with - I can't resist sharing this picture of the gorgeous flowers I received today from my very thoughtful sister in law, Roxanne and Robert (my brother) to mark my 50th. Whilst they reside in the US, they live in the South and we haven't had a chance to catch up on this trip - but I thought it was such a lovely gesture and the flowers so gorgeous I thought I'd share...  Only a couple of more days until my return - I will be at Crafternoon Tea this Saturday if you want to discuss anything or try some bracelets on for size!