We started out a little later this morning as we need to check John into the Google Conference - so didn't end up joining the Bus Tour until late morning.  Originally, we planned to head straight to Golden Gate Park and the Japanese Tea Gardens - but when passing through the Haight Ashbury district I was just itching to get off! Apparently, a long forgotten part of me just found its soul district!
Very few people I know now actually knew me in my teens.... but way back when.... I was an incence burning, mirror skirt wearing, folk music listening to, hippy (practicing in the wrong decade of course) but oh so incredibly proud of it.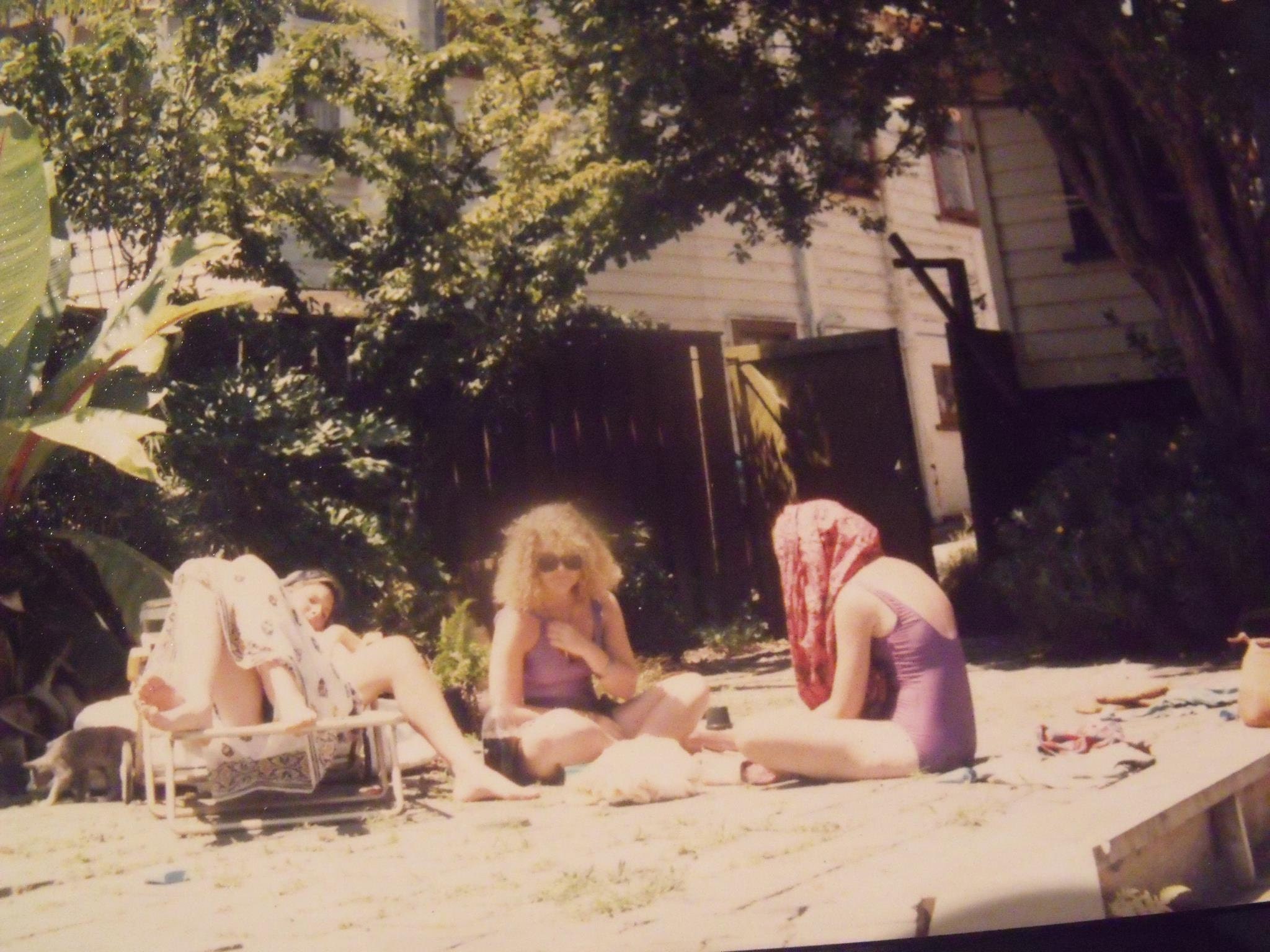 Whilst I was born in the decade of Free Love - I actually only got to embrace the "hippy vibe" in the 80's.  
When everyone else had big hair and was donning shoulder pads (I eventually did this too) I wore a spiral perm (mostly it was down to my waist but hey, the photo above was the only one available to me long distance and was taken a little later - that's me with the blonde hair), clad myself in muslin shirts, peace sign earrings and anything that looked remotely of the 60's.  I wore Kohl eyeliner applied with my finger, shopped at Cook Street and listened to music of a different decade.  I signed up to all sorts of causes, 'Free Nelson Mandela', the 'Gay Law Reform Bill', joined Greenpeace and marched for the whales quite a few times. I loved all things peace, love and tie dyed! My oldest brother even nicknamed me his little Lotus Blossum.....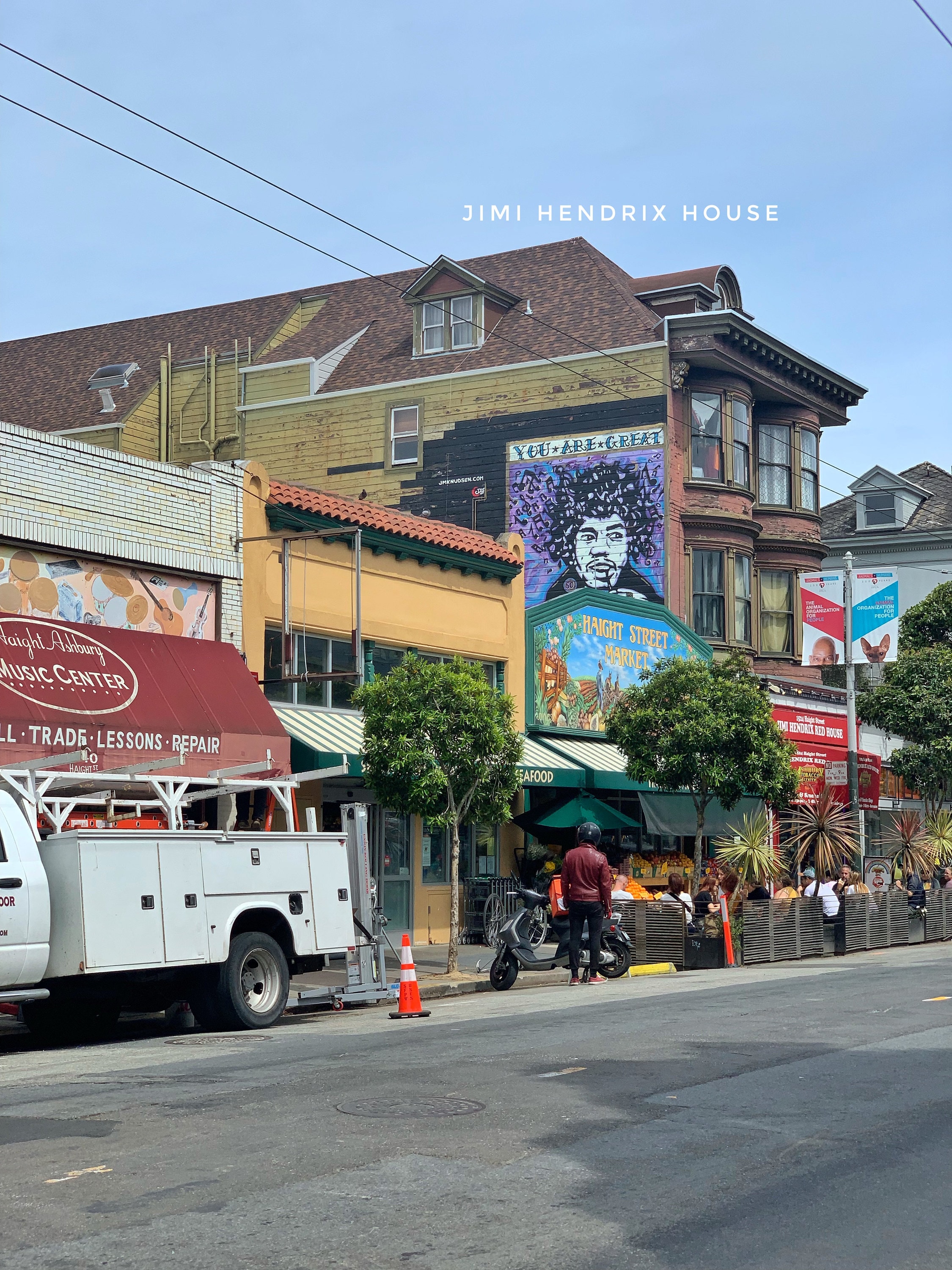 All of this kind of slipped my mind until we rolled into Haight Ashbury today and the tour guide pointed out Jimi Hendrix 's house (above) and the Pan Handle of Golden Gate park (below) ... the venue of the Summer of Love and the origin of the hippie counterculture.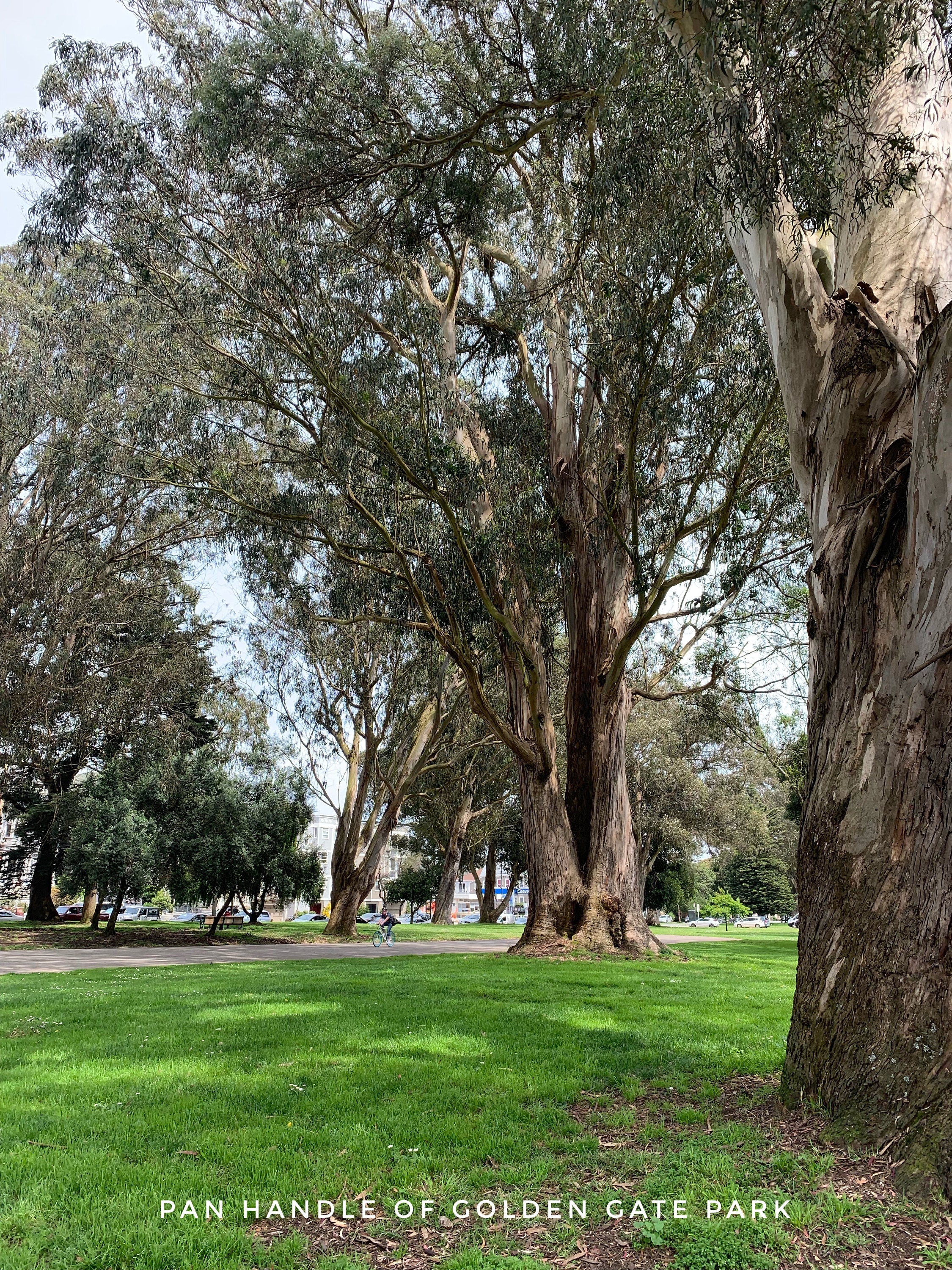 So there we were, on the bus - listening to the spiel from the tour guide - when I spotted the house and a few too many reminders of my youth (lots of hippy style shops).  All of a sudden - it was all I could take and I said to John - "I need to get off the bus!" He groaned.... of course.... fearful of what lay in store, but dutifully complied and actually ended up (like me) particularly enjoying this district, which is now a mix of the old and new with some lovely inexpensive and vibey eateries and some wonderful creative shops - think Grey Lynn vibe perhaps.  To placate J we started wtih a Brazilian Vanilla Frappe at Cafe Cantata (below) as the day was heating up fast.  As we waited for our order another patron recognised us as Kiwis and wanted to chat to us about his time at Victoria University just a little while ago. He was in love with NZ and said we were very lucky to live there! We absolutely know this! But it is so nice to get the reminder! :D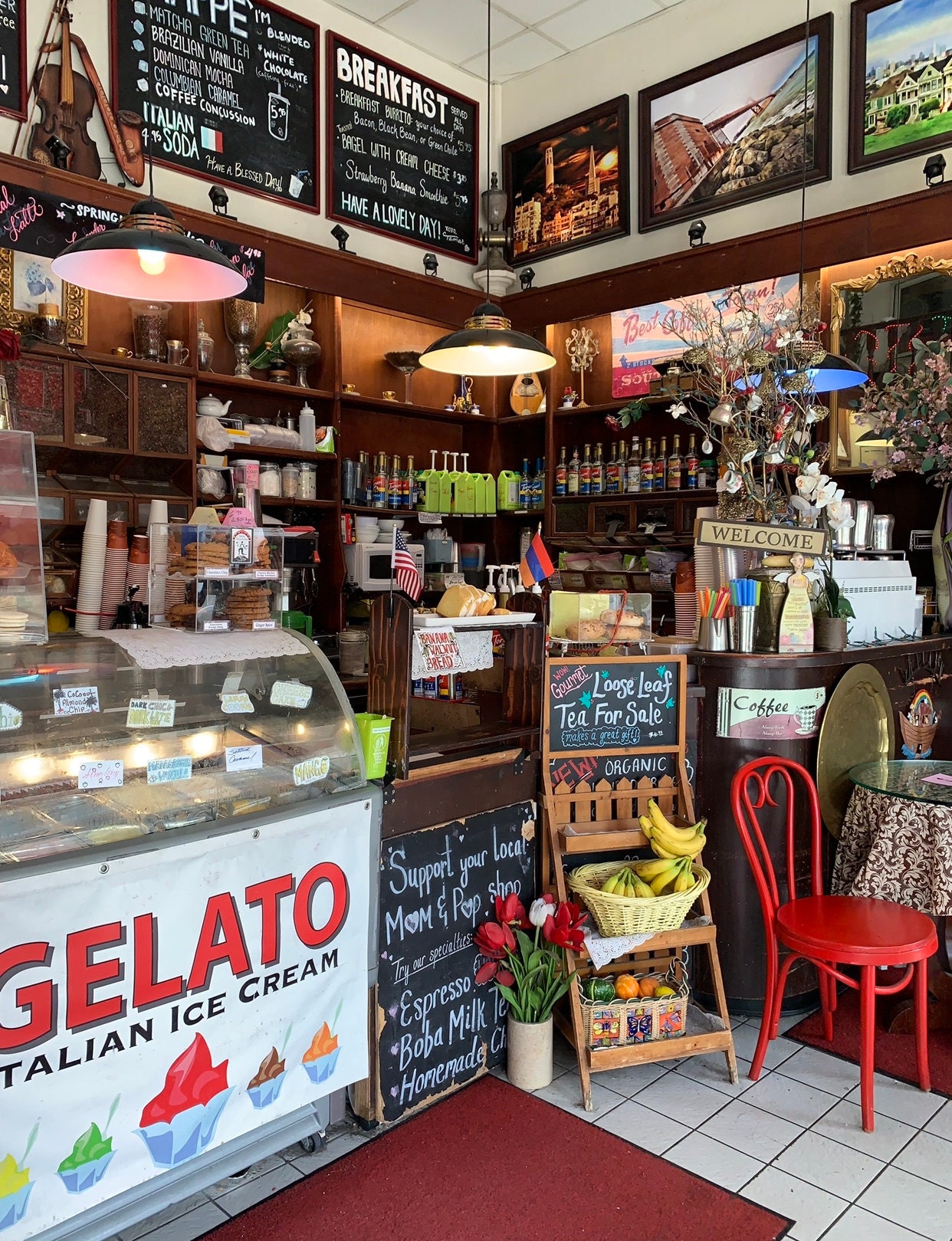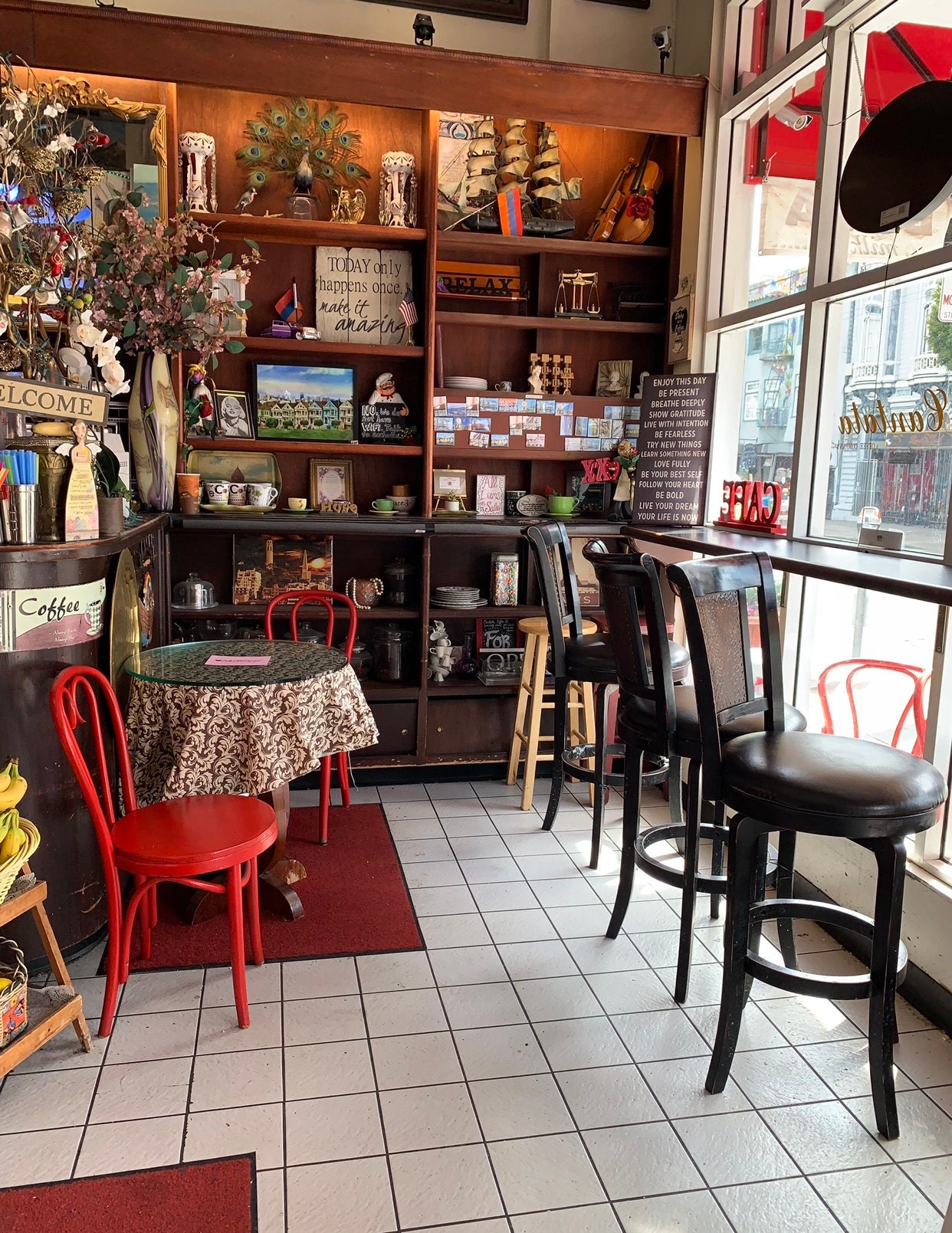 Our drinks soon arrived and we slowly made our way down Haight Street and stumbled across our first open book shop and it was a beauty!
Sorry... I know this is supposed to be a blog about bracelets - so here is the obligatory picture of some beaded bracelets I found today...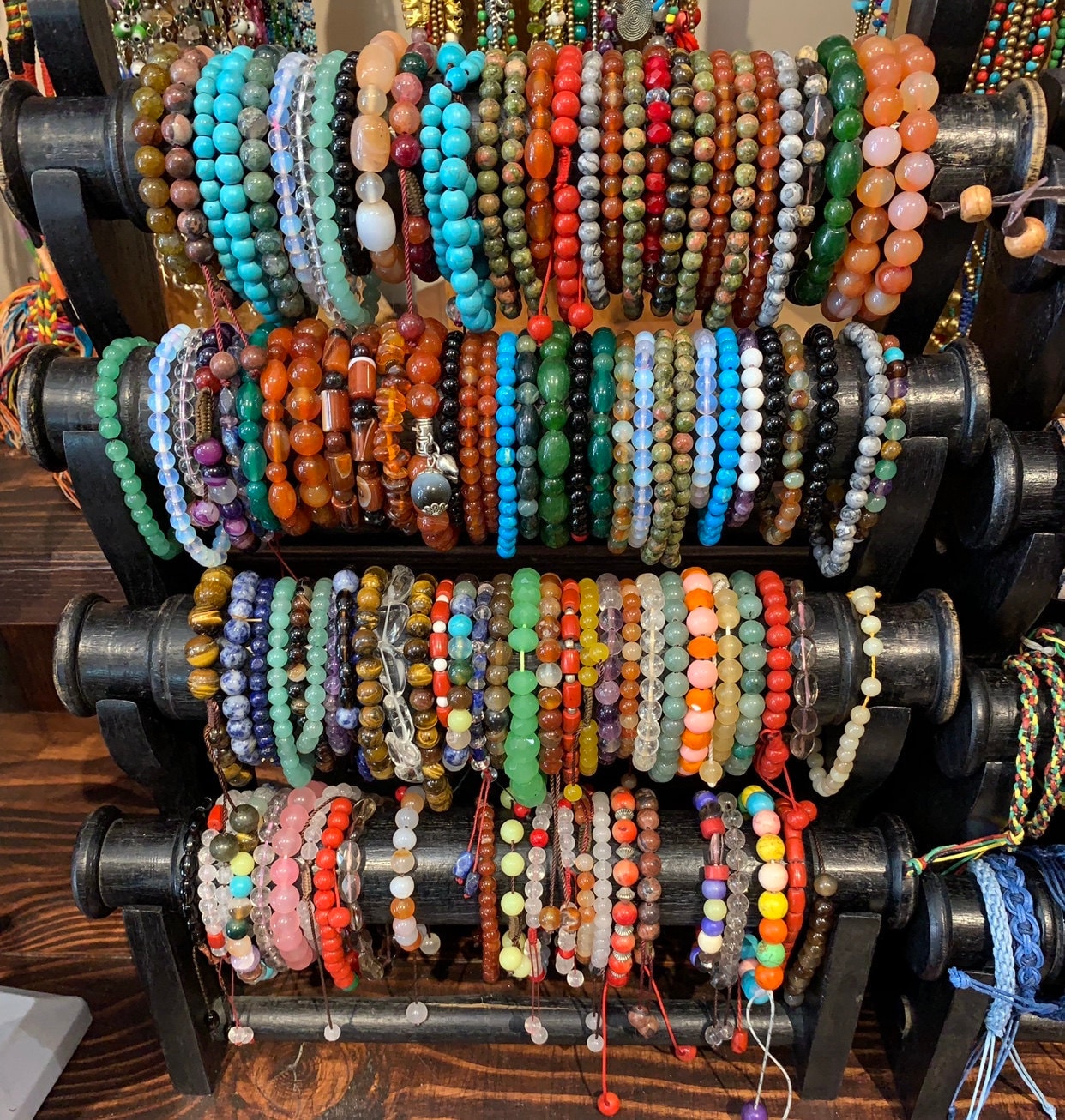 Pretty colours - but I am not wowed by anything I have seen so far - but I will let you know when I am!
The book shop on the other hand was gorgeous....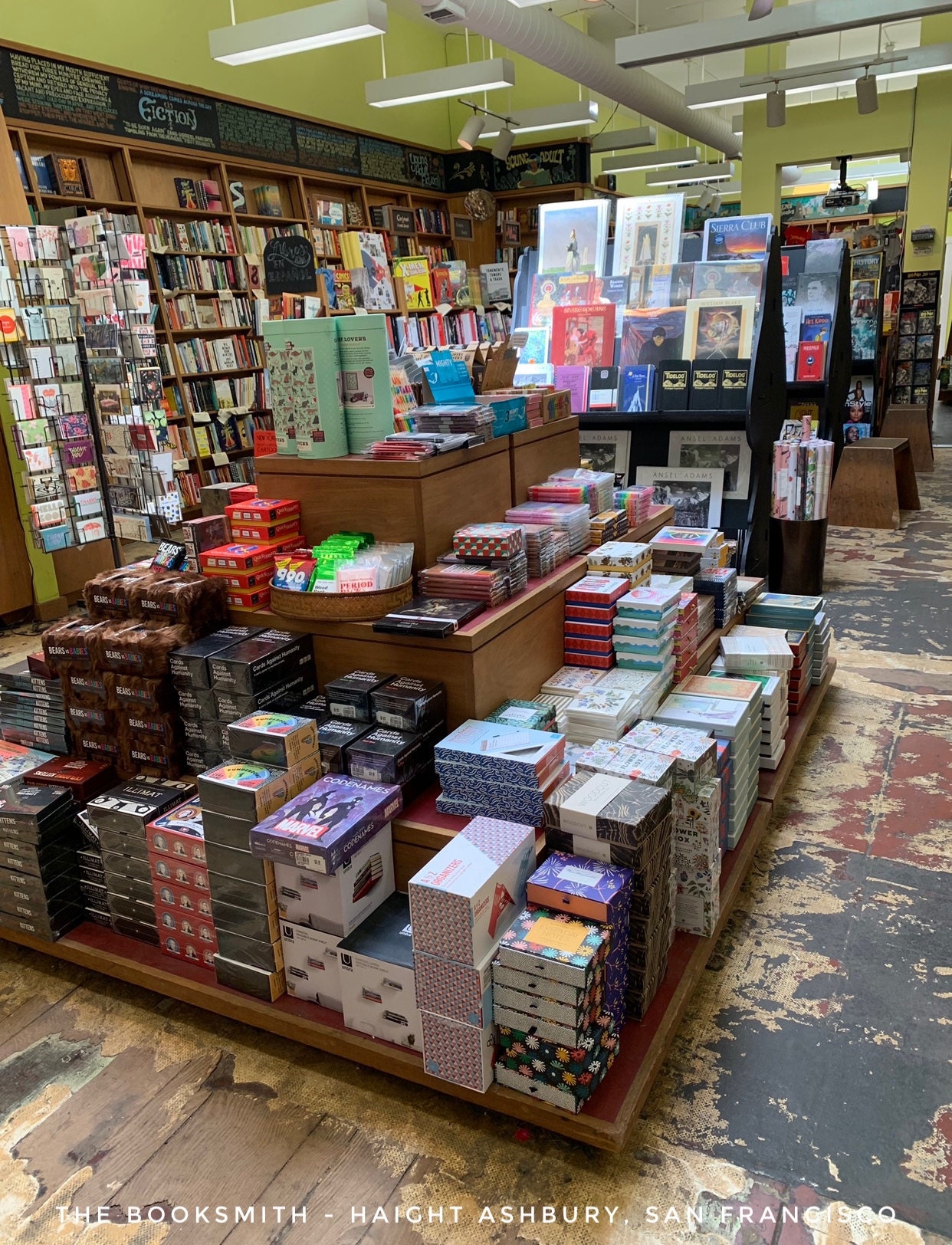 Haight Street is where most of the shops and outlets are but there are a few more sprinkled up the side streets which are also home to some beautiful examples of the Painted Ladies (pictured below) - the iconic style of houses that San Francisco is famous for.....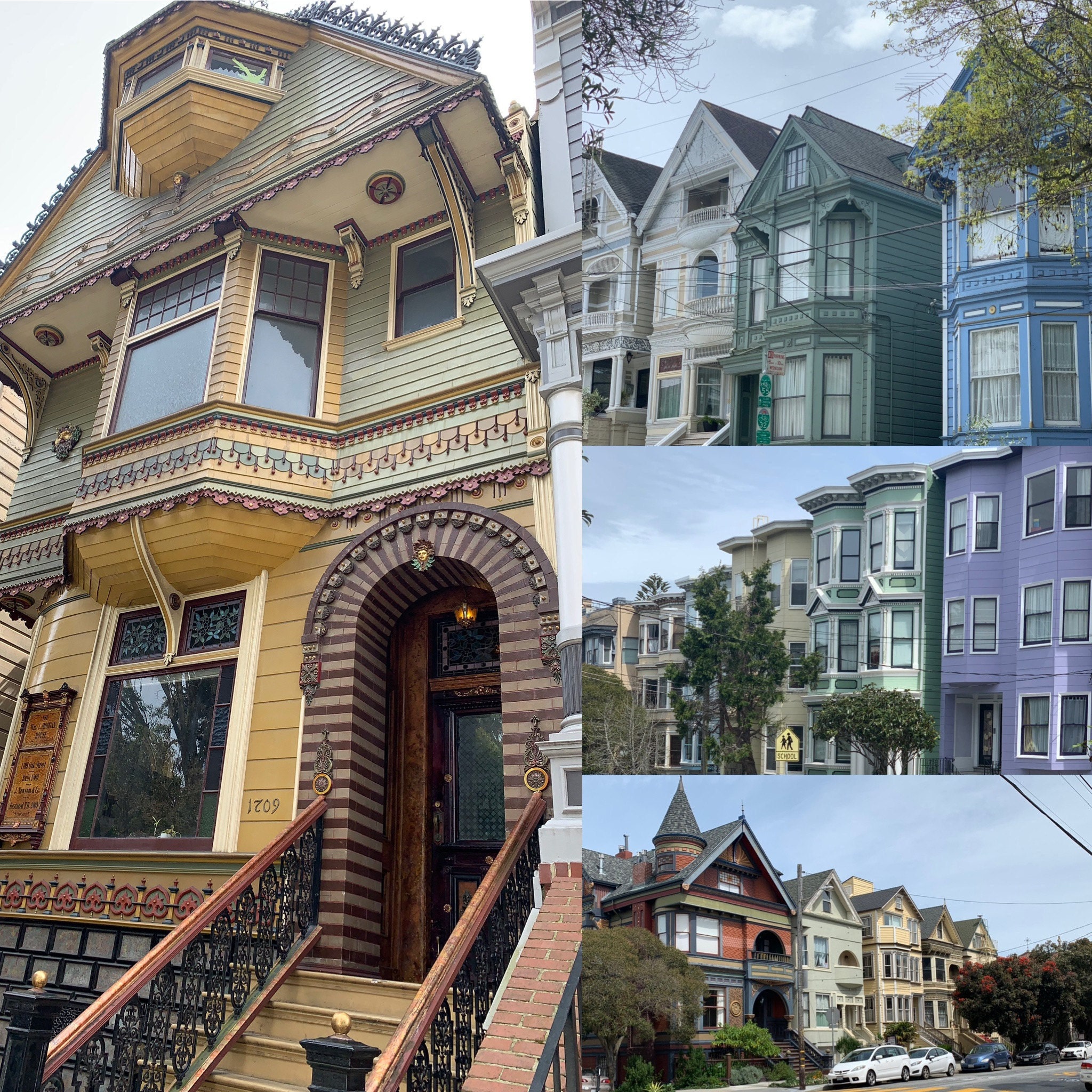 FYI ... The Jimi Hendrix house now houses a shop that sells pipes and similar parafanalia, T Shirts and Jimi Hendrix mementos - it's not my cup of tea - but I'm sure it is exactly what it is supposed to be.
The tour guide had also pointed out the house that Charles Manson lived in at one point - but not keen to celebrate a murderer - we left that one.
We shared some vegetarian nachos at Street Taco today for lunch deciding that we had spent far too much on food yesterday.  The food was delicious and far exceeded our expectation for the $8.50 we paid.  We saw crystals and trinkets, vintage clothing and design items - there was humour and history, music and soul to this community.  I really loved it.
We did a tonne of other stuff and chatted with all sorts of interesting people including some wonderful fellows whom we met in Mendel's ....a fantastic Art, Craft and Fabric store on Haight Street.  They gave me some great tips for sourcing beads in LA and one of them, a now retired Costume Designer.... told us, on recongizing our accents how he worked with Weta Workshop designing costumes for Star Wars - he even showed us pictures on his phone.  He apparently continues to design costumes for his own pleasure now....  John was enthralled and we walked out feeling very lucky to be enjoying this trip and meeting such lovely people.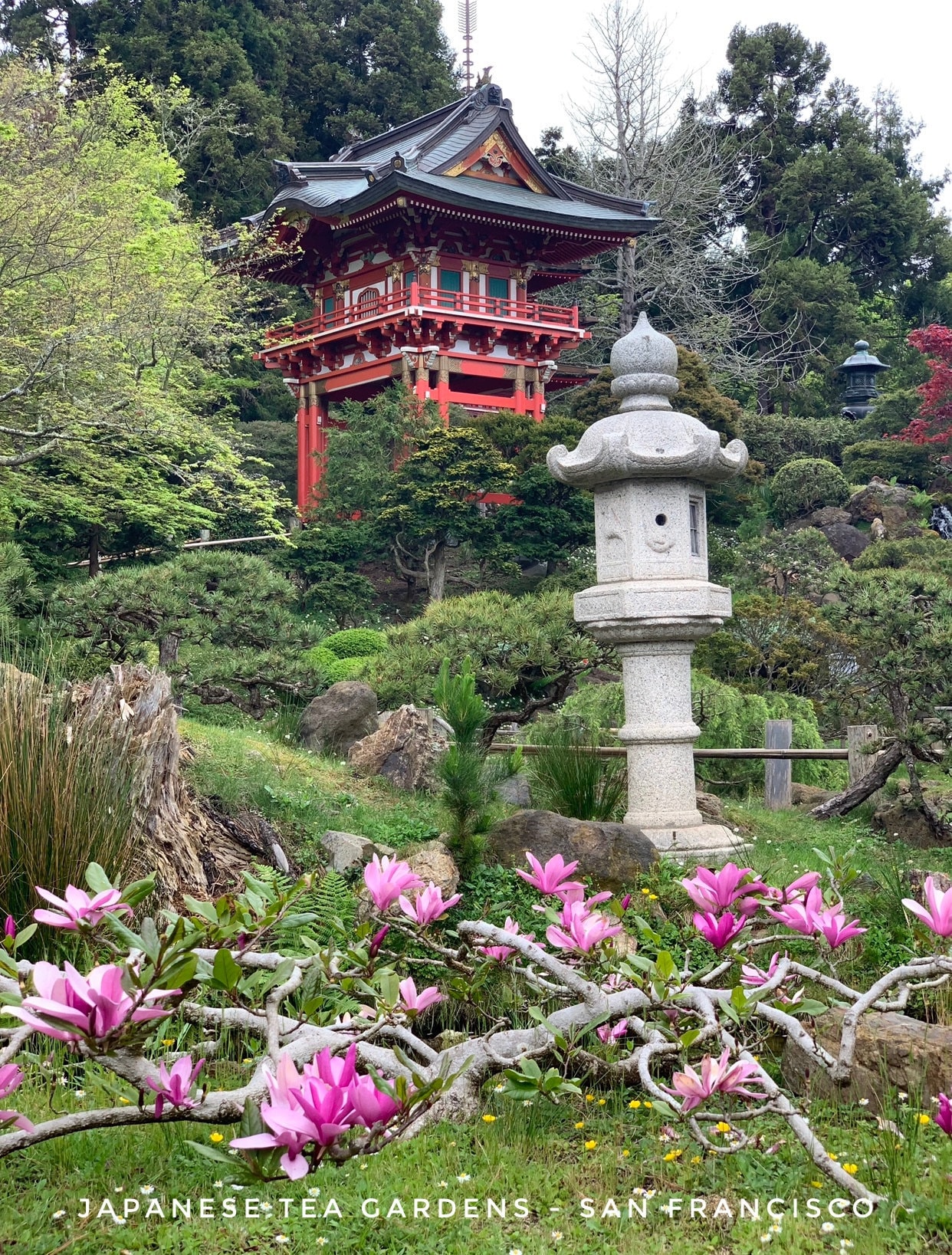 I really do have a tonne more stories and pictures but I will save them for another time - but I will say we did make it to the Japanese Tea Gardens (above) ... eventually and the Palace of Fine Arts (below).  They were awesome and so pretty - but sometimes I think it is the people you meet that make your day and Haight Ashbury had nothing but lovely people today....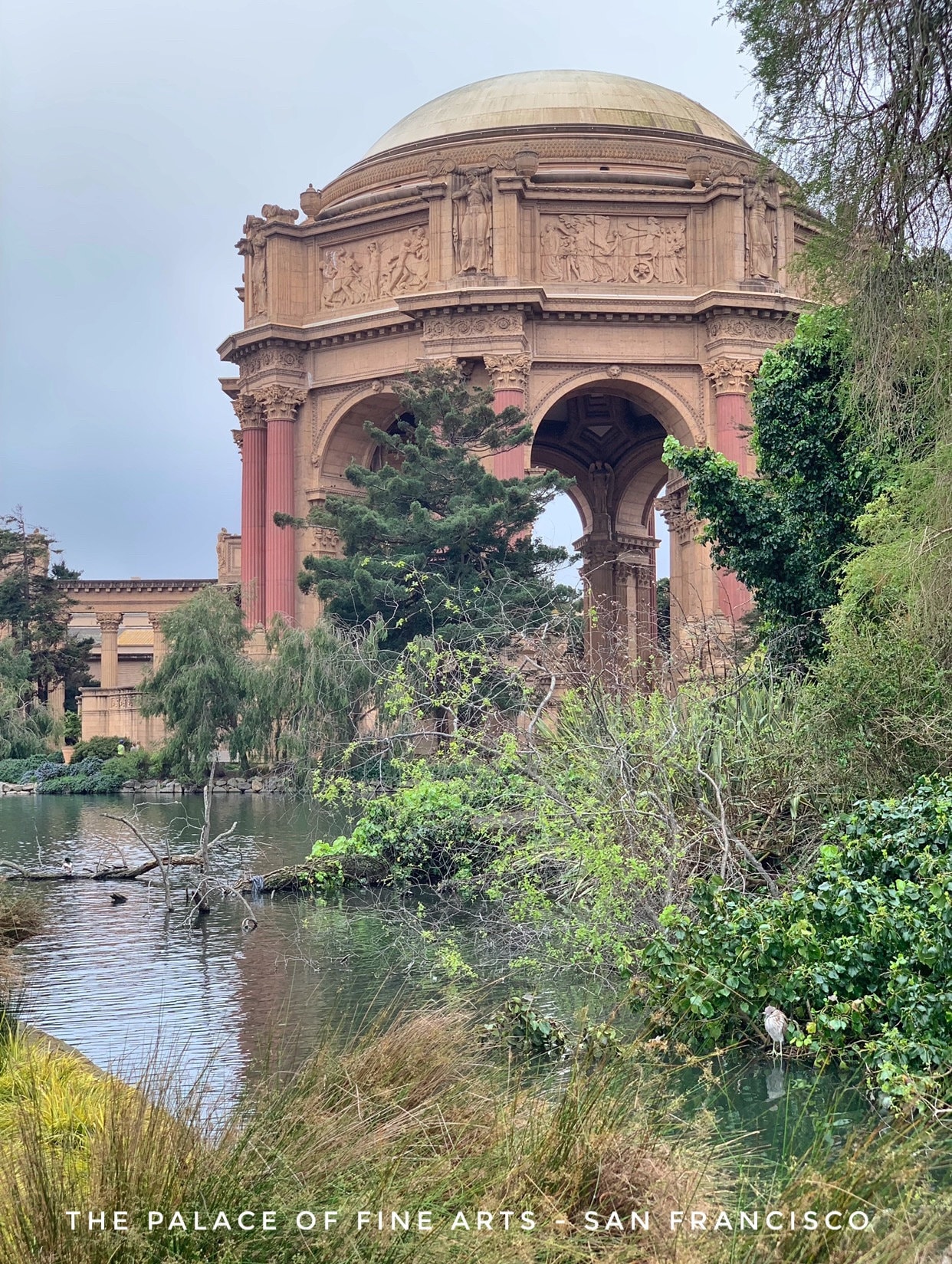 John is off to his Google conference tomorrow so I have no plans except a late rise tomorrow ... what shall I do I wonder?