Wow - well where to start ..... It has been a whirlwhind!  
After another fantastic day at Crafternoon Tea, Albany where I got to work with some of you on some custom collections (love this part of the job) ... we dashed home - finished what was left of our packing and headed to the airport.
After a minor (borderline major) organisational panic at the airport we DID make it onto the plane!  All I can say is MASSIVE thank you to Alana at Flight Centre for sorting it out for us!   
We arrived in San Francisco just before noon Saturday - and after having to Facetime with my cat (daughter felt my voice would calm the apparently stressed out Gizmo....  it didn't, lol) we were wizzed into the city by a cab driver who was curious to know how NZ was after the horrible events in Christchurch.  He told us he lived next door to a mosque himself in Oakland, and was incredibly shocked and scared by these events.  We of course reiterated how terrribly devastating the event had been for NZ and particularly for those people who lost loved ones.
Eventually, we reached our hotel.  We're staying in Stockton Street near all the swanky shops and just down from China Town... and right next door to the Apple shop (I think John planned that one).  We're obviously not here to spend big at Cartier, Giorgio Armani and Dolce and Gabanna so we headed off on foot to explore while we still had an ounce of energy.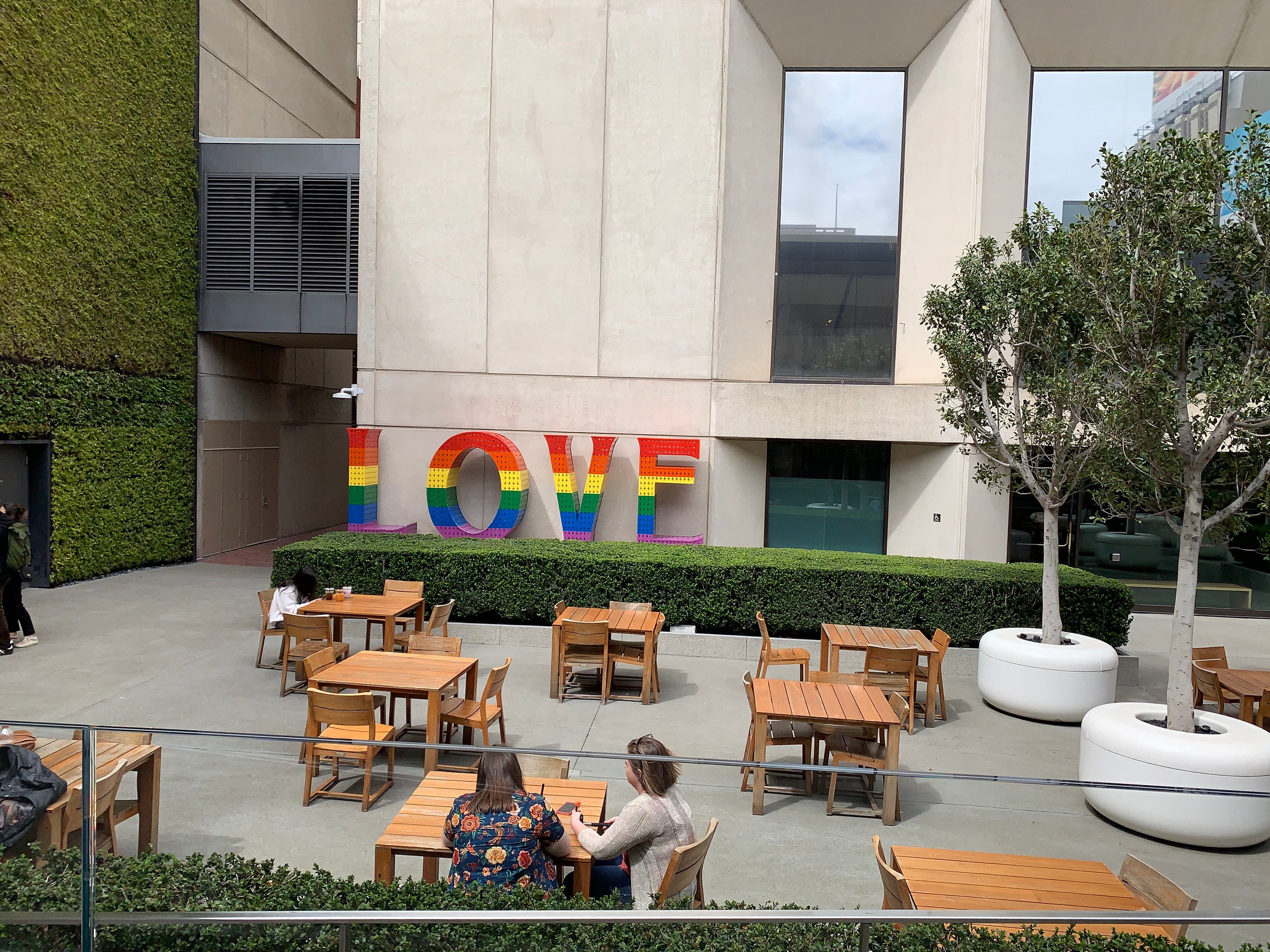 Courtyard looking from Apple Store to our hotel - hmmm very convenient John.
So, first on the list.... General Bead.  I've read about this store online and was pretty curious to visit.  John had already been there once on a previous visit and told me a little about it and given its 4 Stars on Yelp ...... I was intrigued.  
Knowing that this store is located in a fairly dicey part of town - this was one shop I felt safest to visit with my husband in tow (sorry John).    General Bead is located in the Tenderloin end of SOMA (South of Market). For those who have never visited SF the term "Terderloin" is used to describe .... shall we say.... the rather colourful part of town.  
I had intended to take a photo of the store front - coz it is kinda cool and vibey... spray painted and covered in security mesh and flanked by an abandoned lot as the building next to it has been demolished -  but given that today there were quite a few seemingly homeless people around the building and someone directly opposite shooting up I decided against it and instead invite you to look on line for yourselves if you're curious .....
Inside General Bead - you should sort of imagine kind of like a Geoff's Emporium full of beads of all kinds! 
In the little video above you can see John waiting patiently at the counter.  
Whilst the store had a massive selection of beads, findings and jewellery paraphanalia  it didn't have so much of the gemstones that I'm actually on the hunt for, so after picking up a few little bits and pieces - we left and headed to the bike shop (John's bead equivalent!)... and then headed back to home base.
Sore feet and exhausted...... we fell into bed for a quick nap that has turned into a night in to recover from what, having crossed the dateline .... has been one hell of a LOOOOOONG day!  We're yet to tick over to Sunday but the plan for tomorrow is a spot of sightseeing and hopefully a Barnes and Noble if we can find one!