Well Summer ☀️ has officially ended, though the warmer weather is still upon us for a while yet it seems.... Personally, I look forward to Autumn 🍂 all year, it is my favourite season. I love the cooler sunny ☀️ days days, the clarity of the air, free from humidity and the beautiful colours as the leaves turn.  🍃🍂🍁
We are lucky enough to be guardian to a 70+ year old Oak Tree that provides us with shade and privacy. My intention this morning was to profile an entirely different stone - but when I awoke and saw the first of its leaves turning yellowish brown, I decided that this week was going to be all about green 💚🌿, Agate to be precise.  
Agate is an amazing stone that comes in several different colours - but I'm going to focus on green this week. One of my most popular designs features a combination of Tree and Moss Agate combined with brass. It features Lotus focals and a gorgeous green Czech glass Cathedral bead. 
For the last General Collective, and on the request of many to do another green design, I created a second Agate set. This time, combining Starcut Moss Agate with green Aventurine, crystal and paired with Greek Bronze focals.
As promised, I have now started to introduce some single bracelets, so that you have the ability to add and personalise to your green collection, if you so desire. Each will be available online soon as well as at the events I attend and I will eventually look to perhaps add more depending on the popularity of them.
My next event is Crafternoon Tea Markets in Kingsland on Saturday 16th of March.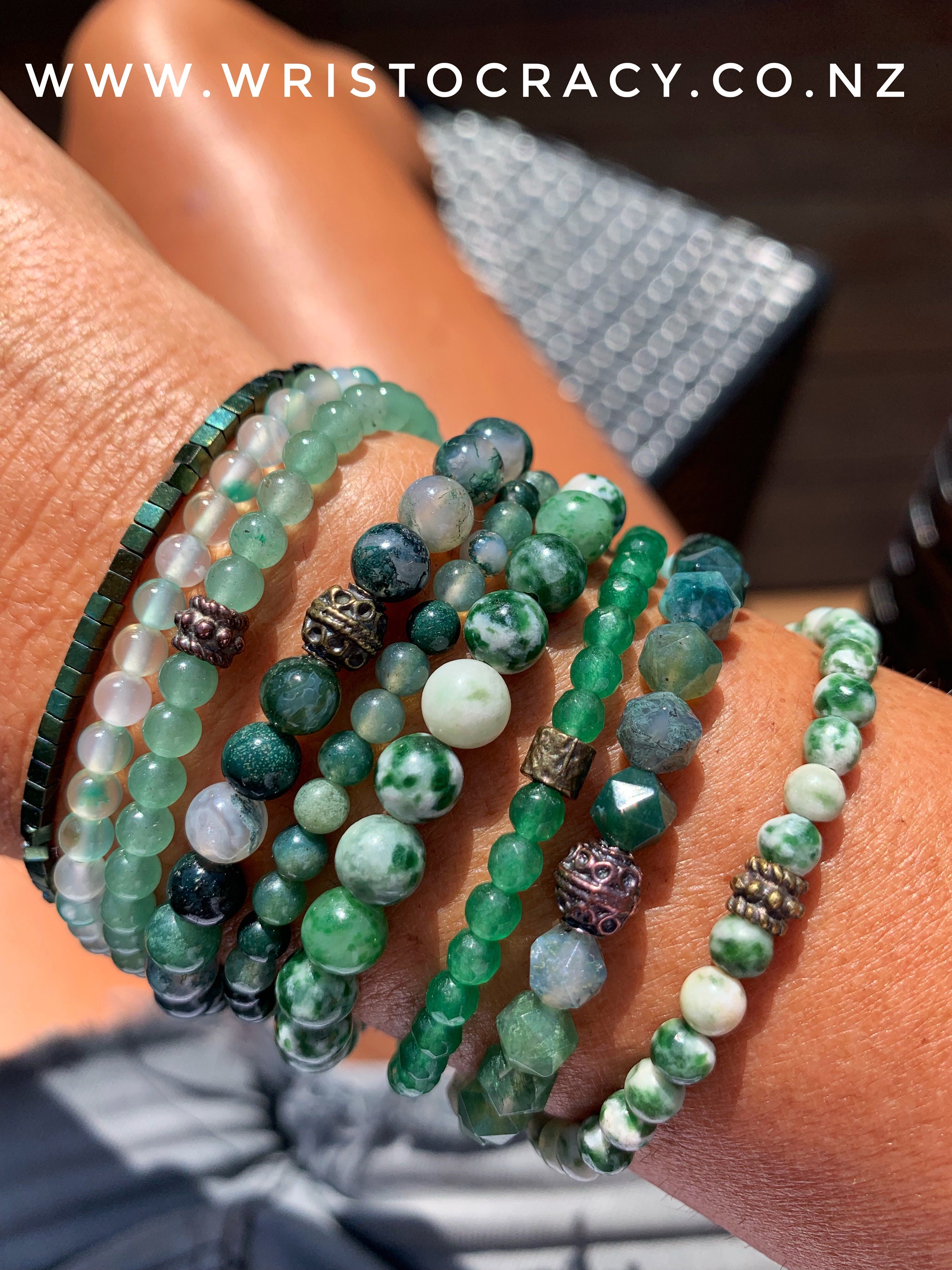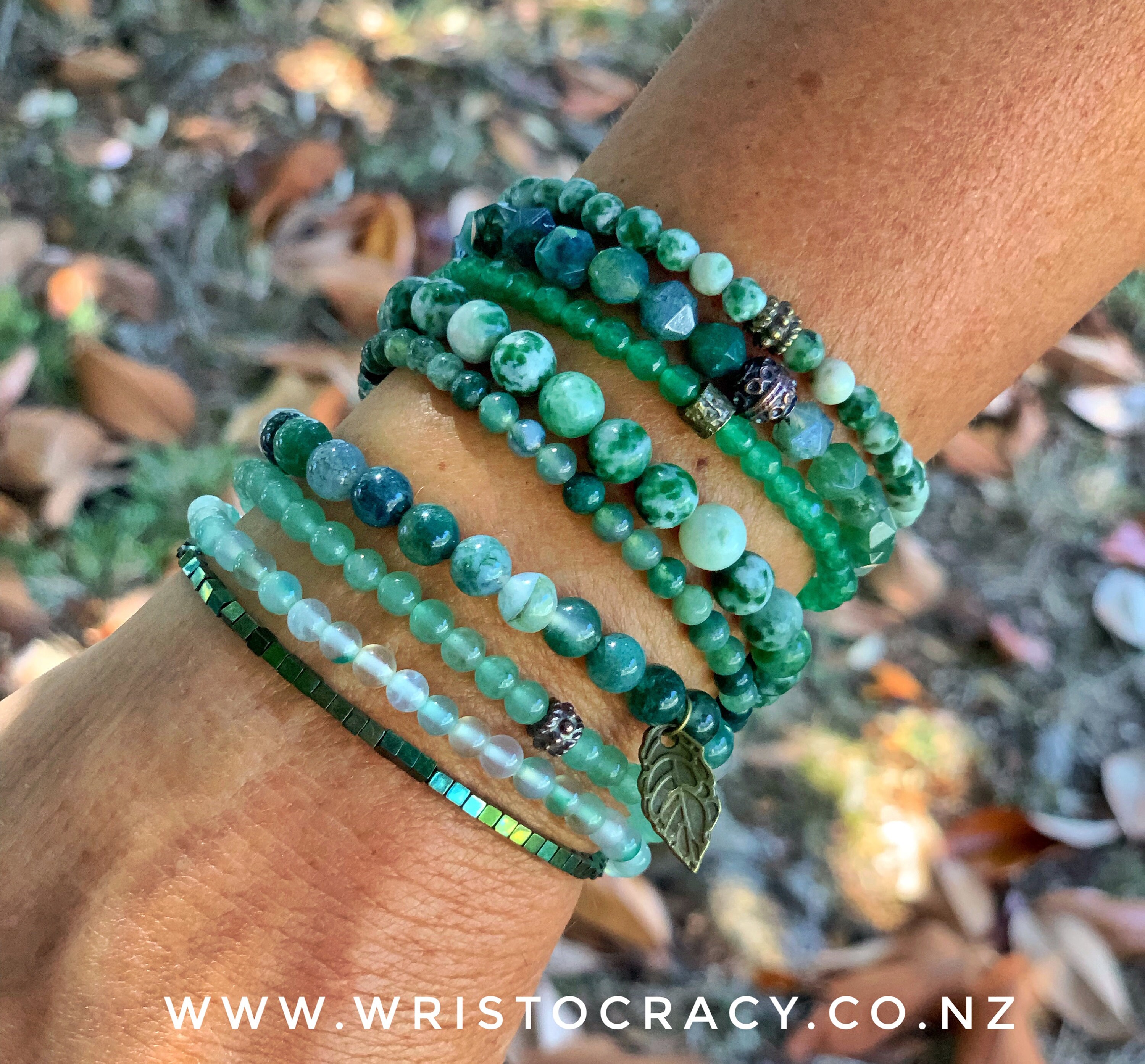 A bold statement in green, these two gorgeous bracelet stacks represent luck, protection, strength, harmony and all things natural and beautiful.  
Today, we've combined Tree 🌳 and Moss Agates with other some other Green Agates, Hematine, Green Aventurine and Crystal to produce these gorgeous bold green bracelet stacks. 💚🌿 With St Patrick's Day fast approaching - Wouldn't they be the ultimate nod to the Irish? ☘️🇮🇪 
The more I work with these two sets the more I realise just how versatile they are. I will share more about that later in the week.  For now, a little more information on two of the stars ⭐️ ⭐️ of these bracelets sets... Moss and Tree Agates.
Associated with the Heart  💚, Moss Agate has been said to be most useful to those who are experiencing difficulty in life. 
It helps by opening a connection with nature and reminding them that the world 🌎 itself is a living creature, providing the balance for us to be our authentic self.  
Tree Agate is said to calm the nerves. Its vibrant green is said to link the wearer to nature, abundance and good luck.  The combination of the two not only makes a beautiful statement visually but also beyond the physical realm.
Agate is said to enhance mental function both intellect and creativity by improving concentration, perception and analytical abilities. It can promote self-acceptance and confidence, overcoming negativity and bitterness of the heart, by healing anger, fostering love, and lending the courage to start over.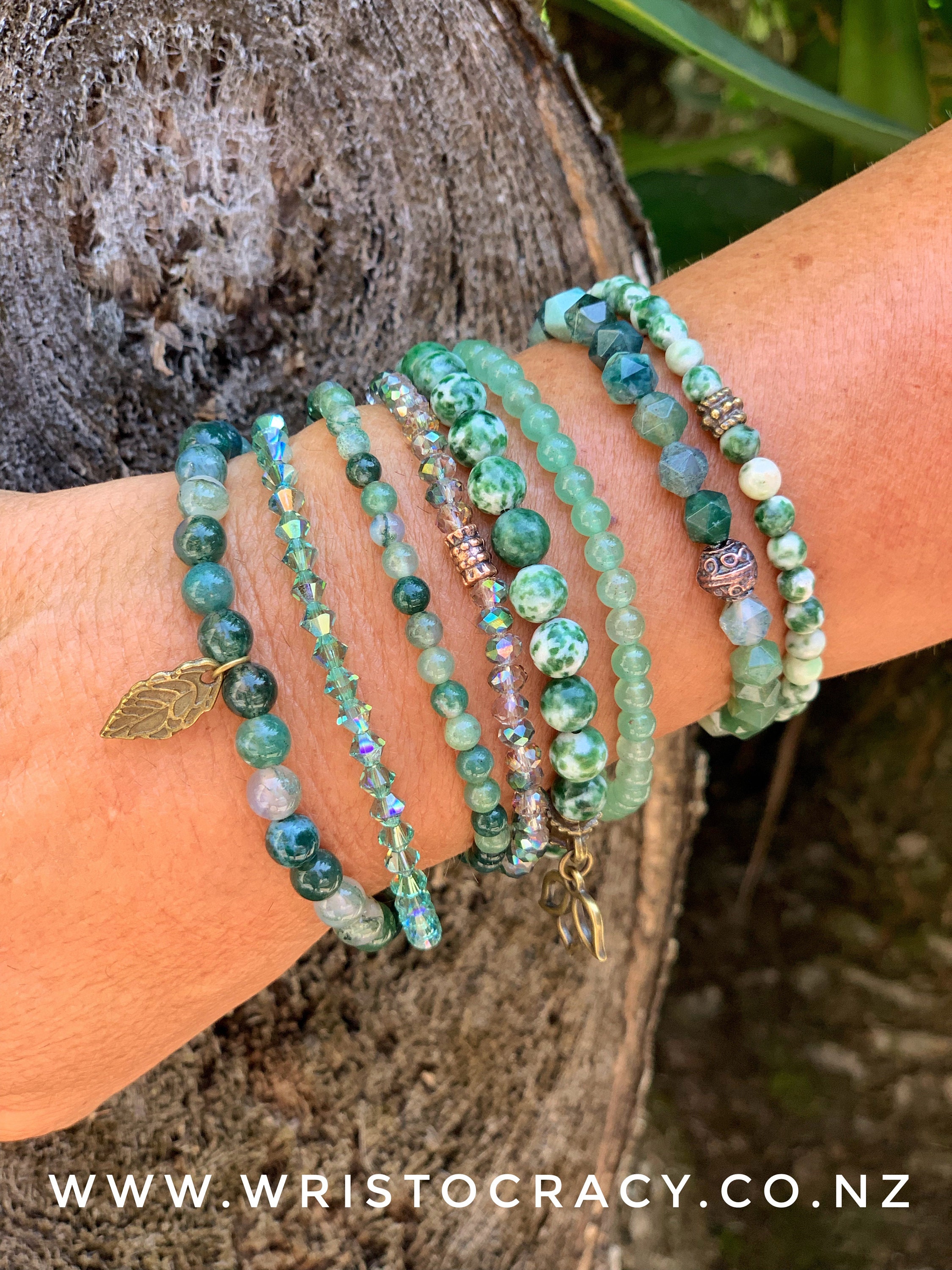 Two sets here but also a variety of singles to add texture, dimension and individuality to your wrist ... Available online soon (I'm trying ... I promise) and at any of my events. Message me if you can't wait and for it to go live online!
 Tree Agate, Moss Agate and Brass with Lotus focals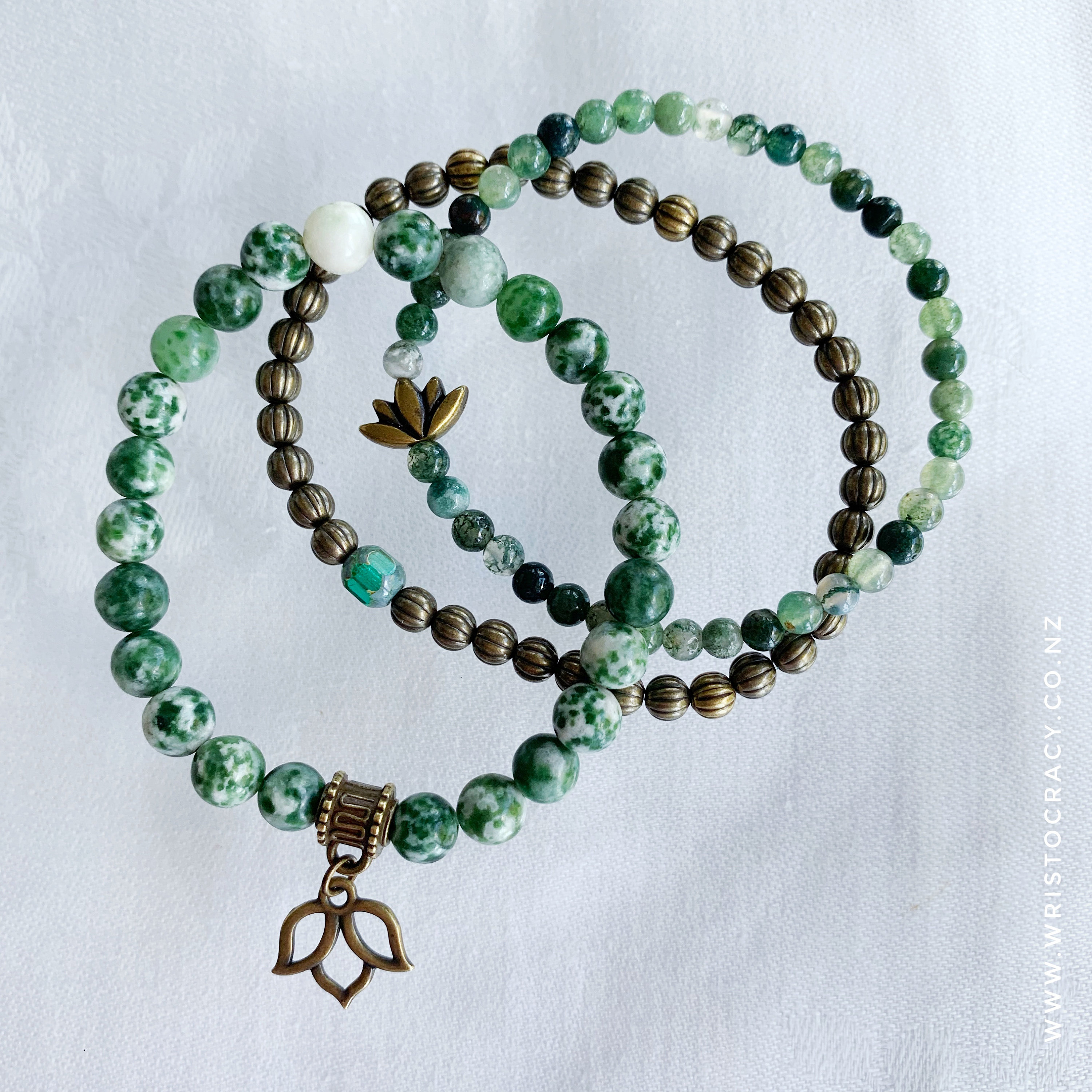 Star Cut Moss Agate, Green Aventurine & Crystal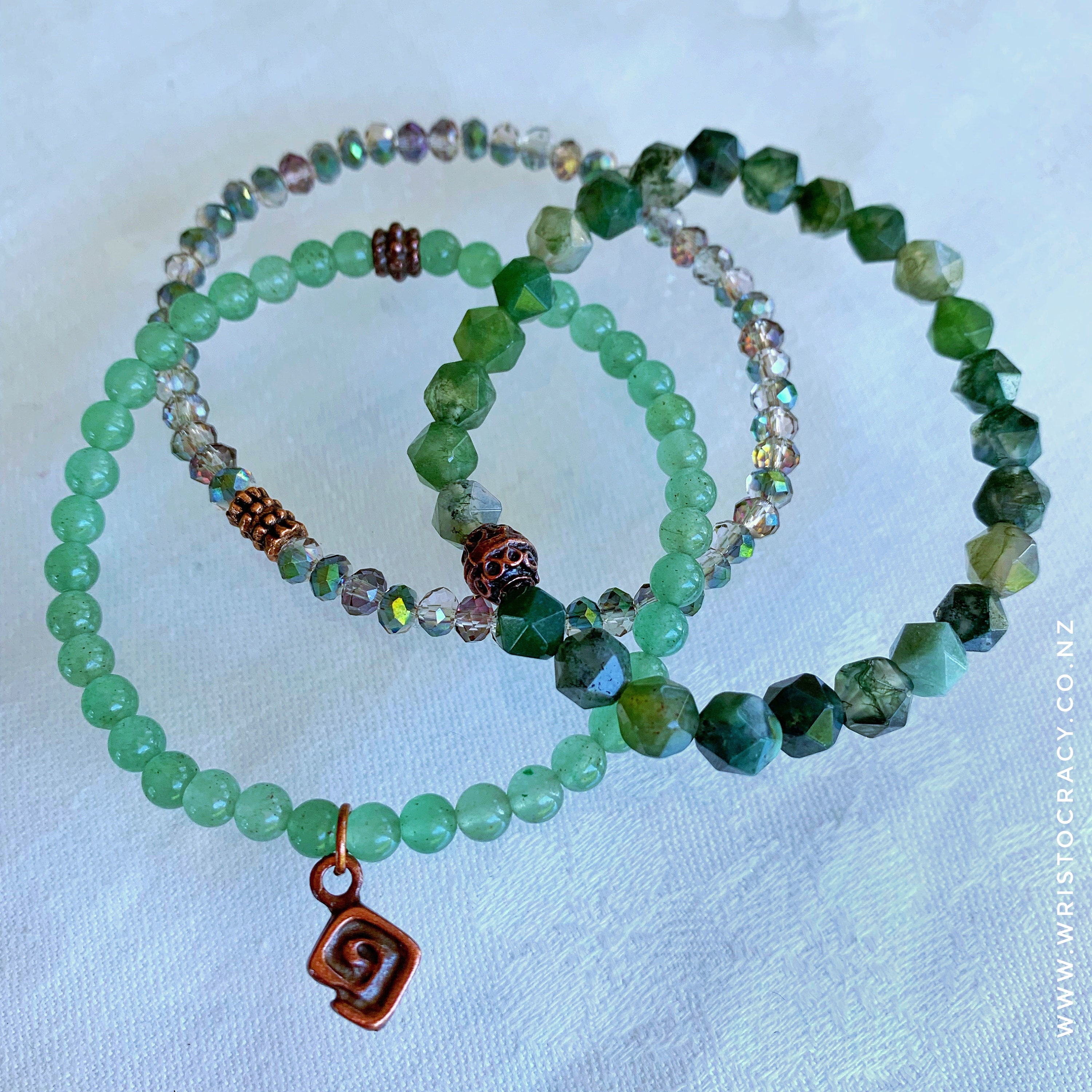 Green Single Bracelets - wear by themselves or coordinate with your sets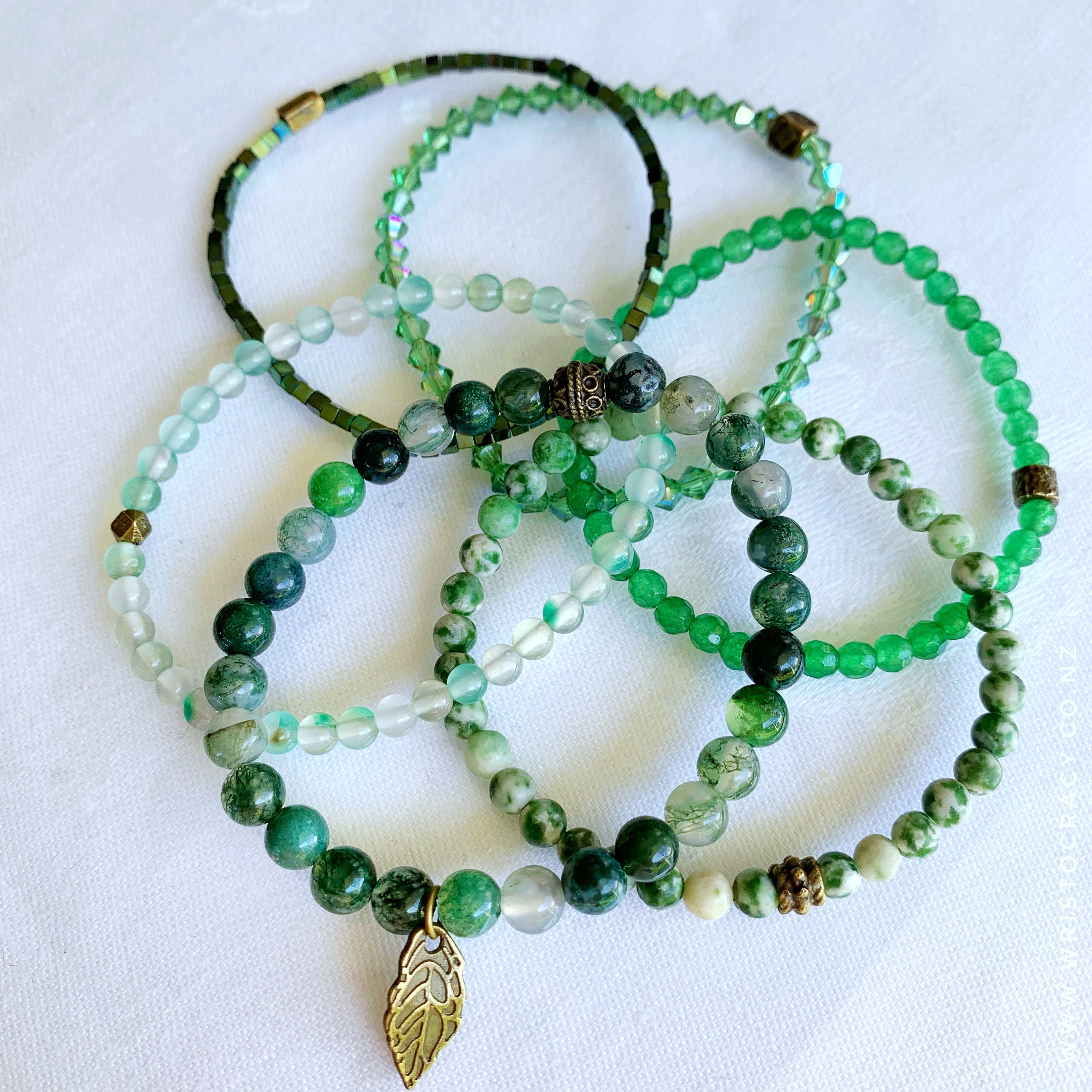 Today, I've finally managed to get the single green 💚 bracelets up on the Wristocracy website so head on over there (link in Bio above). Prices start from $15.  
Sorry it has taken so long ... the bad back is slowing me down a little bit, but I had some Physio today so hopefully should be on the improve soon enough.   I have also added the single Sodalite 💙 and will look at adding Amethyst 💜as soon as I can so if your keen keep a look out.  
I really hope you like the added flexibility of being able to add to your collections ... and depending on how popular they are I will look to add more ...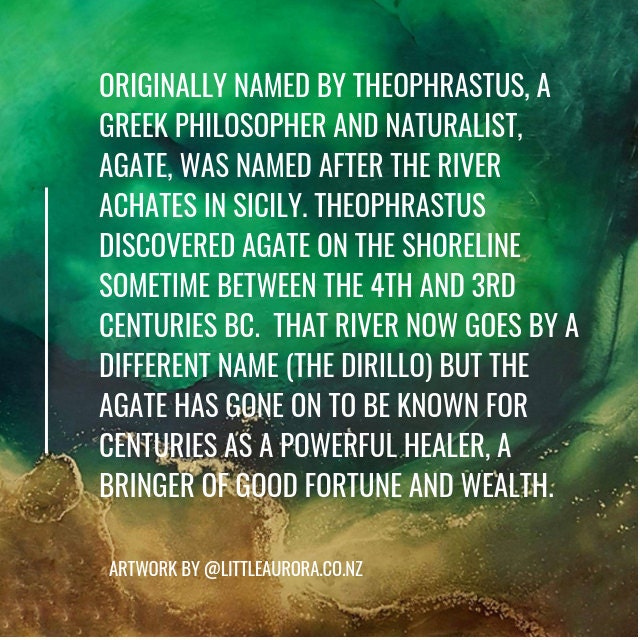 The gorgeous green background of my post is supplied by the amazing Little Aurora. I have adapted its size a little to use for my post and was originally taken from a commission Alice did a while back. Part of inspiration was trees 🌳🌲 and the forest so I thought it was very appropriate! Thanks Alice! Such a big fan of your work!! 💚💚  
I love finding a little more about the materials I work with and in particular how they came to be named and when they were first discovered. Agate is of course available in many colours 🌈 other than green, 💚some naturally so and some are "enhanced". I carry both types and encourage you to ask if that is an issue of concern to you.  
With regard to both the Moss and Tree Agate, they are naturally green and are in fact considered to be part of the Chalcedony Quartz "family" of stones but have traditionally been referred to as agate - so that is their official name. 
Tree Agate has a white quartz background and Moss Agate usually has a translucent quartz background. 
Considered to be a Talisman in some parts of India,🇮🇳 Tree Agate is a stone of inner peace ☮️ that calms the nerves and when combined with Clear Quartz will deepen meditation and prayer.🙏 
Moss Agate enhances the mental 🧠 function of a person by simply improving their concentration and awareness and providing balance.  Both are said to link the wearer to nature, abundance and good luck.  
Today, (and most days) I have been busy updating my website and where possible including new listings of single bracelets that go with the different coloured sets. Today, I managed to get some blue 💙singles up and updated some of the information about Wristocracy, how it started and where I plan to take it in the future. If you haven't been to the website for a bit - head on over and have a look and a read and give me some feedback. 😊😊
I have some exciting pics to show you tomorrow so make sure you come and have a look!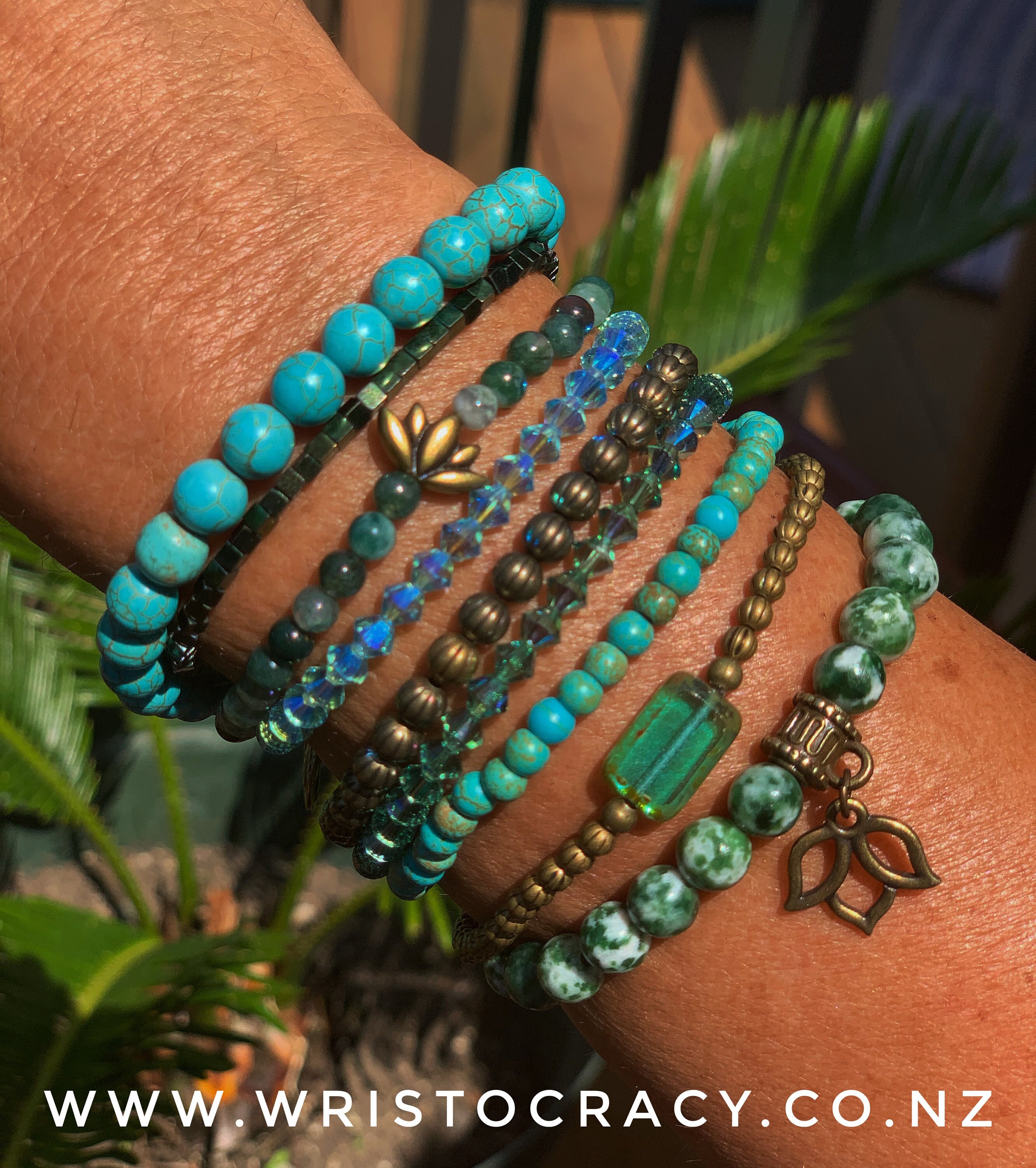 Combine your green agate with Turquoise Magnesite 🐬🦋 for an incredible summery look ....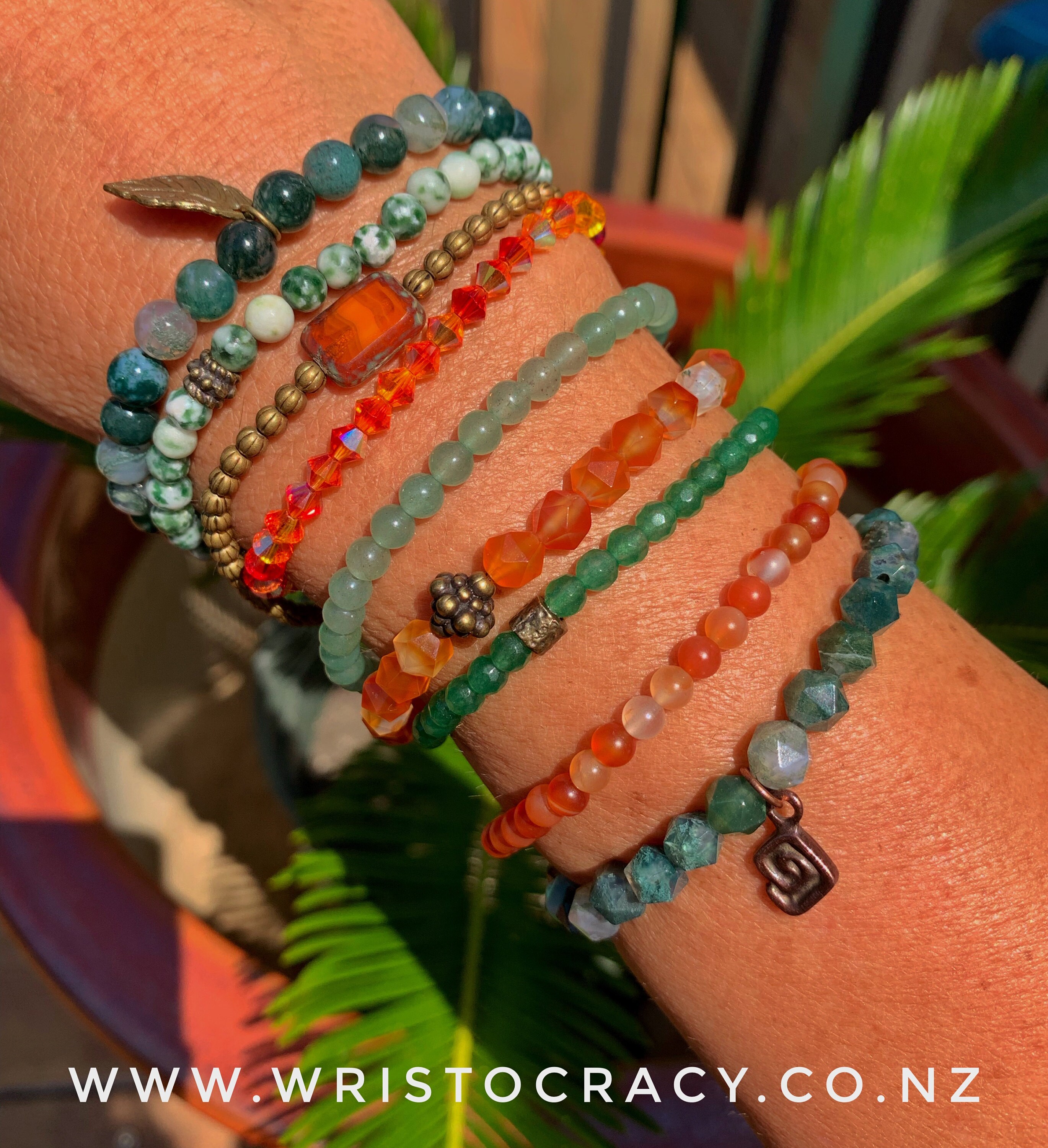 ... or orange agate 🍊🧡  if that is what takes your fancy ...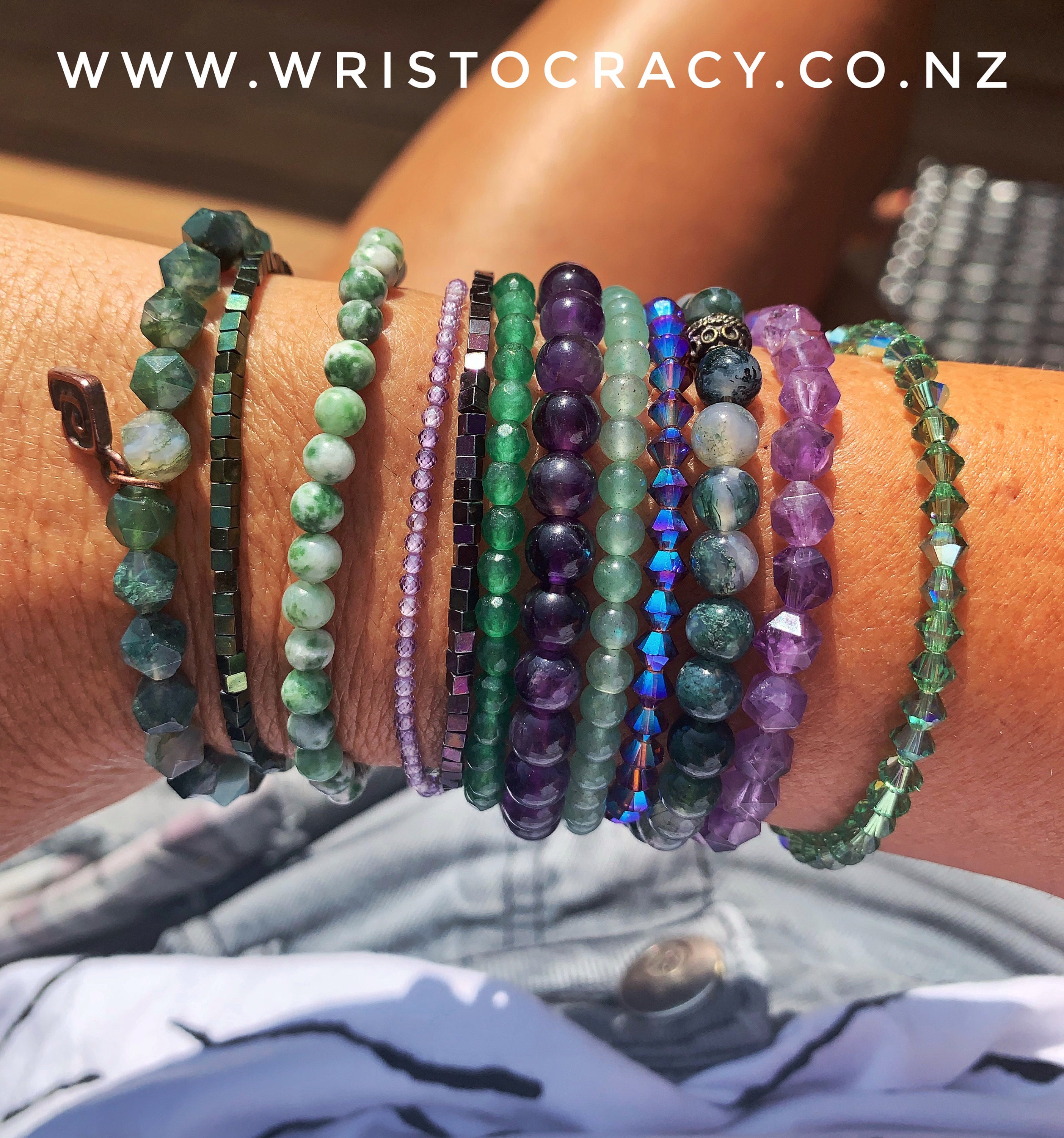 Or even purple amethyst 💜 for something a bit magical 🧙‍♀️...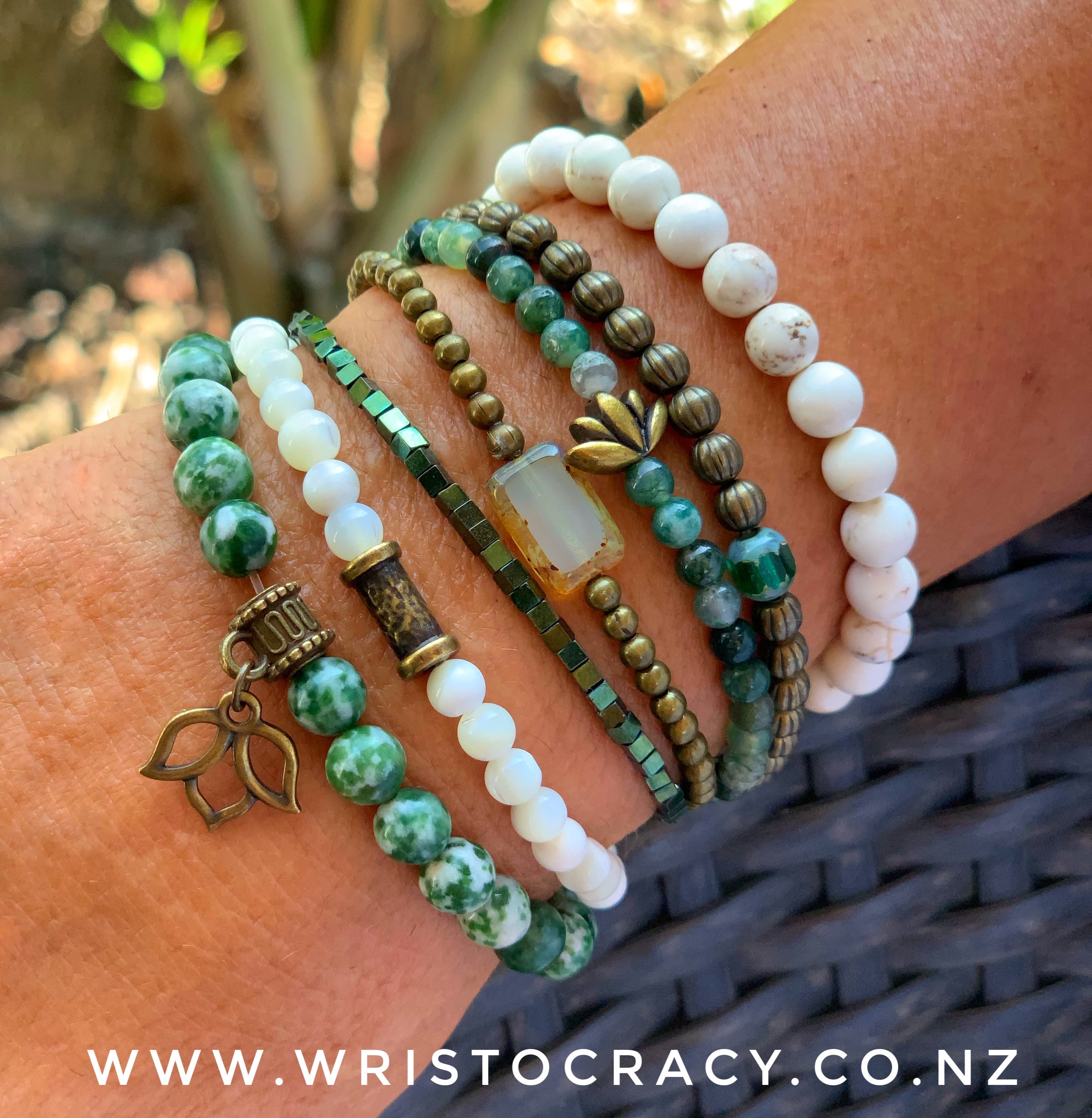 ... or Cream Magnesite 🐄🐮 ... if that's your dream. The options really are endless ... head on over to your favourite and start your collection today...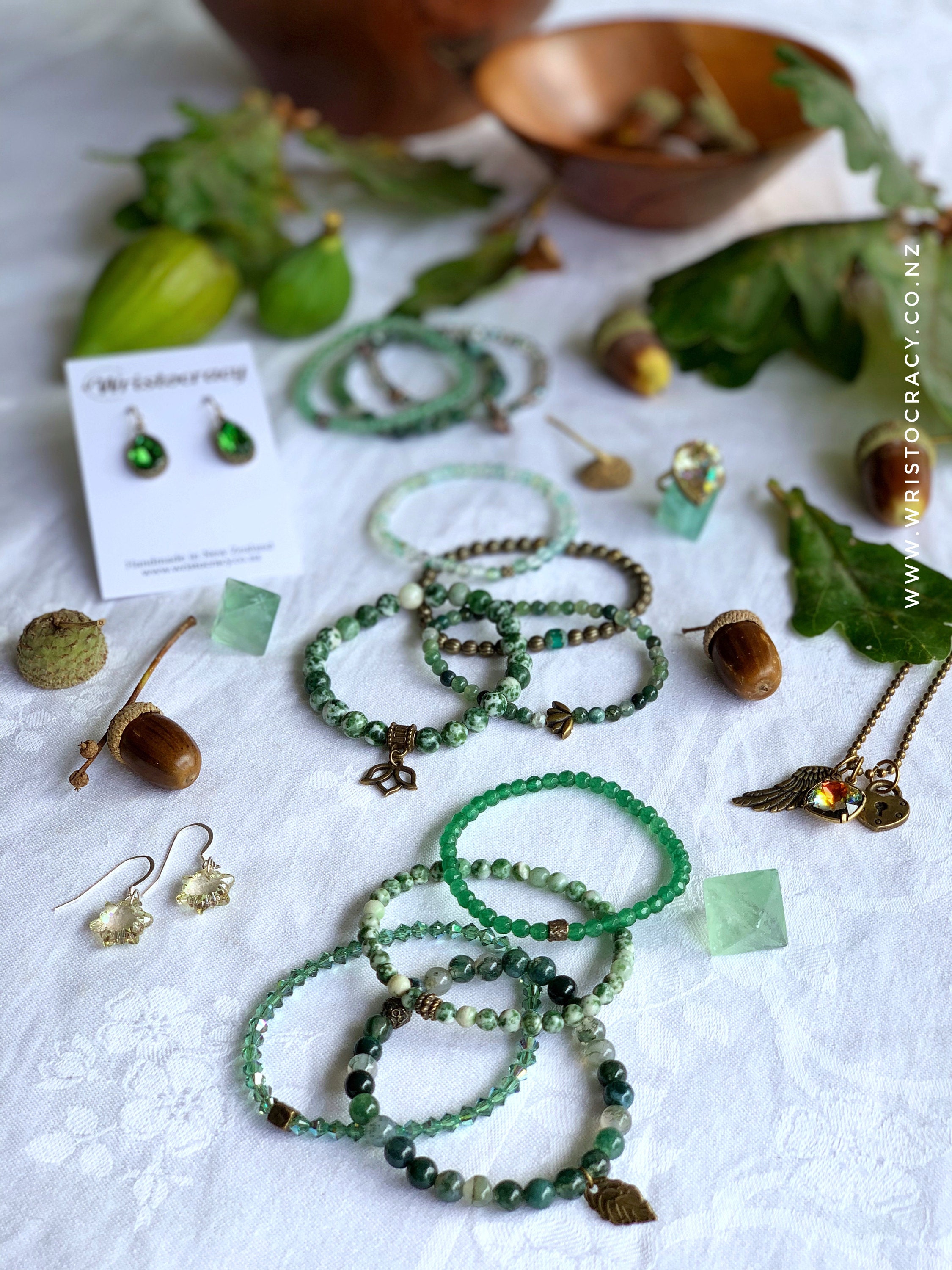 It's coming up finishing time on the eve of what looks to be a wet weekend! I hope the rain doesn't disrupt your weekend plans .... For me, I have to say I am happy for it as my garden is very very thirsty! 🍂 🍃 
I've spent most of the week updating the Wristocracy website, so it's a more user friendly place to be ... I will be adding more and more over time ... 
Today I couldn't t resist bombarding you all with a bit of colour by way of some of the colour combos you can make the beautiful Green Agate... you know it doesn't mean that you're just limited to just those combos ... let your imagination go wild! 
If you haven't already go and check them out ... and the new green single bracelets available on my website starting from $15.  
Happy International Womens Day all ... we can all celebrate and support this day by getting amongst it and supporting and lending a hand 🖐 to each other. Thank you to all the beautiful women out there that have encouraged, supported and inspired me and a particular thanks to those women that speak up, even when it's hard!