So, I'm still learning the ropes with the blog - so forgive me if I'm not quite doing things as I should.😊 I've been advised to separate everything out into days, which may seem obvious - but hey I am new to this!
Oh my goodness, today's little video was an exercise patience and perseverance! In my infinite wisdom to film it outside - I failed to take into consideration the little interferences I might encounter - enter stage left, my dogs 🐕 and then my cats 🐈 both curious and annoyed at not being able to access the deck and then once there needing to leave urgently and then of course return, cars 🚘 zooming by, aeroplanes ✈️ coming in for a landing and helicopters 🚁 doing a bit of a circle, doors 🚪 slamming, insects 🦟 zooming in and checking it all out .... Do picture this when you check it out the video on my Story on my instagram (I'll put it in Highlights incase you don't catch it in time). One day I will learn how to put it up here - but not today 😊 and next time I may just have to do the video indoors! 
I wanted an urban look for this flatlay - hence the concrete. I think orange 🍊 and grey 👟 look fabulous together and I do have something in the pipeline to bring this combination to life through a bracelet design - though it is planning stage only at this stage - but watch this space!   
So, as you may be aware much of my purchasing is done online, but I do find it a little more exciting to be able to see and touch the stones in reality, as often a picture on a screen doesn't tell the full story. Sometimes the beads are different colours or shapes or the hole is drilled off centre. It can be an expensive exercise when I get it wrong and whilst now I have managed to secure some great suppliers, who are trustworthy and have great variety, in the early days I had my fair share of fails when it comes to buying supplies that couldn't be used!   
 So that leads me to some exciting news! In a few weeks time I will be heading off on a bit of a holiday ✈️combined with a bit of a buying trip. I have been putting off some purchasing until this trip and I have one stone in particular I'm keen on finding and that I really want to go to the source for - so fingers crossed I find what I'm looking for but I will also be looking out for other exciting stones that I can string into beautiful things! 
If you have any favourites be sure to let me know! You can do this via my Instagram or Facebook or if you prefer email me.  
I have added some orange 🧡 single bracelets online and depending on how popular they are I may add some more - so let me know!  I even got brave and modelled them on my own wrist to show you how they all look stacked together with the Natural Agate set! Pretty phenomenal don't you reckon! This is for those with an extreme orange additiction! You can of course choose just the odd one and add them into other sets that feature a little orange.  One that comes to mind is the Mexican Sky Eye Jasper, (which I see is not listed on the site yet - oops sorry.... tomorrows job) but orange looks fab with a number of colours - black, grey (as discussed earlier) blue and of course green like we showed last week! Feel free to experiment and do send me your pictures!!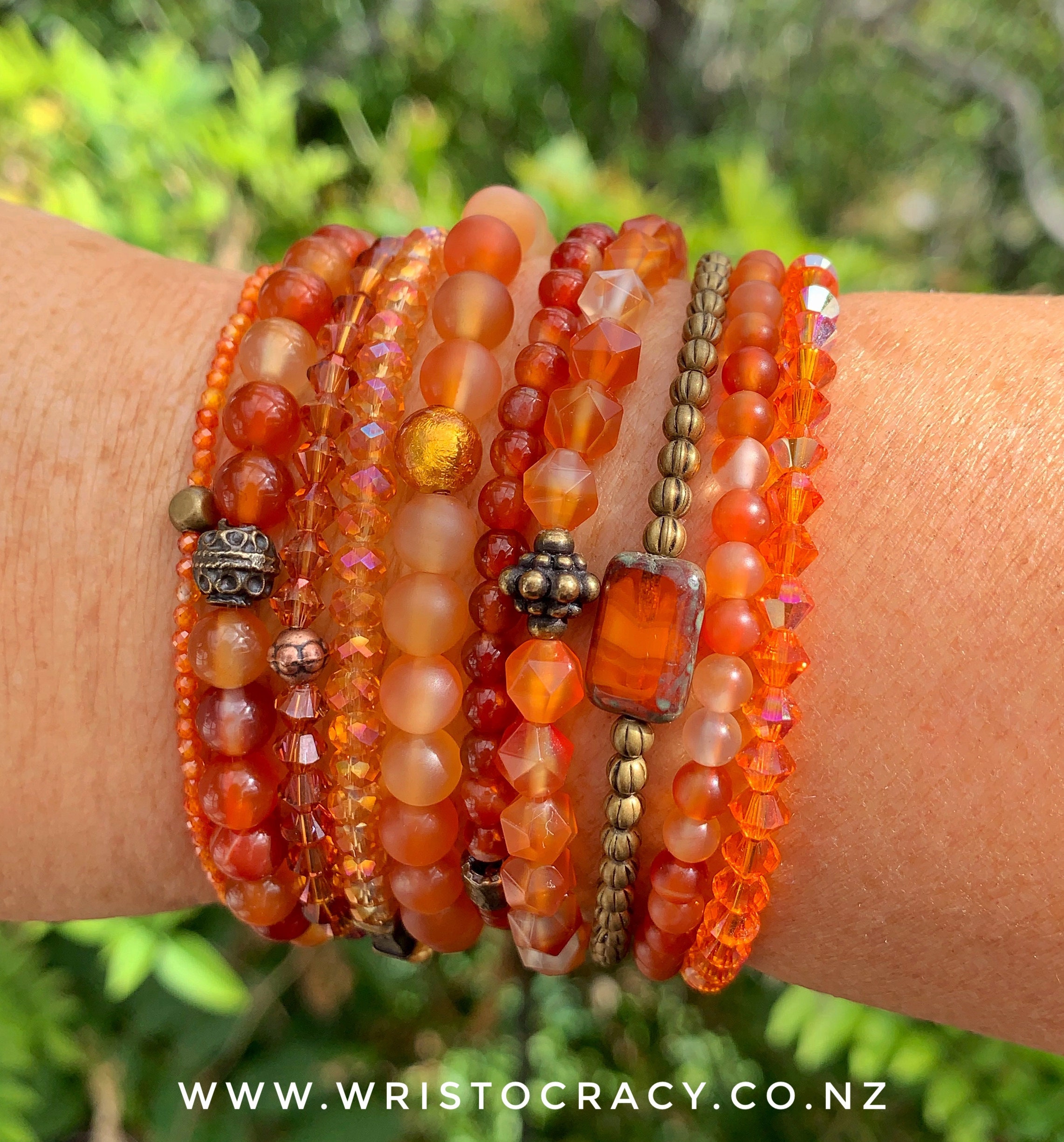 Orange looks fab with the green agate as we all know!