The Sodalite set pictured has been one of my most popular sets.  I introduced it at last years General Collective and it was initially meant to be a limited release - but it proved so popular, I just kept making it.
The beautiful blue stones from which this set is strung are said to assist in all issues of communication bringing about emotional honesty and authenticity and are said to assist in healing fractured relationships.  
It is also said to increase intelligence and heighten a person's ability to learn, encouraging rational thought and the verbal expression of feelings. Which may explain why this stone is particularly popular with artists, such as the talented Lauren Collins, pictured modelling the set.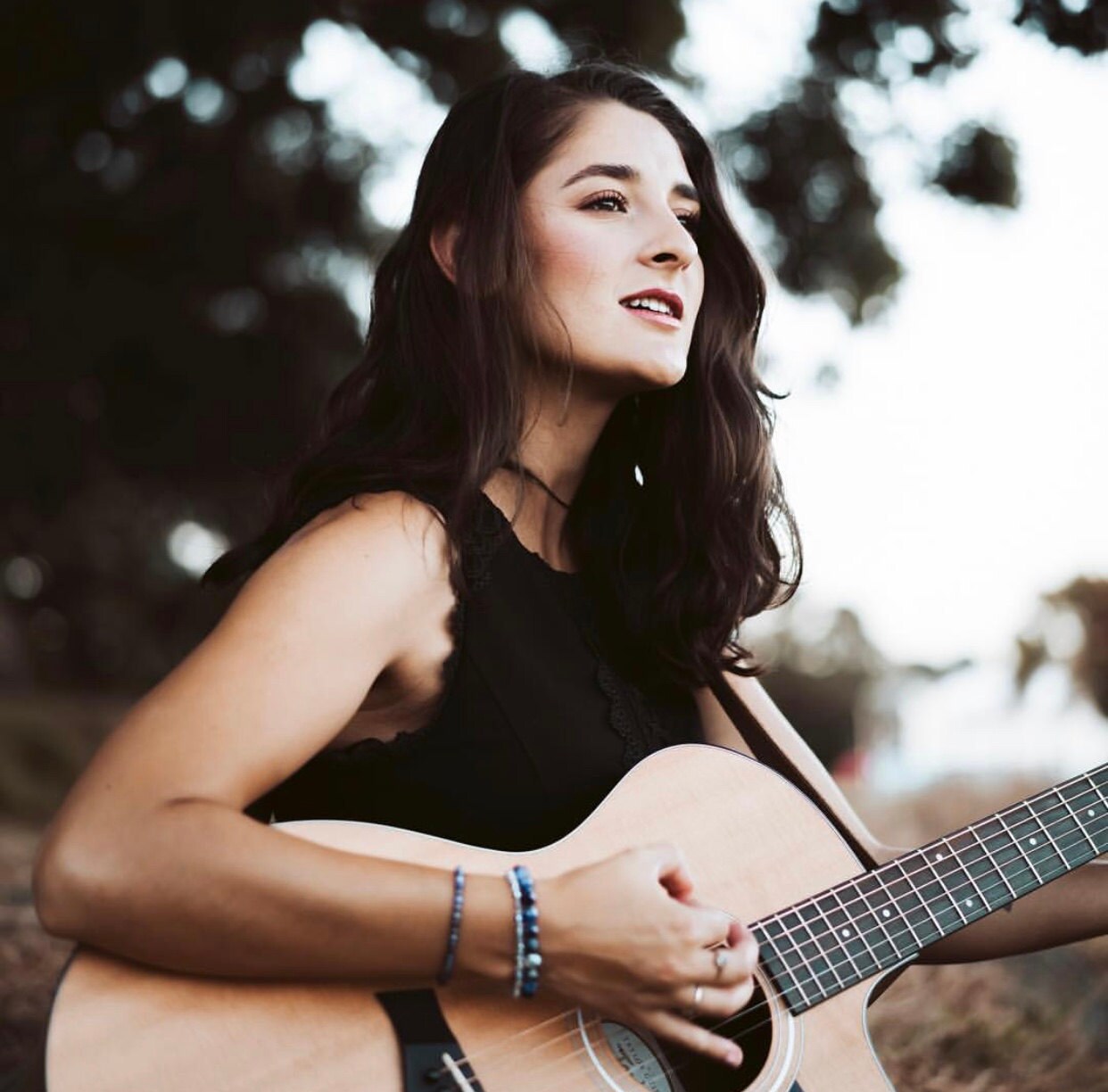 Sodalite has long been thought to promote inspiration and creativity, making it an ideal companion stone for painters, singers, musicians, sculptors, writers and anyone else working within the artistic arena. Not only does it inspire creativity, but Sodalite is said to be extra lucky for those working with verbal or written expression. 
Sodalite resonates with the throat and third eye chakras and will help you develop and strengthen your intuition. It is said to be a stone of the heart and is considered to bring inner peace and calmness to the mind.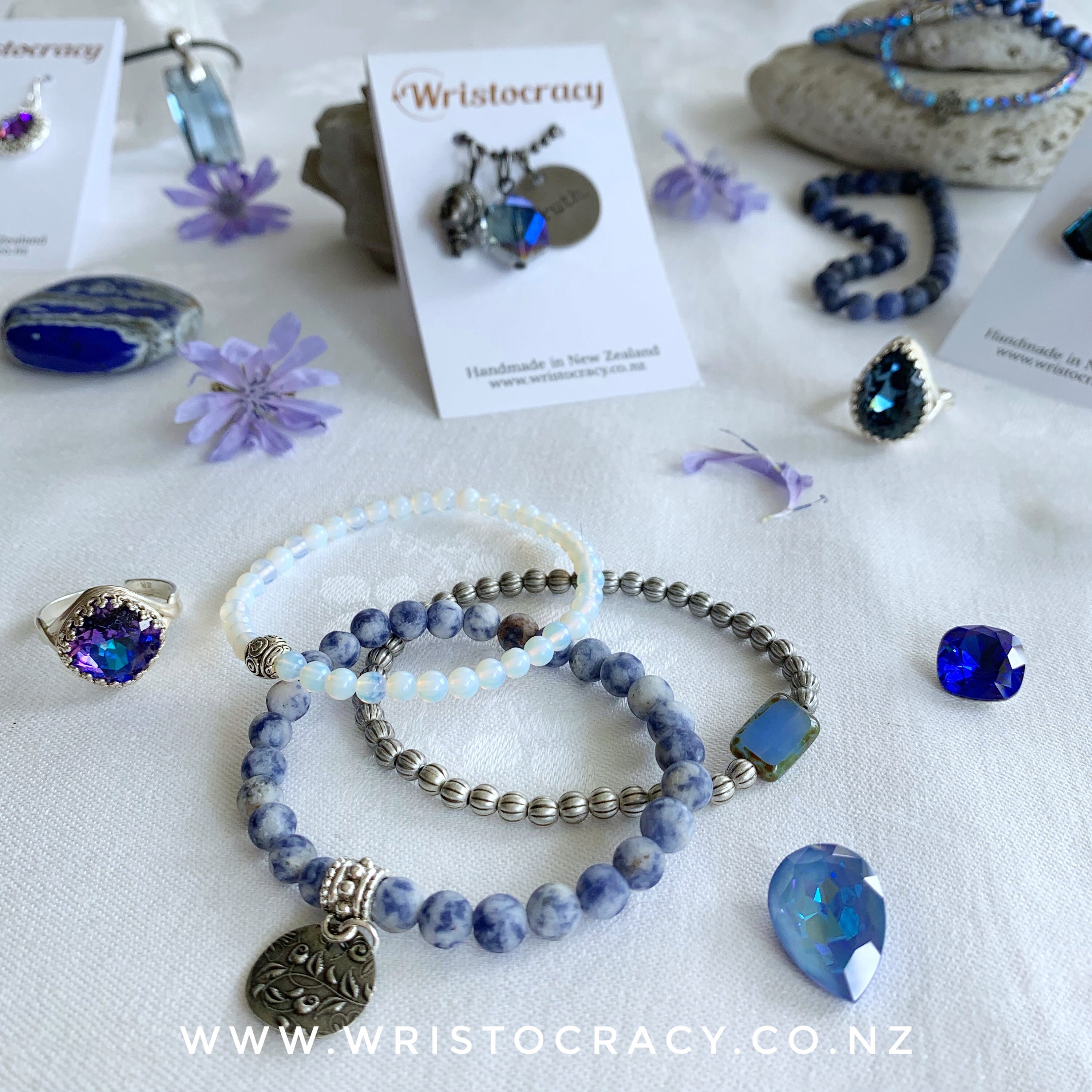 I'm was a little bit blue that Te Atatu Night Markets was cancelled for February ... but with Cyclone Oma expected to make landfall - I do understand why! If you're keen to visit my stand in person check out my events page and find out what is closest to you.  In the meantime you can order this Limited Edition Brazilian Sodalite set online.  I have limited numbers of this set so hurry if you want one!   ... I hope you're all surviving the heat! PS check out my Story Highlights on Instagram if you like what you see, including gorgeous soundtracks provided by the very talented Lauren Collins.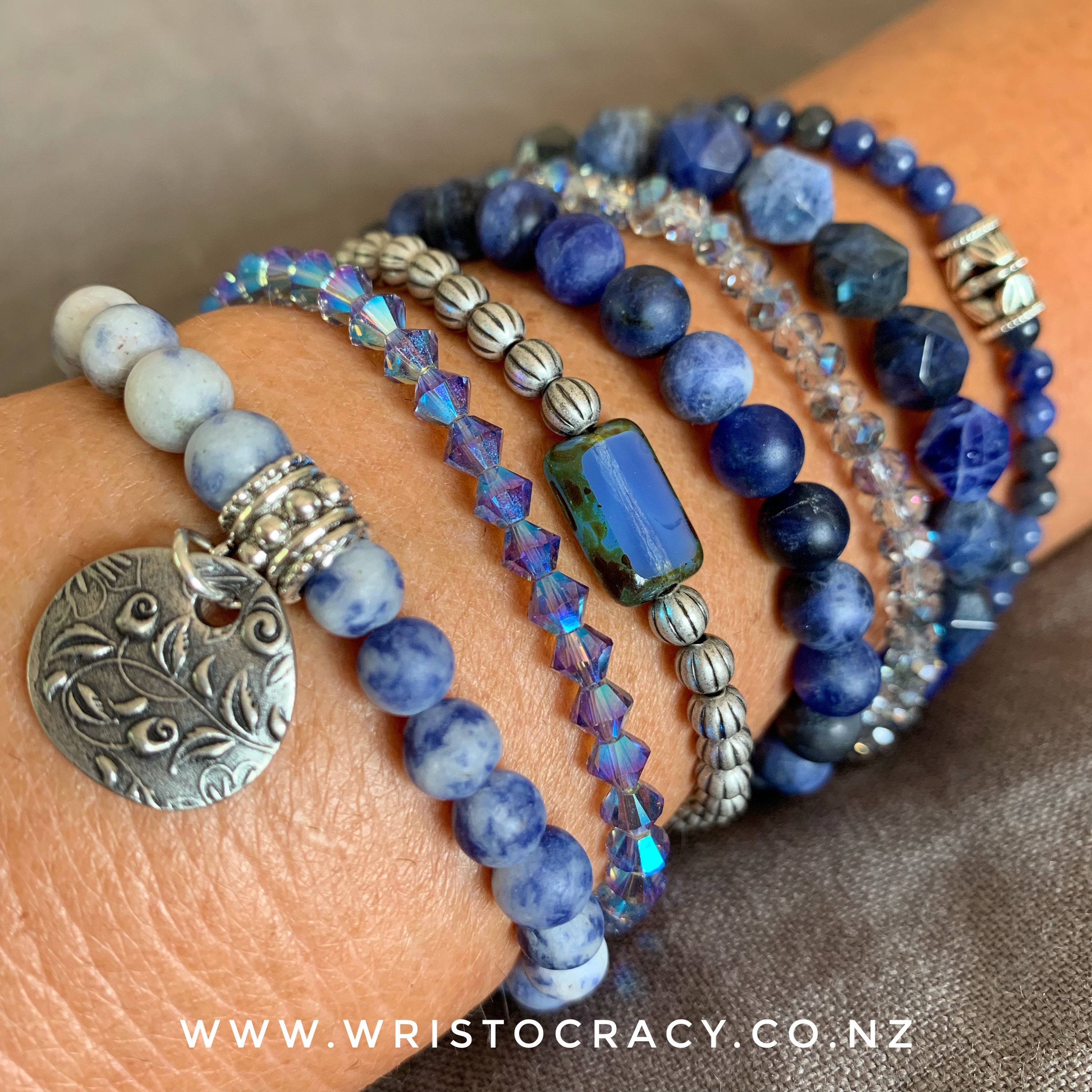 Happy Hump Day .... a beautiful explosion of Sodalite for you all to enjoy ... 
This gorgeous wrist is made up of a couple of Sodalite sets ... The Brazilian Sodalite at the front then a Swarovski Crystal single and fourth from the front I've included a little hint of another Sodalite that I'm bringing back ....  a matte 6mm round that is available only as a single bracelet. Go and check out and that some of the other blue single bracelets if you want just a hint of it or want to bulk up your Sodalite bracelet stack. ... I just couldn't resist including this gorgeous picture today!! Have a great day!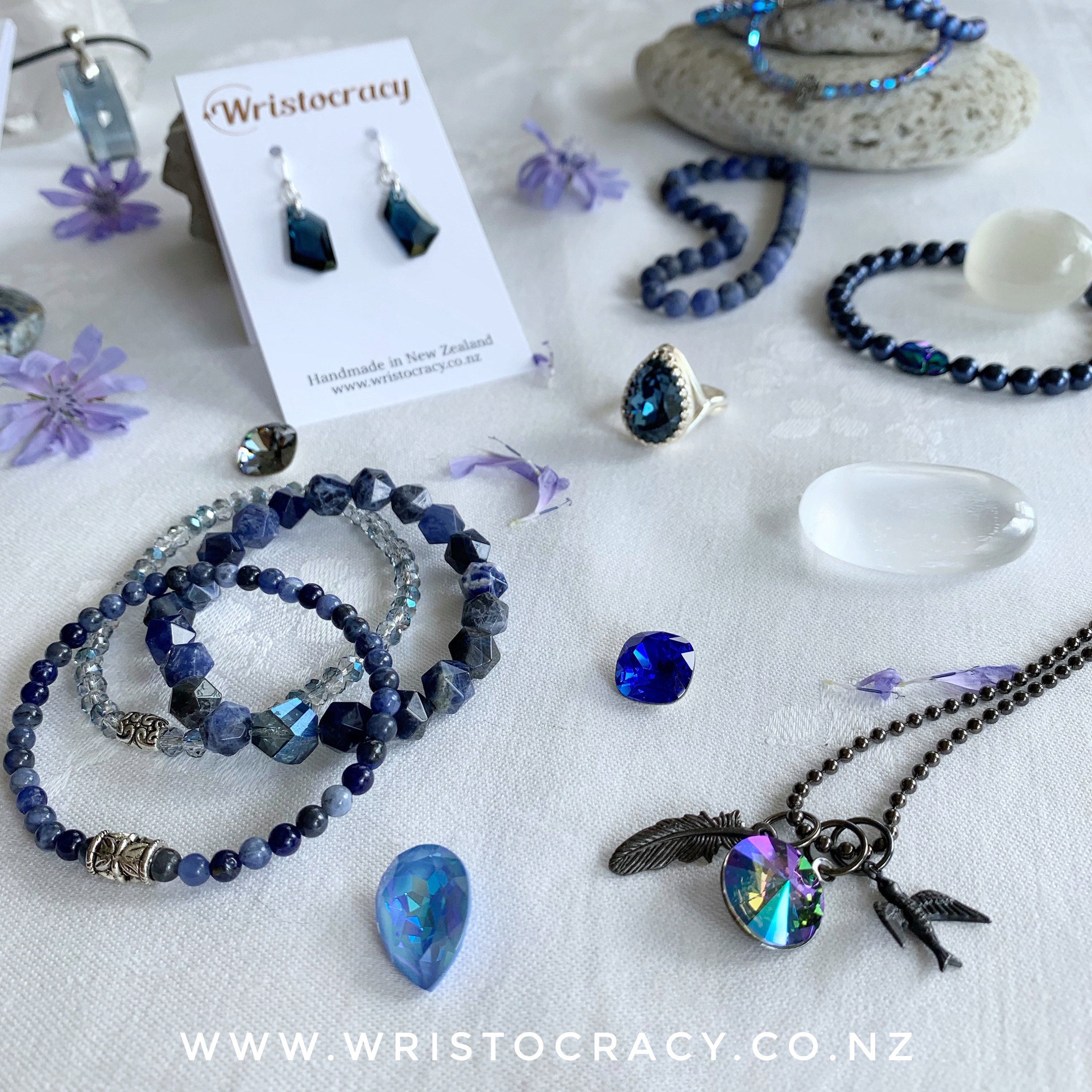 Here's some more Sodalite blues for you to enjoy and a wee sneak peak of one of the Swarovski New Season colours ... The beautiful blue pear shape at the front thereis now available for rings and earrings so gorgeous and sparkly!
I am busy organising myself for the next month of events ....and I will be including some of these new colours on my stand!  
I am also updating the website... but it is a slow process as there is just one of me and there is much to do!  
Tomorrow, I will take time out to visit Deirdre from Agnes & Me at her pop store at Ponsonby Central ... as I'm all out of her gorgeous clay mask and with tomorrow nights market cancelled I need to get some ASAP ... 
I've had a few of you ask whether I've tried this product and is it any good and the answer is a resounding yes! It's amazing .... ❤️❤️❤️❤️ I thoroughly recommend it! It's great for all skin types EVEN mature skin like mine! She also has a full range of amazing natural skin care including an incredible multi purpose balm and it's all ethically made in Titirangi which I love! Have a great night all!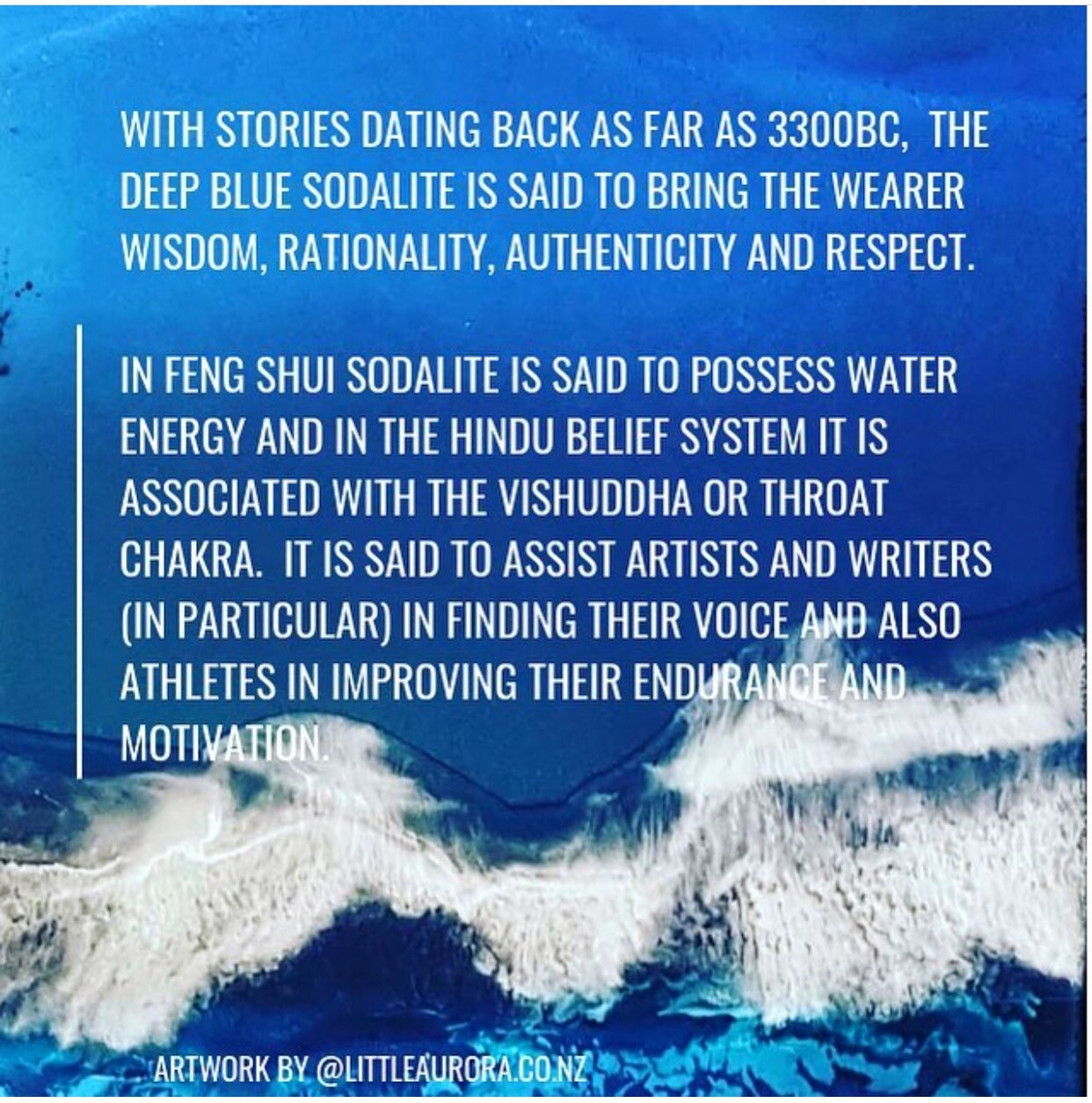 Here comes the rain ☔️ 🌧💧💦.... I must admit to not minding so much as my garden needs a big drink after all their dry weather!  
This beautiful image kindly is supplied for my use by my very talented friend Alice, from Little Aurora  Alice creates the most amazing resin art - some of which I am most fortunate to own! If you haven't already checked out her work ... head on over to her Instagram for a vibrant colour hit! 💙💚💛🧡❤️💜 Alice is very inspired by the sea 🌊 and sky 🌌 and given that some of the information I've learnt about Sodalite this week includes that it is said to possess 💦 Water Energy in Feng Shui, I thought this was a match made in heaven don't you think?  
I'm off to glam up for my Friday night Wedding 🤵 👰 Anniversary Celebration tonight with my husband of 21 years! I hope Cyclone Oma ends up being a big old storm in a teacup ☕️ and we just get the bit of rain our poor dry earth needs right now... Have a great weekend all!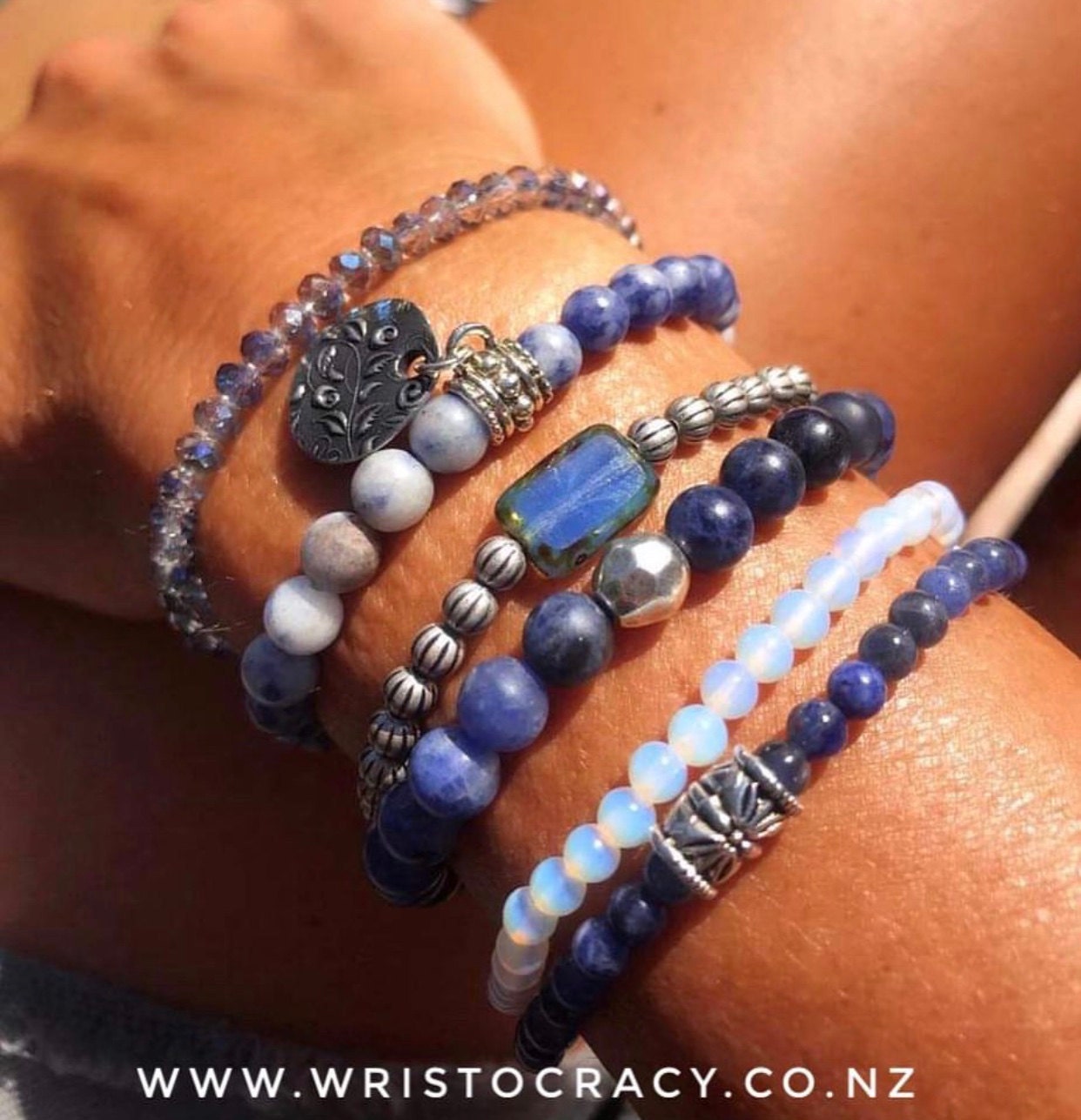 Just a little reminder we're still in summer .... this is just a brief interlude hopefully delivering the water we all desperately need ... 💦☔️🌨💧 someone do a rain dance! 
Happy Saturday all ... All of these gorgeous things available online though one of the sets is running out fast so get in quick if you want one 😊. What stone shall I focus on next week ... any guesses?