When will my next market be?
I think the last time I wrote in here it was sometime in 2019 and so much has changed since then... for me and indeed for all of us. COVID 19 has transformed the world into a very different landscape, some things have become better even easier I think, and undoubtedly many things have become harder. All of this has necessitated change, and an evolution in how people run their businesses, both large and small. Though I have to say even before COVID 19 and all that it brought, changes were already afoot for me...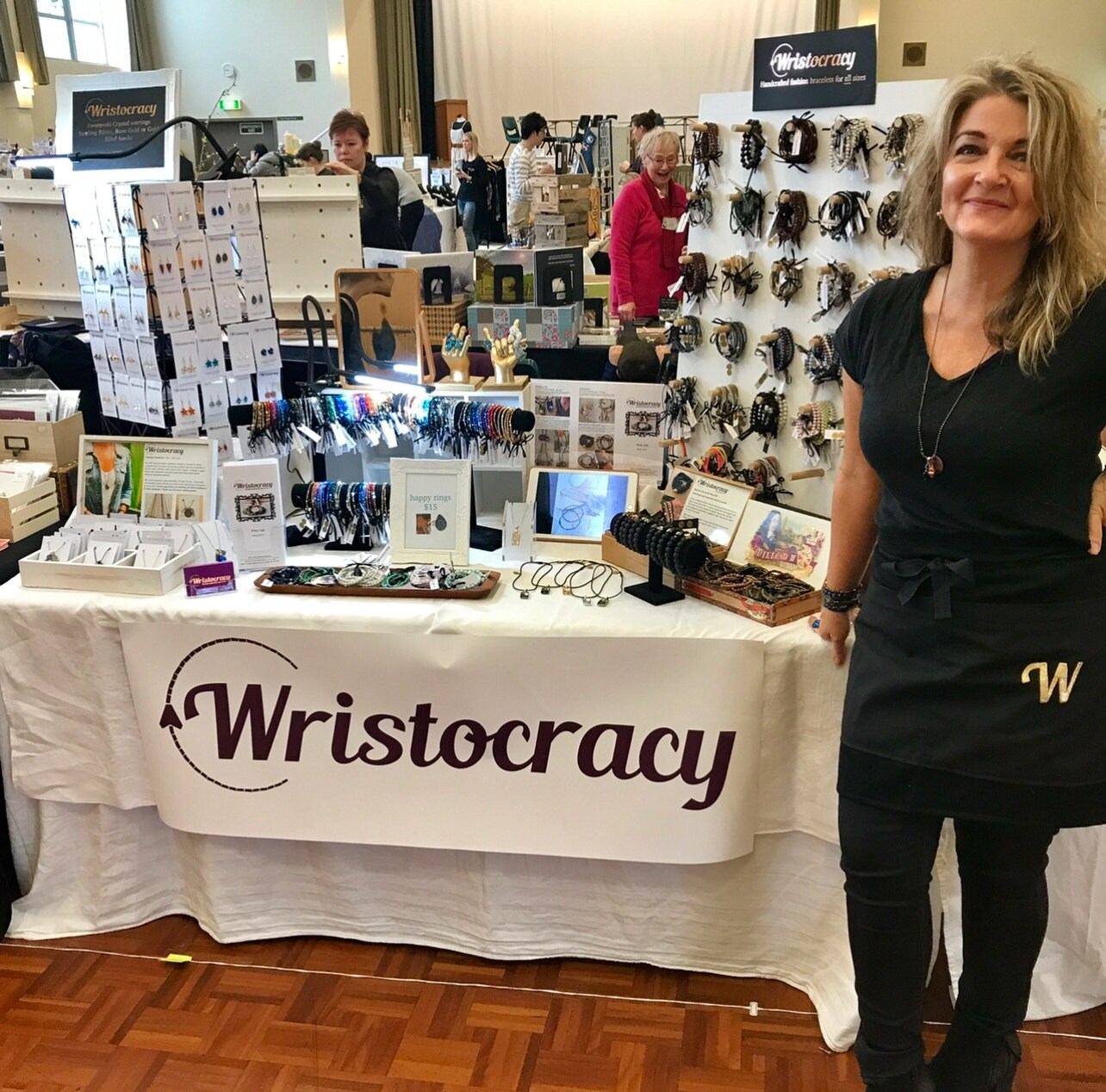 My very first market.
When I started Wristocracy many moons ago (5+ years) it quickly became life changing. What started as a hobby business quickly grew when I started dabbling in the markets. I think I attended my very first market (as a stall-holder) about 5 years ago. It was a Crafternoon Tea market in Mt Eden and I quickly found "my people". I loved the lively vibe and the eclectic nature of the market and enjoyed getting to know so many wildly talented creatives. They were friendly and welcoming and it was an immensely fun time. I made so many good friends that I "connected" with, both fellow stallholders and some lovely customers, many of whom still support my little business today.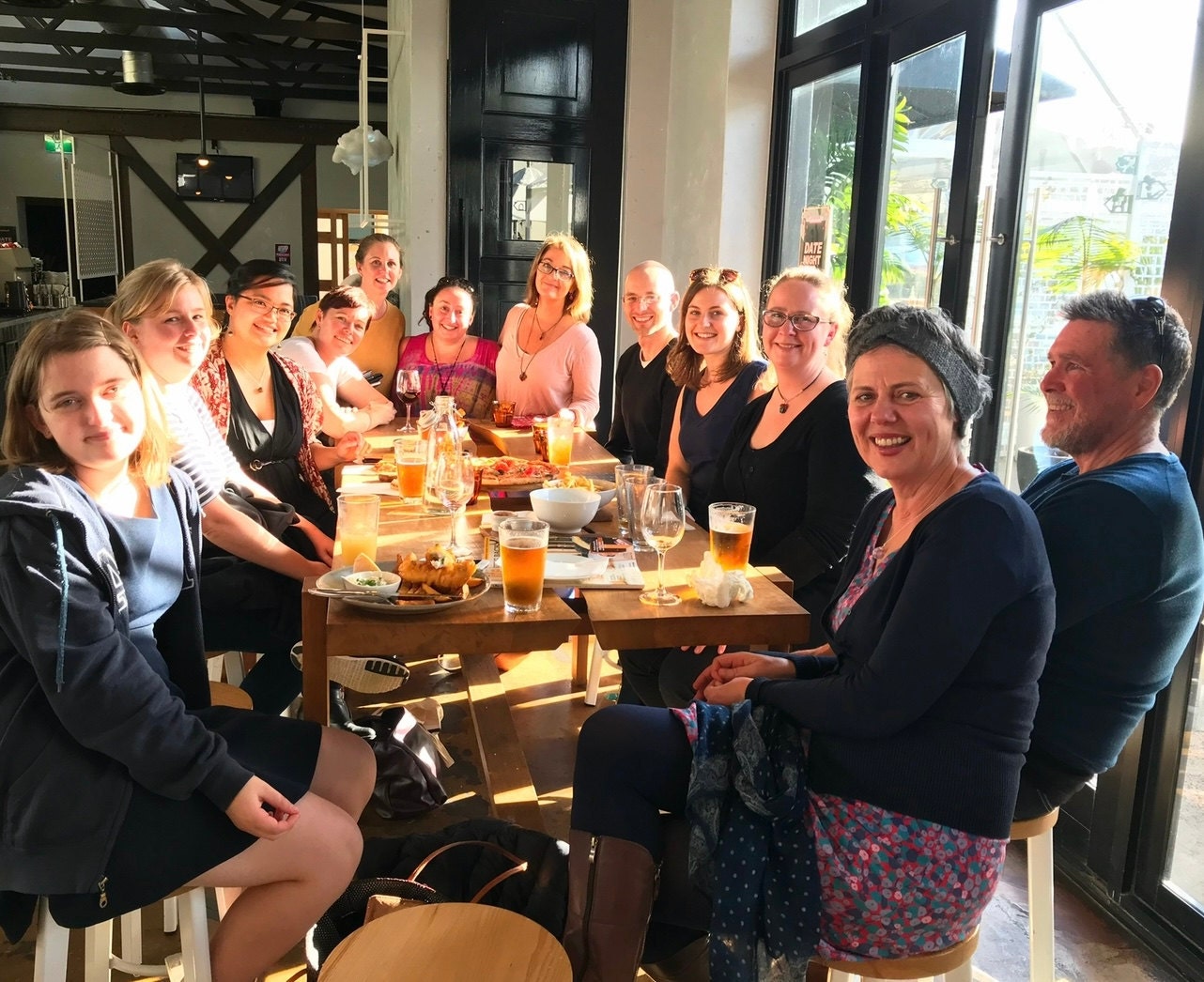 Some of the Crafternoon Tea Market "family"
As time passed, I began picking up more markets. What started as one or two markets a month for Wristocracy, quickly turned into so many more. At that time, and on most weekends, I attended at least two events and sometimes there were up to four. These events were spread far and wide over the greater Auckland area and sometimes even a little further afield. Preparation was key during the week, so making sure I had lots of sizes, colours and styles to suit everyone was a priority for me, as well as working on photographs, promotional materials, social media, booking other events, ordering materials, designing new styles, answering customer enquiries etc etc. All of it really was a buzz for me and was full on. But like everything with me, I never do things by halves, so I was in constant growth mode and Wristocracy really took on a life of its own.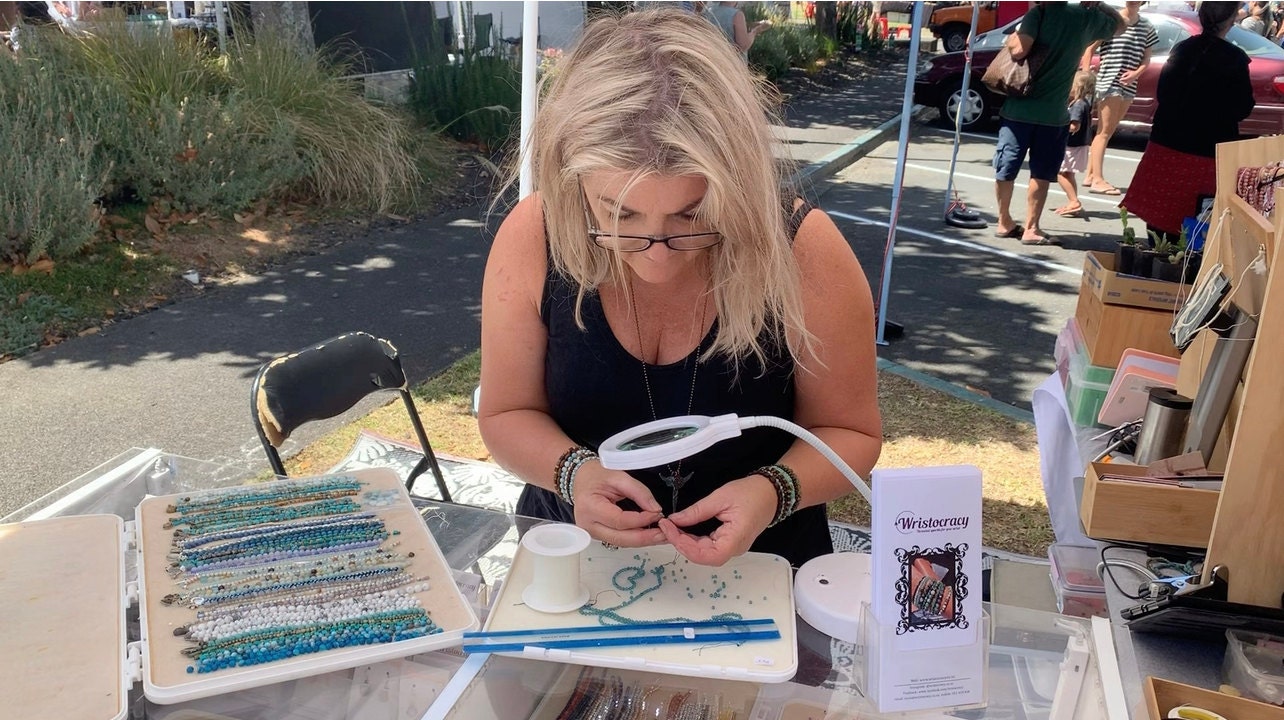 Making bracelets at Smales Farm Market
Whilst I enjoyed it all immensely, it really took a toll on me personally, not to mention my family. I would work very long hours with little thought of work/home life balance and then come the weekend, we (my very patient husband and I) would head along to whatever events we had booked (rain, hail or shine) and lug everything along, set it all up, do the event - making bracelets at the event, and then pack it up and take it all home again, to repeat the same thing again the next day.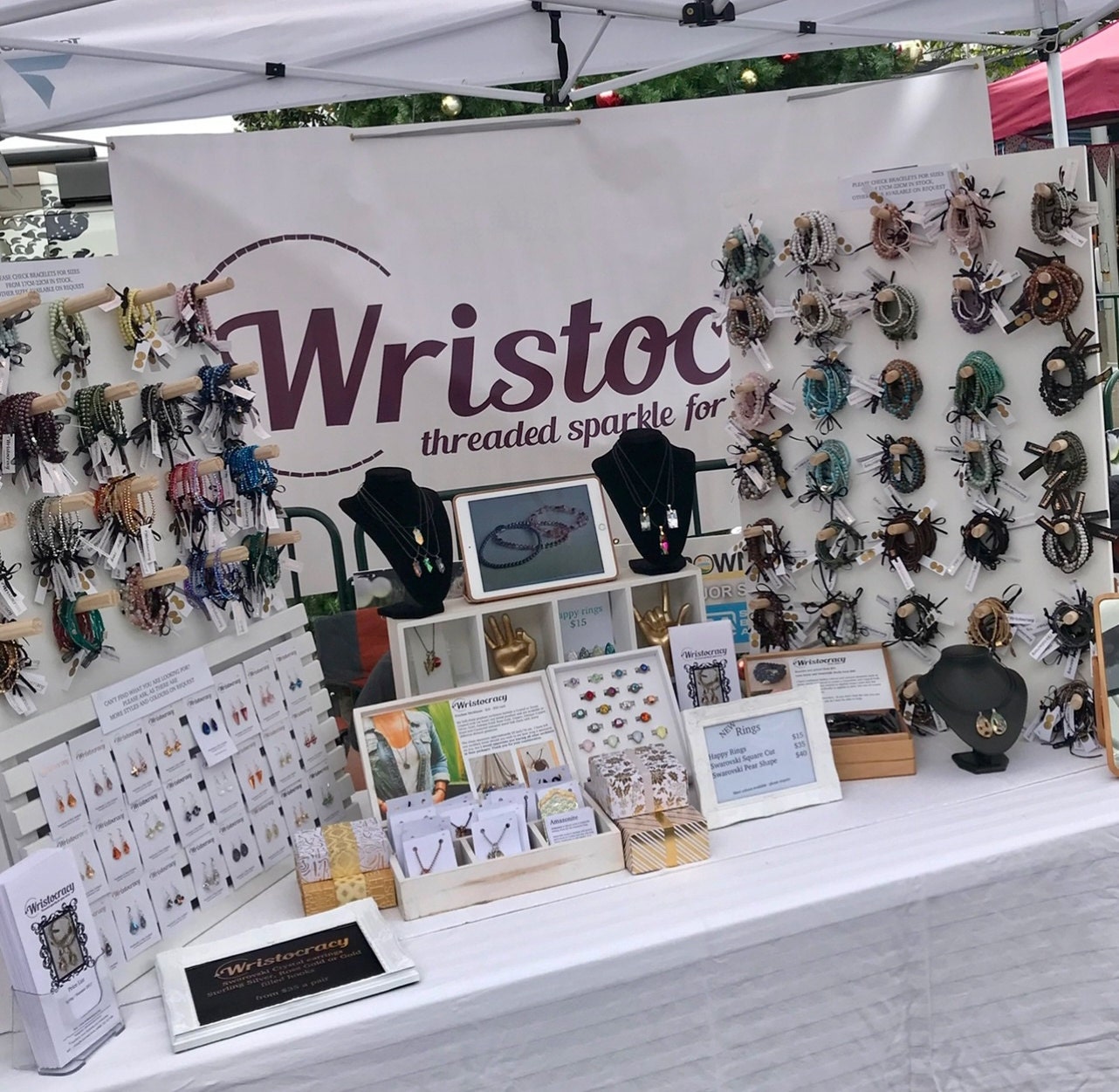 Browns Bay Market set up
Because I was keen to have what everyone wanted available, (but also didn't know what people wanted week to week) I started to bring it all. The stock levels grew week by week. Customers loved the idea of having bracelets made to their specifications on site, choosing the colours, cuts and stones on the day, so I needed to bring along threaded strands and loose stones even. It was a big operation. I always needed help taking my stock to markets as stones and crystals are very heavy. The more I brought the heavier it was. It was great fun but very very hard work and something had to give ....and eventually it did.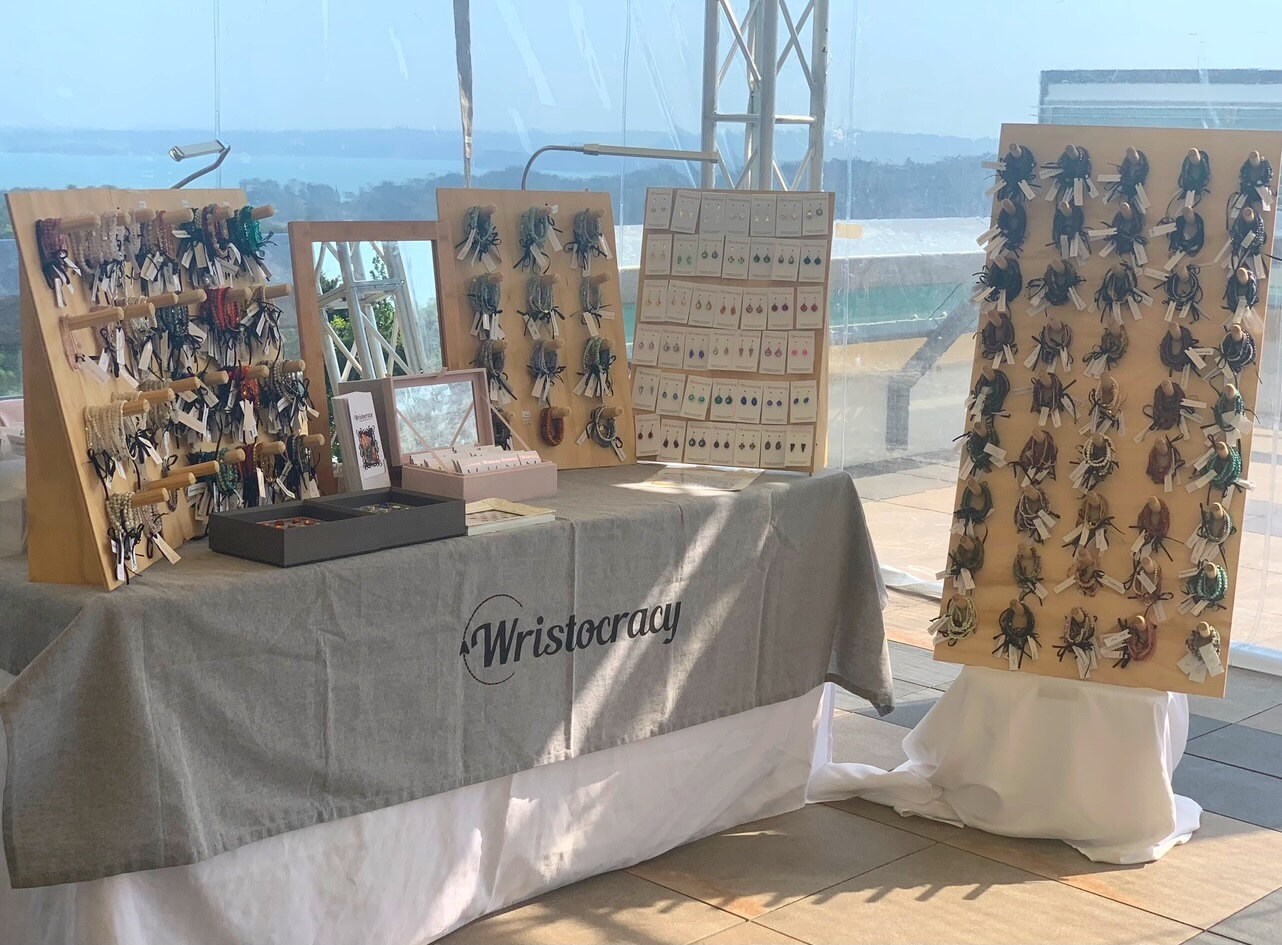 The set up grew and grew and grew ...
Fast forward to the beginning of 2020 and I had come to the decision over the summer holidays (after a bit of burnout), that I needed to vastly cut back on events, and refocus on my website more, whist attending just a few key events. The website allowed me to spend more time with my kids who were quickly getting ready to fly the nest and who if I'm honest were getting a little tired of coming second to my work demands. Choosing a few key events seemed like a great idea, so that I could keep my hand in and I intended to pare down what I took to make it more doable and less stressful.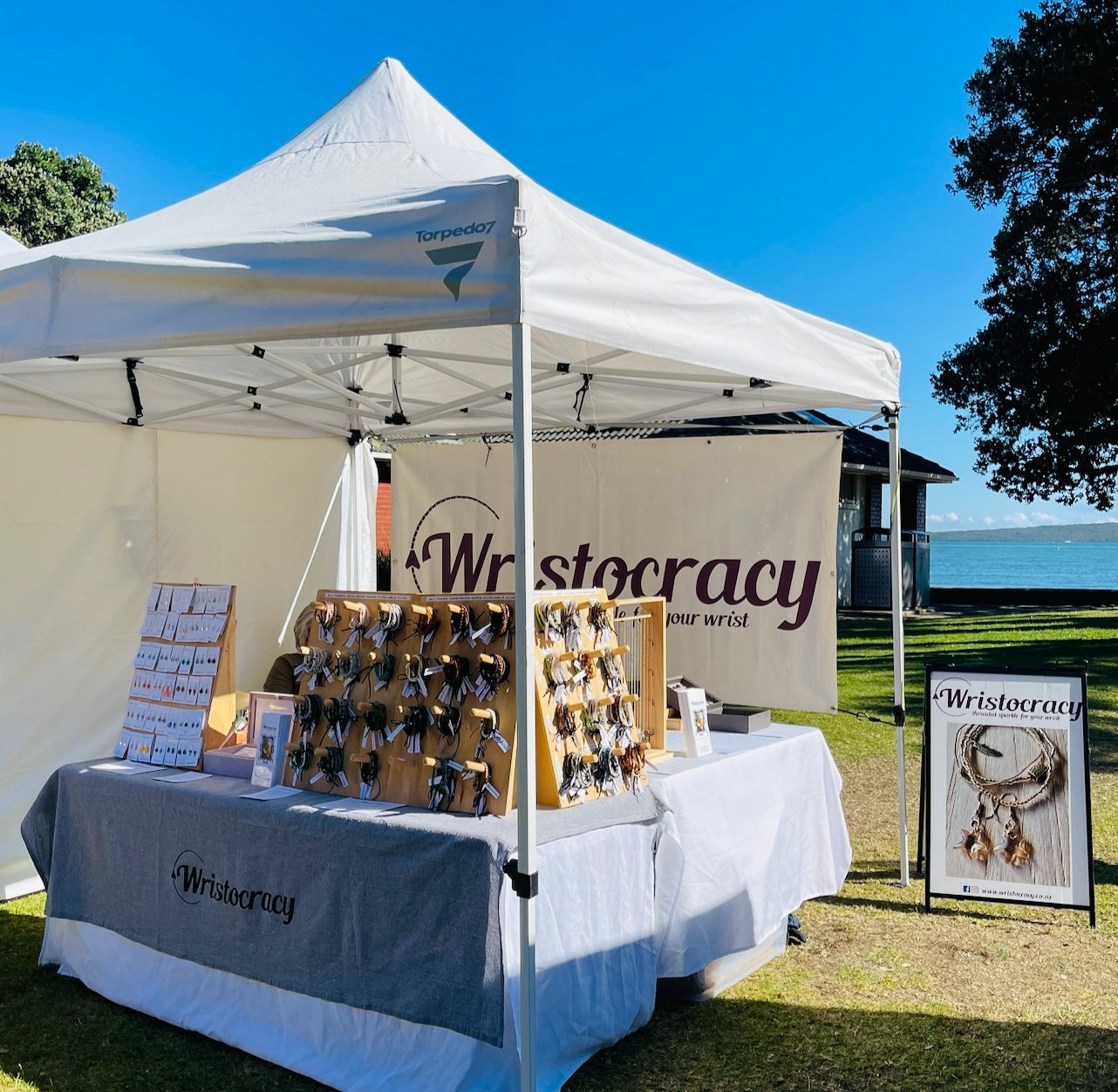 Mission Bay Art & Craft Market Anniversary Day - the pared down stand
Fast forward a couple of months into 2020 and of course COVID arrived in NZ and around the world. Well that threw a spanner in the works for all of us! We all know the COVID 19 spread impacted supplies, shipping, and associated costs for everyone, me included. Money was tight for many, jobs were lost and so so much changed. Events were impacted hugely with face to face no longer being possible in various levels, which in turn brought uncertainty. To book or not to book? Would the events run regardless or would they follow the rules? Would enough people come to make it worthwhile as a stall-holder? Would we be able to get our money back if the events were cancelled or would we forfeit our stall fees? All very honest questions that ran through my and many stall holders' minds during this time.  
In New Zealand alone, many folks who had lost their jobs needed to pivot quickly to replace or supplement their income. Side hustles became a big necessity for many. New creatives were suddenly selling their wares and the NZ Made website went viral. Existing events had to quickly change tack because they had limits on the numbers they could safely host. It was a time of great uncertainty for event managers and stallholders alike. I'm not saying it was worse for us than it was for everyone else - I'm just sharing what happened to me and many around me.  
As the months have passed, new events have sprung up. Existing events have had to change to accomodate what is now a very crowded arena at the moment.  Some would say even a little bit too crowded. The playing field really has changed a lot! Whilst on one hand it is wonderful that people have discovered and can explore their creativity and make a little bit of money on the side, the choice for NZ Made creative items has never been greater and there is a market on any day of the week practically. On the flip side, it can make things and choices a little harder for small businesses like mine. Working out where to put my very precious time and money to create the best for my little business has been a constant source of angst for want of a better word. I'm sure it has been for many people.
So, that brings you sort of up to date to now and where I'm at and the question that I'm asked constantly and I never quite know how to answer it. When will Wristocracy be back at the markets? 
I can tell you that it won't be during the wet colder months. I have decided to take a break over the cooler months from events as I work out what is the best for me. I would like to attend an event later in the year. Nearer to Christmas time. Currently, I have nothing booked - but I'm working on it.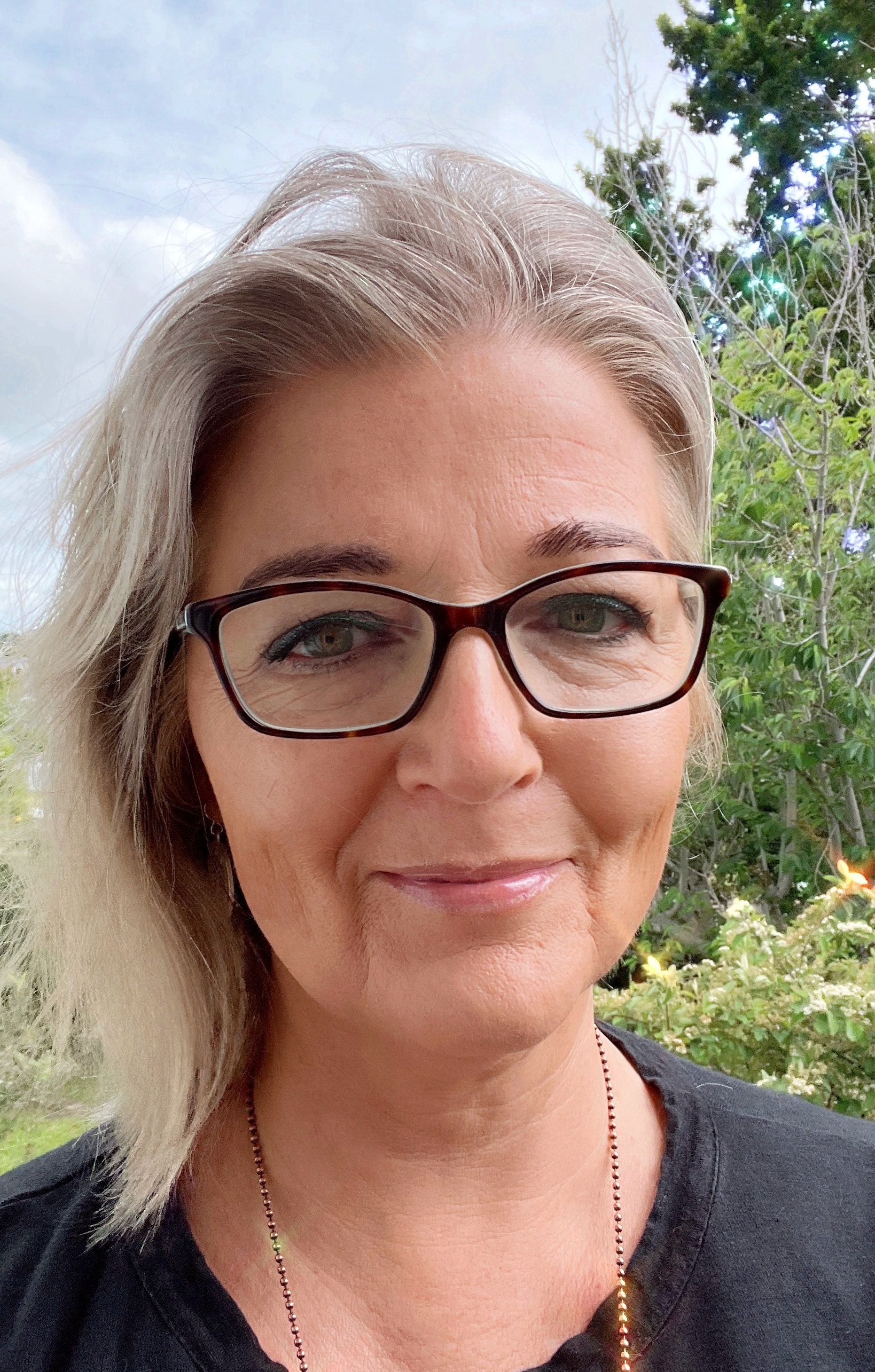 I am still available online and am hugely enjoying the chance to spread my beads out in my home office without fear of having to quickly pack them all for a market. I am always available for a chat over messenger, email or even the phone. My details are on the brochure and I promise if not available immediately, I will work hard to gat back to you ASAP and happily provide you with lots of pictures and information to help answer any enquiries you have. 
I know many of my customers love to see things in the flesh. So, with this in mind that I have decided to open my work room by appointment for those people that would like to come and have a look at the boards, the beads, the earrings, all the wonderful sparkly things that I have.  
I am in Te Atatu South - message me if you're keen to visit. It might not be for everyone, but it might just work for you.  
Thanks for listening to the very (very) long answer to the question I have been asked a lot lately! :)